Today I thought I would try to share a fun story about a business relationship that has been building over the years.
It started in 2012. I was hosting a Startup Weekend in Shenzhen, which I was doing on a regular basis at that time. It was always a great way to connect with the entrepreneur community and make some new business relationships. At this particular event, I met Meir Simhi, an Israel e-commerce entrepreneur. His team came through and won – one of the only foreign lead teams out of the 150+ participants and 12+ teams at the event.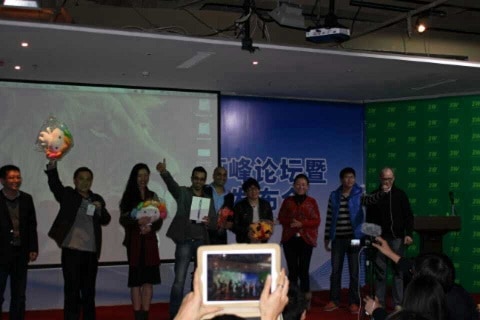 Meeting For a Lamb Dinner
Meir and I wanted to meet later and discuss. He was excited to see the startup community develop in Shenzhen and had a lot of ideas to give me and the direction things were going. We had dinner at one of his favorite restaurants – a Middle Eastern restaurant that had amazing lamb – and belly dancers. A whole lamb was served at our table of 2, and we discussed doing some workshops and business seminars together. To leverage my network of entrepreneurs and the hard work I have put in to build and grow the community. Meir is a very strategic business person, and had been coaching many Israeli startups on building up their e-commerce businesses and sourcing from China. He wanted to have an American partner who could help him branch out from the Israel market and make a more international reach. We had deep discussion at this table while eating our delicious lamb, writing down notes on the back of napkins and big dreams for an amazing training platform for global e-commerce business owners.
After finishing our meal, it was just in time for the next belly dancing act. The dancer floated from the side of the room to the center stage and caught everyone's attention. Jaws were dropped and eating was put on hold, all eyes on the beautiful belly dancing act.
Belly Dancing Restaurant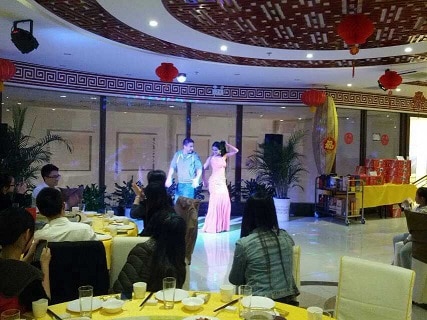 She completed a few songs, and then was looking for a dancing partner. Meir was more than happy to volunteer me to get up on stage and shake my booty, and I could not get out of the spotlight – literally. Lights (and maybe cameras?) were on me sitting down at a table in the back. She glided over to me and extended her arm – she had selected me as her dancing partner.
Following her to the dance floor, I decided I can resist, or just go along with it. So, being the open minded person, I went along with it. Meir had a lot of fun snapping photos of this act, and I did indeed shake my belly and my booty. The audience probably was thinking I was an eye sore and blocking the beautiful woman dancing, but I shook it like I didn't care 😉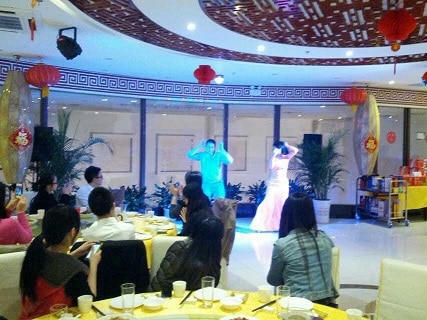 After the dance, Meir and I were really serious about doing some business together. To make workshops to start to help business owners grow their global e-commerce businesses directly here in Shenzhen. He had the content already prepared in Hebrew for the Israeli market, and needed an American partner for the international English side.
The years passed, and we both had our other businesses – as well as budding families. Meir and I both got married and have 2 children – almost the same timeframe. We kept in touch and supported each other with feedback and ideas on what we were each doing, but didn't make forward steps on this e-commerce training program.
Speaking At Cross Border Summit 2017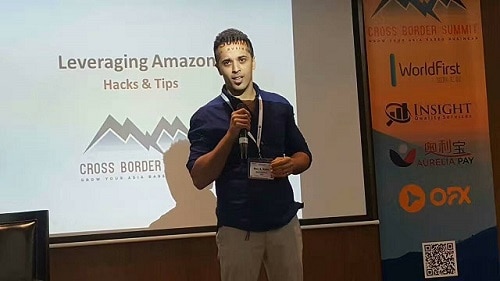 Fast forward to 2017, I know Meir has a huge potential to share amazing content at the Cross Border Summit, and he definitely delivered. He was one of the most popular presenters at the summit, and we mentioned a full day workshop on Amazon FBA that would shortly follow in the month of May. Both of us were overwhelmed with positive response on this Amazon FBA workshop and wrote down a list of those attendees interested in such a program.
During the lunch buffet at the summit, he and I said, it must happen now. Meeting in the days following the conference, we have prepared the package and have a full day, intensive course called "Amazon Leverage: Leveraging Amazon to Build Your Brand". This is the first of many workshops to come, and will be jam packed with valuable tips and hacks to leverage Amazon to get to the next level on your product brand. It is a premium course where we have less than 10 seats available, but we truly believe this will have a massive ROI so if you are serious about growing your current Amazon FBA business, you should take a good look at this offer.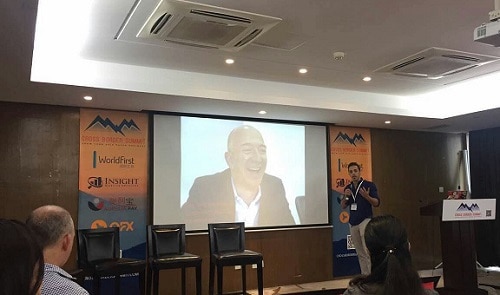 Join Us In This Private Amazon FBA Workshop
For me, personally, I am so happy to be able to connect amazing experts like Meir to the international e-commerce community, and truly excited to take business to the next level for everyone who trusts us.