Curious about the Western world vs the Eastern world?
Culture differences are a very hot topic, in business as well as at holiday parties.
Today we bring a guest writer Lim Chuwei from Hong Kong to share about this East/West debate, let's dive in!
It's said that East and West can never meet up. As they differ in history, religion, political system and so on; differences are clearly seen in Eastern and Western ways to deal with education.
Eastern world refers to nations in the Asia and Middle East whereas Western world refers to North and South America, Europe, Australia and New Zealand. East and West may have myriad differences based on culture and education. These differences can be noted for the most part in people's behavior and attitudes.
The major difference between eastern and western culture is that people in the east are more conservative and traditional than the general population in the west.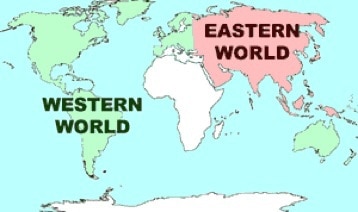 Let's have a clear view on the difference between east and west in terms of culture…
Eastern Culture
Eastern Culture (refer to the culture map above) has these characteristics listed below:
Eastern world refers to the nations in Asia and Middle East.
Hinduism, Buddhism, Jainism, Shenism, Taoism, and Islam are some common religions honed in the Western world.
The population in Eastern countries are more customary than people in the West when we consider their traditions, clothings, rituals, and so on. For example, Indians pay regard to their elders or parents by touching their feet; East Asians use bows as welcome, apologizing and expressing thank you.
People in the East are inflexible in their beliefs and ideologies; they were unwilling to challenge and question the long practiced customs and traditions.
In Eastern countries, elders are considered as the leader of the home and children regard and obey them in all choices. Important decisions related to children's future are normally taken by elders. And, when parents grow old, the kids are likely to take care of them.
Arranged marriages are common in the Eastern countries. They are normally arranged by parents or elders. They believe in a concept that love comes after marriage.
Western Culture
Western culture (as specified in the cultural map above) is defined as these types of items:
Western culture refers to Europe and North America.
Judaism, Christianity, and Islam are some common religions honed in the Western world.
The population in Western countries are more liberal than those in the East. The Westerns are more open and blunt. For example, topics like sex or birth of a child are openly discussed in Western culture, whereas in the East, these topics are still a taboo.
People in the West are more open to express their feelings. If they are angry, they may express. But, people in the east may cover it for tact and good manners.
Also, a person is given preference over family, so a person is more flexible and free to take decisions on his own, unlike those in the East.
Concepts like arranged marriages are not at all common in the West. They go for love marriages as they believe in a concept that love comes before marriage.
Difference Between East And West In Terms Of Education…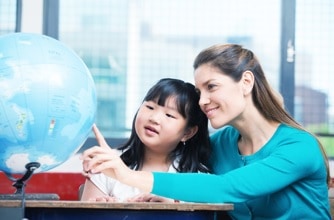 Image Source : http://www.teflone.com
Is education in the East superior to education in the West? So, let's explore the future in education…
Creativity vs. Hard Work
Western educational systems focus on the ideas of creativity. Obviously, the system being a system means that numerous things are bound together, but still, it normally does it's best to elevate individual ways to deal with various students.
Whereas in Eastern education, it is all about hard work and struggle. Nothing is difficult if you practice hard. Consequently, kids are given lots of homework and are instructed to buckle down. That is the reason Asian students are frequently considerably more profitable than their peers when they get into more casual Western educational institutions.
Participation vs. Reception

Western education moves further and facilitate along the road of transforming students into undeniable members of the training procedure. They are urged to make inquiries and debate with their instructors, to think critically.
Though in the East, students are the beneficiaries, they submit to the authority of teachers and the method itself is far less interactive.
Special Needs: Inclusion vs. Separation
Western education makes incredible efforts to include kids with extra needs into the general mass of students, they have a tendency to be educated together with ordinary kids or if nothing else it is considered to be their major right.
In the East, we normally see an oppositely inverse approach – kids with disability are quite often taught separately from the rest, and it isn't thought to be unfair, just logical.
Conclusion: East vs West
So, this was all about how the culture and education system of East differs from the West. We can't compare the cultural or education systems of eastern countries to the Western countries. But, more important is how people of both the countries adopt each other's cultural values and educational system.
Compare Difference In Video
Check out this blog post in video format, our co-host Lyka shares differences between East and West here:
Looking For An Easy New Culture?
We want to hear from you. You have heard our ideas – now you can fill out the poll and share if you think Eastern or Western culture and thinking is better.
Where Is Culture Better – East or West?
Over the years this article has been online, readers have chatted to us asking for an "easy new culture". This is something that hits the core fundamental of Global From Asia. Since our inception in 2013, we have been working hard to level the playing field for online business owners to do business and earn a living no matter what cultural background they come from.
We recommend studying our new infographic, and then downloading our PDF version of the post so that you too can become a culture master – which will help us all get to the next level.
Share The New Cultural Differences Infographic
To help spread the word about these cultural differences, our graphic design team created a special infographic to compare.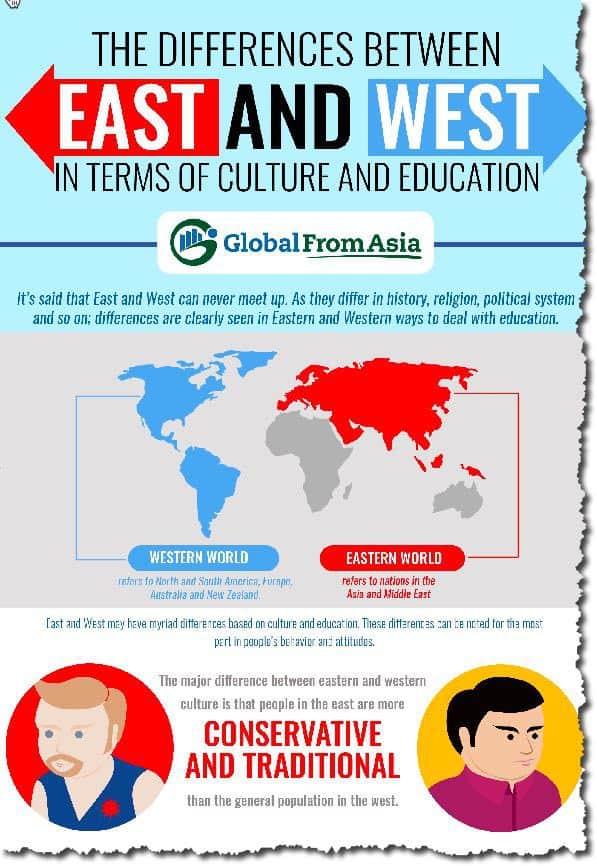 Now it is your turn – share this infographic on your pinterest or social media and show the world you are knowledgeable and aware of today's burning cultural differences. Together we can make a difference.
How to share?
You can copy this html code and paste on your website. Or download the culture infographic here and upload to a site of your choice.
What About Business Differences?
Like the article? Don't forget to like and share! If you have any suggestions for us about the cultural differences you notice, please share with us in the comments section below!

About the Author:
Lim Chuwei is creative blog writer & director at ChampionTutor. ChampionTutor is Singapore's leading online stop for all education needs with more than 10 yrs of experience in home tutor service &; recently launched the tuition services as ChampionTutor Online Hong Kong for the students, parents and teachers of Hong Kong. Lim Chuwei has been in this industry for the last 15 years and has vast knowledge of major learning application.
Want to Attend an Event That Brings East and West Together
While this blog post is talking about the differences of Eastern and Western culture-  we should set our differences aside and come together. The best way that is done is in person, at an event. With the internet growing in popularity day after day – we are losing that valuable facetime with other people. So each year this very blog, Global From Asia, puts a conference together – Cross Border Summit bringing together top business leaders in East and West in one room. Check out our Cross Border Summit event page for more details and the next upcoming event.