Hongkong is known for its extremely efficient transportation system – it has highly developed land transport that makes it easy for anyone to get around the city quickly and safely. In fact, Hongkong has the best metro system in the world according to CNN and it was named the world's top city for sustainable transport by Forbes.
Mass Transit Railway or MTR is the major public transport network in the country which connects over 90 stations in Hongkong. Using the MTR is simply the most convenient way to explore and travel throughout the city, whether you're a tourist or a local. Every day, about 4.84 million passengers use the MTR – apparently most of commuters prefer this type of transport because it's very efficient, clean, cheap and convenient. For the reason that it carries millions of people every day, Octopus Card was invented. Octopus card is basically a reusable contactless smart card used for paying fares on Hongkong's public transport including the MTR. Instead of queuing up in line to pay for your fare, you simply need to top up your Octopus card and simply swipe or tap your card at the entrance barrier when you get on and off the MTR. Both of the MTR and the Octopus card makes getting around the city a lot easier, especially if you're frequent commuter or a tourist who just want to roam around the city.

Using the MTR makes it easier for anyone to reach their destinations, whether you're a tourist who wish to go to Hongkong Disneyland or someone who wish to do business in Shenzhen, China. Yes, you read it right, you could use the MTR to even cross the border. Shenzhen also has the similar cashless payment system like the Octopus which is called a "Shenzhen Tong".
Shenzhen is about an hour away from HK, and it's known for many shopping destinations and quirky theme parks. Also, it's basically China's Silicon Valley where you can find the cheapest manufacturers and suppliers. No wonder why thousands of tourists and business travelers go back and forth the border. For this reason, a dual Octopus / Shenzhen Tong Card was created, which was named Hu Tong Xing– an electronic payment card that links Hongkong and Shenzhen.
What is Hu Tong Xing?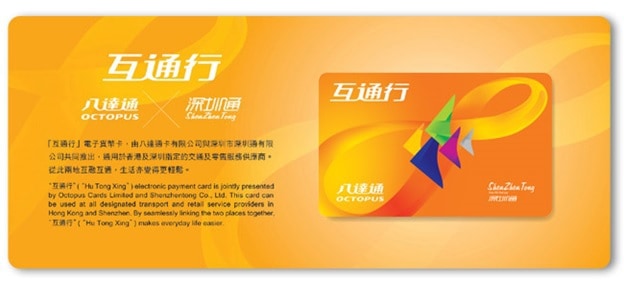 "互通行"("Hu Tong Xing") electronic payment card is jointly presented by Octopus Cards Limited and Shenzhentong Co., Ltd. This card can be used at all designated transport and retail service providers in Hong Kong and Shenzhen. By seamlessly linking the two places together, "互通行" makes everyday life easier.
Hu Tong Xing was launched in 2012 to provide greater convenience to frequent cross-border travelers. The reusable contactless smart card has an e-pocket that can be loaded with both HKD and RMB. Hu Tong Xing card can be bought for HK$98 (13USD), which is non-refundable and has no initial stored value in it nor a deposit, unlike the regular Octopus card. The 2 in 1 card works the same way as the Octopus card works – it can be used as payment for public transportations such as the MTR and at participating stores, supermarkets, and restaurants in Hongkong and in Shenzhen.
Where and How to Get a Hu Tong Xing
Hu Tong Xing is available at the following stores:
Circle K stores. There are about 350 Circle K Stores in Hongkong island, Kowloon and new territories and you can easily locate the nearest Circlce K store by clicking this

link

.

VanGO

便利店

stores: VanGo is another convenience store in Hongkong where you can purchase a Hu Tong Xing card. You can check out the nearest branch using this

Google Map

.

Octopus Online Shop

: Octopus online shop accepts credit card, Octopus and O! ePay Online payment. The order will be processed within 3 working days upon receipt and the card will be dispatched to the local mailing address provided via Hongkong Post.

Shenzhen Metro Stations Service Centres: Hu Tong Xing cards are usually available at Luohu, Futian Checkpoint and Shekou Port.

All Hongkong MTR Customer Service Centre except at Racecourse and Disneyland stations
How to Use a Hu Tong Xing

First, you must top up your smart card to get started. However, due to foreign currency controls, the e-pocket can only be loaded with HKD if you're in Hongkong. The same procedure applies to RMB, you need to be in Shenzhen to be able to top up your e-pocket with RMB. Clearly, it has 2 separate e-pockets, and the balance in either account is not transferable to the other one.
You can easily top up your Hu Tong Xing at convenience stores like 711, at restaurants like McDonald's and transport stations – which you can easily find anywhere in HK and Shenzhen.
After topping up your card, you may now be able to swipe or tap your card at the entrance barriers of any train stations or use it to pay for your goods at any participation convenient stores and restaurants in HK and Shenzhen.