Podcast: Play in new window | Download
Subscribe: Apple Podcasts | Android | RSS
Thank you everyone for tuning into another episode of Global From Asia – we're at episode #19 here – I'm still on the road in USA – currently in Hartford, Connecticut – my hometown where I was born and raised. We also just passed Chinese New years – left the year of the Snake and now enter the year of the Horse! Now that we have the Western and Chinese New Years behind us, time to rock in 2014!
Ok, so today we are interviewing Jeff Broer, a dutch businessman in Hong Kong. He has been here for many years now and has established a successful web design agency Greyscale and also is building up a new startup Surround App (where i'm on as an advisor, full disclosure) – he explains his business experience coming into Hong Kong, setting up limiteds, hiring, getting government support and other valuable business insights – so here we go!
Topics Covered in this Episode
About SurroundApp startup – helping Westerners Engage with Chinese Social Media
About AcceleratorHK accelerator and how it helped them get started
The history of SurroundApp startup starting in Hong Kong
Experience dealing with local developers and designers
Work permits for Mainland Chinese
How Jeff came to Hong Kong from Holland
Getting his web design agency going
Investment visa process and experience
How he got his Limited established and the process
Differences of Hong Kong Limited setup vs a Dutch company establishment
Where SurroundApp is currently and its pivot history, and why it was established
how he manages both his web agency and his startup SurroundApp
Benefits he has received from Hong Kong as a startup
Cyberport's reimbursement program of up to 330,000 Hong Kong dollars
Tip for those interested to come to Hong Kong to establish their businesses
People / Companies / Resources Mentioned in this Episode
Episode Length: 13:20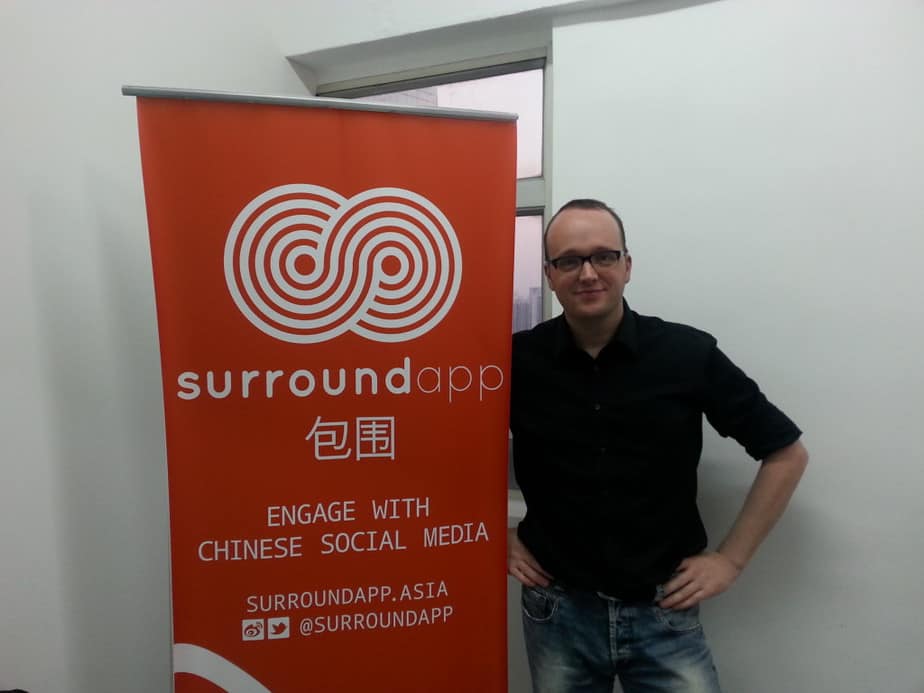 So thanks Jeff for your time and sharing so openly your business and experiences!
Now for some listener feedback – Simon Stock, a friend and listener – have been going back and forth on emails about the podcast lately and he had this to share:
They are awesome and I'm definitely learning a ton. Cool to hear peoples stories about how they got started and what they are up to now. Love that you are drink during the show : ).
Download Options