Moving cross country for business and investments is nothing new.  It's one way of taking your business global especially if you are positioning yourself in a strategic location.  One of the countries often mentioned is Mexico. But before you rush to pack your bags and move to Mexico, you have to be able to answer why Mexico. 
About Mexico
Mexico is a federal republic found in the continent of North America. Geographically, Mexico is composed of 31 states and located just beside the United States of America, Guatemala, and Belize. As of 2018, it has over 130 million population, where the majority belongs to Catholic religion. Its official language is Spanish and it has a mild and pleasant weather almost all year round.
When I hear the word Mexico, the first thing that pops up in my head are basically tacos and burritos. Funny it may sound but I know many can relate. Mexican food is pretty well-known all over the world. In addition to Mexican cuisine, Mexico is known for its rich culture, tequilas, folk art traditions, stunning beaches and vibrant music genres.
Reasons why you should move to Mexico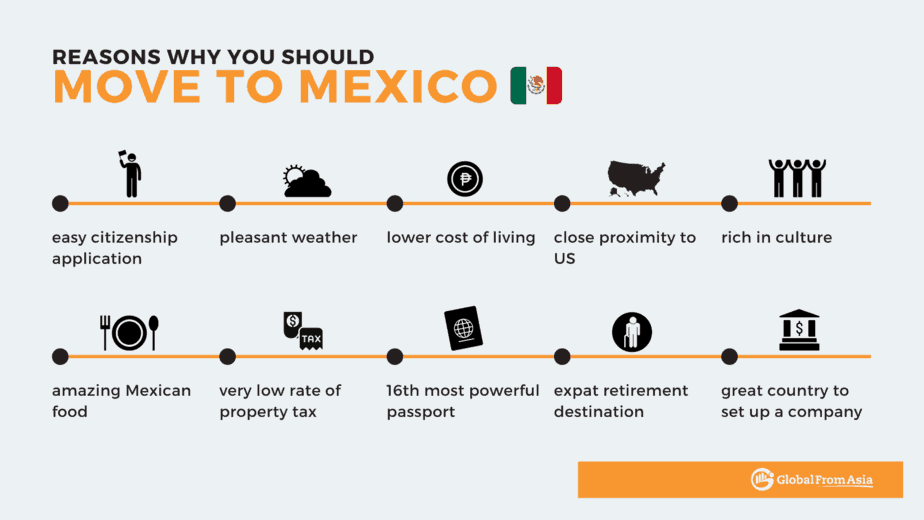 Obtaining Mexican citizenship is comparatively easy. Immigration process in Mexico is relatively straightforward compared to other countries. In as little as 2 to 5 years, you may be able to get a Mexican citizenship. It also is among the Top 10 countries easiest to immigrate to.

Mexico has pleasant summers and mild winters.

Lower cost of living and a higher quality of life. Accommodation, utilities, food, healthcare and education costs are much cheaper compared to the United States. Even so, Mexicans enjoy a high quality of life. 

Mexico's proximity to the US makes it easier for someone to visit families and friends in the US, or make a trip to the US to do business. 

Mexico is a country that's very rich in culture. In fact, it always finds a spot in whatever list of Top Culturally-Rich Countries. This culture simply brings people together, contributes a sense of comfort and belonging, and holds a powerful attraction for tourism. 

Mexican food is amazing. Mexican cuisine is highly admired all over the world for its flavorful and universally appealing spices and ingredients.  

Foreigners can buy and own a property in Mexico and enjoy a very low rate of property tax. Property tax in Mexico is called predial which has an average rate of 0.1%.

A

Mexican passport ranks 16th in the most powerful passports in the world with a mobility score of 149 countries to which it can enter visa-free..

  Mexico is an expat retirement destination. It's a dynamic place to live in – beautiful scenery, low cost of living, and there are lots of communities you can fit into. 

Mexico has always been on top of the list of the best countries in Latin America to set up a company.
How to get a Mexican Citizenship
There are 3 ways to acquire Mexican citizenship: by birth, by naturalization and by marriage.

Citizenship by Birth

Requirements:
Birth Certificate

Legal picture identification card

Proof of parent's Mexican citizenship (Mexican passport, birth certificate, national voter card,

 

Certificate of Naturalization)

Passport-size photos
Eligibility:
At least 18 years old

Mentally well

Born in Mexican territory

One or both of parents are Mexican citizen

Born in Mexican merchant or Navy ships or Mexican merchant or Army aircraft

Has good moral character

Able to speak and understand Spanish

Knowledgeable of Mexican Culture
Citizenship by Naturalization
Naturalization is a legal process by which a non-citizen of Mexico acquires or applies for a Mexican citizenship. Naturalization gives several benefits to foreigners, including the right to vote in Mexican elections, easily apply for jobs, the right to stay in the country without renewing any visa and be able to get a Mexican passport. To be naturalized, there are certain requirements you need to meet, one is to live in Mexico for at least 5 consecutive years before applying for naturalization. You could apply for a permanent visa in Mexico to be able to legally stay in the country for a long term basis.
Requirements for Permanent Resident Visa:
Visa Application

Original Passport & Copy of first page of passport

Fee ($36)

Photo (32mm x 26mm)

Proof of investment or bank accounts with an average monthly balance equivalent to a twenty thousand days of general minimum wage in Mexico or proof of income from pensions in the amount greater than the equivalent of five hundred days of general minimum wage in Mexico

Bank statements

Proof of family ties to a Mexican citizen or a foreigner permanent resident such as birth certificates, marriage certificate or common-law certificate.
Eligibility:
You are qualified for a permanent residency visa if you can comply with the following requirements:
You maintain close family relations in Mexico such as parents, children, grandparents or grandchildren

Have already been a Temporary Resident in regular status for 4 consecutive years

Have already been a Temporary Resident in regular status for 2 consecutive years, wherein the temporary visa was granted by virtue of marriage to a Mexican citizen

You apply for retirement status supported with proof of your monthly  income in the form of investments, savings, pension and other assets that can sufficiently support you

Through political asylum and any other humanitarian grounds and basis
Note to permanent residency visa applicants: Unless you can clearly establish your family relations in Mexico, you cannot be granted the visa in Mexico, you would have to apply for a permanent residency visa outside of Mexico or your country of origin.

Application for Mexican citizenship through naturalization is generally handled by the Secretary of Foreign Affairs (SRE). Once approved, you shall take the oath of sol nationality to Mexico and be officially naturalized.

Citizenship by Marriage
If a foreigner is married to a Mexican citizen, he/she may be able to apply for a temporary residency which is valid for 1 year and is renewable for another year. After 2 years, he/she may be able to apply for Mexican citizenship.
Requirements:
Passport

Resident Card

Copy of Unique Code of Population Registry CURP

Birth certificate of application and Mexican spouse

Marriage certificate

No Criminal Record Certificate

Able to speak, read, and write the Spanish language

Knowledgeable of Mexican Culture and principles of the Mexican Constitution

Of good moral character

2 passport size photos

Live in Mexico for at least 2 years

Application form

Mexican spouse's national ID such as voter's id or a Mexican passport

Proof of address
Applicant must present these requirements to the Secretariat of Foreign Affairs; processing time can take 4 to 6 months.
Dual Citizenship in Mexico
Mexico permits dual citizenship, this means you won't have to renounce your original citizenship to be a citizen of Mexico. However, if your home country does not support dual citizenship, then you may have to choose between the two.
Bottomline
Getting a Mexican citizenship is basically best for people who wish to do business in the US and Americans who wish to enjoy a lower cost of living yet being able to stay close to their families in the US. Apparently, its proximity to the US is probably the main reason why numerous Americans move to Mexico. 
Mexico has indeed a lot to offer – good quality of life, lower cost of living and good healthcare. If you think Mexico could be your second home or feel that it could be a great retirement locale, you may want to consult or seek legal advice first from an immigration lawyer to get started. 
If you have some experience or thoughts to share about getting a Mexican citizenship please feel free to comment below!