Podcast: Play in new window | Download
Subscribe: RSS
Trying to figure out Wechat marketing for your business? Today's show is for you, episode 73
Happy year of the Goat, Lamb, or Sheep – whichever you prefer. Google tells me sheep, DuckDuckGo tells me Goat and my buddy Trevor tells me lamb because it's his favorite meat – so I guess we can choose from those 3. I just finished my dumping to celebrate and have been spending extra time with my wife and kid staying home most of the time.
So this week is the wechat marketing week, and it is good timing because my wechat is totally overloaded with Chinese New Year well wishes. They do big marketing on this holiday, with the traditional "red envelope" exchange where friends and family give a small bit of cash to each other for tradition, now its done inside wechat – and they had a big marketing push giving away 500 million Yuan (about 83 million US dollars) to viewers of the Chinese New Year show Chunwan.
Wechat has been dominating Chinese social media, and basically the entire phone, if you look at a mobile phone in a subway, either they are on wechat or on a mobile game, which probably is inside wechat now!
So today's guest – Brent Deverman, a friend of mine for years now and the owner of ShenzhenParty.com – Shenzhen's first and biggest English web portal has fully embraced wechat in his business and shares some of his secrets. let's listen in
. Also some of the links and references to signing up will, as always, be on the show notes at globalfromasia.com/episode73 so don't forget to check them out.
Also if you want to get some free select sections from the book: Shenzhen: The Book – download them now:
Get Shenzhen The book preview now!
Topics Covered in this Episode
Intro Brent Deverman, founder of Shenzhen Party
Wechat is taking over Chinese Social Media, what are your thoughts
How is your website, Shenzhen Party, holding up against this shift to wechat, still getting normal traffic to your site?
What are the different types of wechat accounts? Normal / personal, company subscription, service level, and enterprise
Can foreigners and Western businesses get these company wechat page accounts setup? What's the signup process?
Can you share some marketing and promotion strategies you have used on Wechat?
How about Wechat groups, we are both in probably way to many of them, what is your take?
The future of wechat, where do you see all of this going?
Let's talk about this new book you have – Shenzhen: The Book
Ways people can reach out to you Brent
People / Companies / Resources Mentioned in this Episode
Signing up / logging in to the CMS for company accounts (Chinese language only)
Shenzhen Wine and Cheese
Get Free Sample Chapters to Shenzhen: The Book (check button below)
QR Codes
Shenzhen Party's wechat = shenzhenparty (QR code below)
Brent Deverman's wechat = deverman
Image of Shenzhen Party's QR wechat code (let's test if you can get it scanned from your mobile phone!)

Episode Length 26:28
Thanks for coming on Brent, and being a regular listener and sharer of the show on your site and in your network – much appreciated.
Also he will give away some free select sections of the new book Shenzhen:: The Book if you hop on over to the show notes of GlobalFromAsia.com/episode73 so check it out:
Get Shenzhen The book preview now!
So I have been messing with QR codes and didn't know you can click in the QR code inside wechat and it will scan it – so I had my designer help make a creative one for this podcast's Wechat channel –
if you want to check it out also hop on over to the show notes and see some ways you can get creative with the QR code. It doesn't just need to be a QR code, it can have other graphics around it as well.
Adding in More Ways to Get People to Scan a Wechat QR Code
Here is some artwork that I made for this show – this could also be used as a print banner at a trade show or event.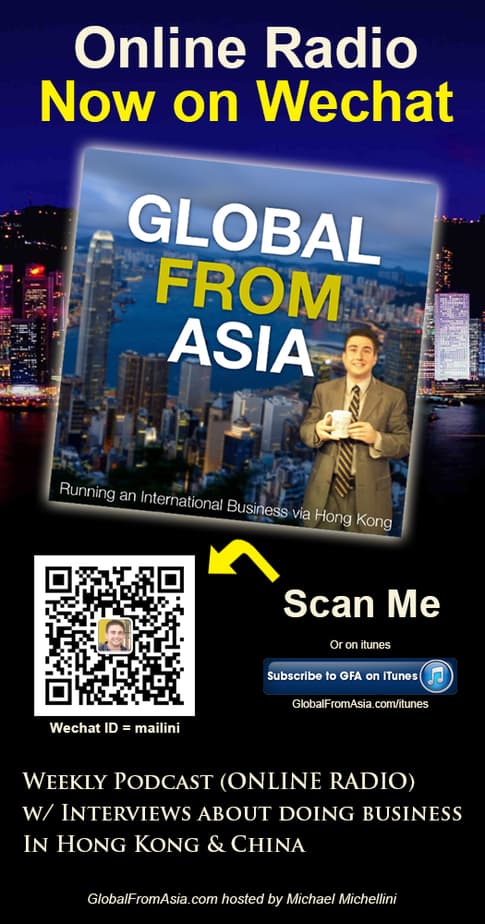 Next week we will talk about Hong Kong business again, about running multiple businesses in a single Hong Kong limited, so I'm excited for that and see you next week.
Also happy new year of the Goat! Let's make big things happen in 2015 – both Chinese and Western 2015!
Download Options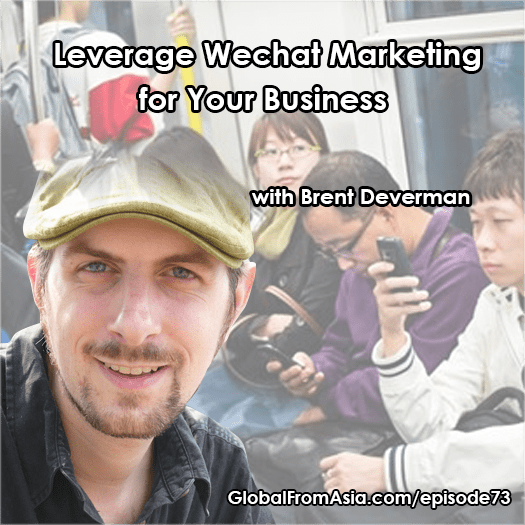 Listen in Youtube: