Etsy is a peer-to-peer (P2P) marketplace founded in 2005 for creative people who want to sell their products to the world. Etsy is for people who look for unique products that are either handmade or vintage. It has long been known as the leading marketplace when it comes to handmade, vintage and craft supplies.
For more than a decade, Etsy has been the best platform for creative entrepreneurs. It caters to different categories such as home and living, jewellery, clothing, toys and games, craft supplies, gifts and party favors.
Etsy vs. Amazon, eBay and Other Marketplaces
What differentiates Etsy from the other marketplaces is its unique products being offered. There's more to its products than meets the eye — products being sold here are made by creative people with a passion for art and different skills. And that's what makes the products unique and more valuable.
Uniqueness and creativity are Etsy's edge among other marketplaces. Yes, you can now find handmade goods in any other marketplaces like Amazon and eBay, but Etsy has long been considered people's to-go place for handmade and vintage products. Etsy is a unique environment for creative entrepreneurs who easily connect to customers looking for these kinds of products.
Etsy.com 2017 Statistics
Buyers: 30 million buyers around the world
Sellers: over 1.8 Million
Products: over 40 million
Supported Countries: 50+ countries
Alexa Rank (Global): 189
Alexa Rank (US): 62
Mobile visits: 66%
Visitors: 60.2% from the US, 6.5% from UK, 3.6% from Canada, and the rest from France, Germany, Australia, and some Asian countries
2017 – 2nd Quarter Financial Highlights:
Total revenue: $101.7 million (19.1% year-over-year)
Gross profit: $66.0 million
Net income: $11.7 million
Gross Merchandise Sales: $748 million
Source: Etsy Press Release
How to Sell on Etsy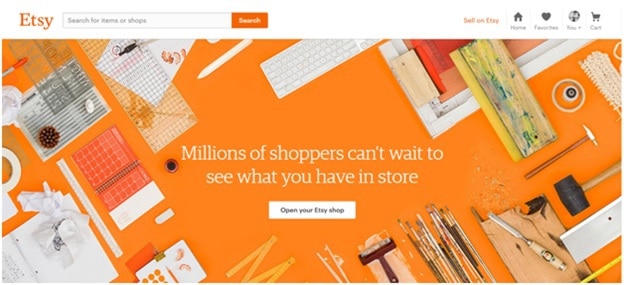 Selling on Etsy is as easy as posting your photo on Instagram, only you're paying $0.20 per listing.
To get started, you can sign up for free or register using your Facebook / Google Account. Simply input your email to get your account confirmed. Once done, check your email and confirm your account.
Once you have confirmed your account, you will have access to add items to your favorites, post in the community and use Etsy's messaging system.
Just like Instagram, you can also customize your public profile by putting a short and concise bio to introduce yourself, describe your interests, crafts and hobbies. While you're at it, you can upload a profile picture – which should be at least 400×400 pixels and smaller than 10MB.
All of this can be done by clicking You > Account Settings > Public Profile
Now that you are done opening an account, the next step is to open your Etsy Shop. To open a shop, simply log in to your account, and in the upper right corner click Your Shop. It shall lead to a page like below: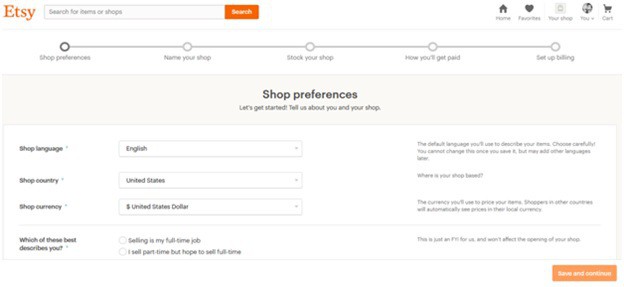 There are 5 tabs to complete / fill out to open a shop: Shop preferences, Name your Shop, Stock your Shop, How you'll get paid, and Set up Billing.
Things to Consider before Opening Your Shop
1. Prepare everything you'll need such as product images and descriptions. It's essential to have the photos professionally taken/edited to attract potential customers. Check out Etsy's seller handbook about Photography to learn the best practices for representing your brand and products.
2. Since you are selling something handmade or vintage, there really is no designated standard price, meaning the price is up to you. Pricing a product must be fairly reasonable. Here's a simple formula for pricing your work based on an article I found on Etsy: Materials + Labor + Expenses + Profit = Wholesale x 2 = Retail (source)
3. Prepare yourself for more work. Since you are selling something you create yourself, make sure to have plenty of time to get things done. The work doesn't stop at crafting, though. There's more work like taking the best product photos, listing, marketing, communicating, packing and shipping.
4. Make an interesting "About" Section. This part is vital to let your visitors know more about you and what you do.
5. How passionate are you about this kind of business? Selling on Etsy isn't for everybody – it's a unique marketplace for creative people who like to share their works with the world. Success on Etsy springs from being creative and passionate about it.
Listing Products on Etsy


First off, what can you sell on Etsy? – Handmade goods, vintage items (20 years or older) and craft supplies.
What can't you sell on Etsy? Prohibited items such as alcohol, dangerous items, products that promote hate, illegal items, pornography, violent items and medical drugs. Services such as tailoring, repairing an item, photographic retouching, and any metaphysical service that promises or suggests it will cause a physical change are prohibited as well. Also, reselling is not allowed on Etsy.
If you're reading this article, then I'm assuming this is the first time you've decided to list a product on Etsy. To get started, you need to sign up here to set up a shop. When you are done filling out the required fields on the first two tabs mentioned in the previous section, you will then stock your shop.
Step 1: Upload photos of your product
Step 2: Input product details such as: Title, product description, category, attributes (color, occasion, materials) product partner (if there's any), and tags.
Step 3: Complete Inventory and Pricing
Step 4: Set up Shipping Fees
Step 5: Publish Listing
What is Pattern by Etsy?

Pattern by Etsy was launched in 2016 to help entrepreneurs expand their reach by means of having their own website. Building your own website creates more business opportunities, such as a wider target market, and gives you more credibility as a business owner.
Pattern was created to help you set up your own website in minutes, and the best thing about it is that you own the whole website – meaning, you can even sell items that can't be sold on Etsy (such as non-handmade/vintage goods). In addition, with Pattern you can enjoy unlimited listings, a user-friendly shop manager, secure payment processing and more.
For $15 per month, you get a custom domain name, hosting, SEO, email marketing with MailChimp, and free customizable themes/templates.
The only drawback of Pattern is that Etsy will still get a 3.5% transaction fee on top of payment processing fees.
To learn more about Pattern, click here.
| | | |
| --- | --- | --- |
| Fee | Amount | Notes |
| Having a shop | Free | There is no monthly membership fee. |
| Listing an item | US$0.20 each | Listings expire after four months. |
| Selling an item | 3.50% | 3.5% of the selling price. This does not include any shipping or taxes you may charge. |
| Etsy Payments | Varies by country | These are the fees for processing credit or debit cards, Etsy gift cards, Apple Pay, Android Pay, integrated PayPal, iDEAL (Netherlands), and Sofort (Austria and Germany) payments. |
| Deposit currency conversion | 2.50% | If you list items in a currency other than your bank account's currency, Etsy converts your funds from Etsy Payments to your bank's currency on your behalf. When a conversion is required, Etsy applies 2.5% to the current market rate. Because buyers complete the entire checkout process in their preferred shopping currency, it's highly encouraged that sellers list in the currency of their bank accounts. |
| Promoted Listings | Variable | Sellers set their own budget to promote items at the top and middle of search results pages. |
| Shipping labels | Variable | The cost of the shipping label will depend on the origin and destination of the package. You are only charged for the postage you purchase when you create the label. |
| Auto-renew sold | US$0.20 each | If your listing has unsold quantities remaining after a sale, you'll be charged an auto-renewal fee of US$0.20. The listing will remain active for an additional four months, or until sold. |
| Multi-quantity fee | Variable | This fee applies when more than one quantity is sold. For instance, if four items sell during a single transaction, your bill will reflect a US$0.60 multi-quantity fee for the additional three quantities that sold. Learn more about how fees work with quantity here. |
Fees for a selling on a Pattern site
Items sold on your Pattern site will incur the same 3.5% transaction fee and payment processing fees. There are no additional listing fees.
It's free to try Pattern for 30 days. After the free trial period is over, you'll see a charge for US$15.00 per month on your bill. Learn more about Pattern fees here.
Source: Etsy