China has already entered ageing society and there is no doubt about that. According to China Bureau of Statistics, 137 million people were above 65 in 2014, which accounts for 10.1% of China's total population. This was far above the 7% Ageing Society threshold.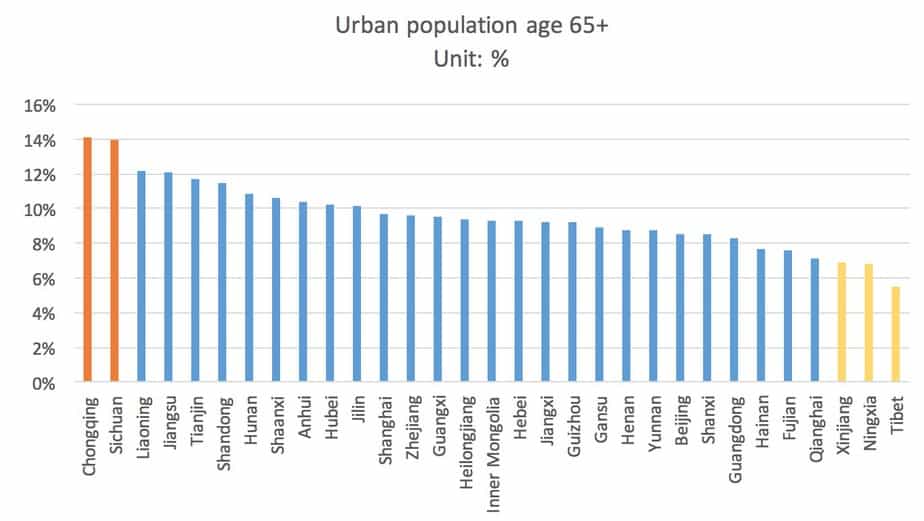 Sichuan and Chongqing have entered Aged Society with +14% elder's population. 26 out of the 29 remaining regions are already in Ageing Society, with elder's population between 7% – 14%. Only three provinces, namely Xinjiang, Ningxia, and Tibet, have an elder's population of less than 7%. Moody's estimates that China will reach Aged Society with 16.2% population above 65 by 2030. Because of this, there are huge business opportunities in China's elderly care, products, and services.
Regional Markets Vary In Size Significantly
Jiangsu, Shandong, Guangdong, and Sichuan provinces are leading with 5+ million elder's population each. Chongqing, Tianjin, Beijing, and Shanghai municipal cities each has 1.5+ million elder's population. The elder's populations there are also more concentrated (geographically) than other provinces.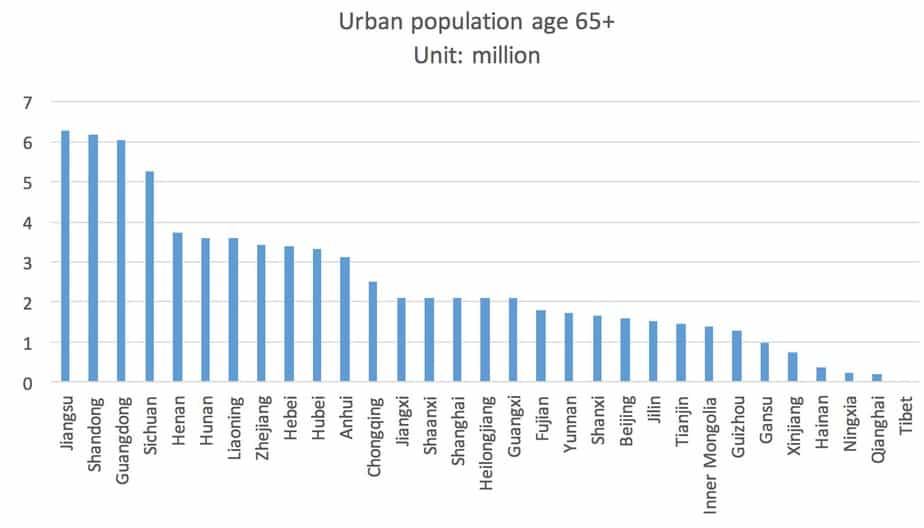 Yet, regional market size should be viewed together with social security income and support ratio.
Elder's Social Security Income Is Low
Elders of this generation are not big spenders. At the beginning of 2015, the average social security income for elders was RMB 3,065/month in Beijing and RMB 2,773/month in Shanghai. This is less than the monthly salary of a recent colleague graduate. This is not enough to pay for a typical 1-bed room apartment rent in Shanghai. Elders of this generation have gone through the period of cultural revolutions and food stamps. Most of them worked for state-owned enterprises and lacked opportunities for wealth accumulation. They would need to rely on savings and support from their children.
China's Support Ratio Is Low And Will Continue To Drop

The one-child policy in China started in 1979. By now, a single child contributes to the majority of the workforce which has a huge impact on support ratio. In 2005, 10.8 working adults would support 1 elder. This number went down to 9.3 in 2010, and to 7.3 in 2014. If the child-support ratio is also added to the equation, it would need 2.8 working adults to support each elder or child. This puts tremendous financial stress to the working class. A (relatively) high support ratio has two important implications. It provides sustainability on local social security system (usually provincial or municipal city level). It also means elders can receive support from more people such as their children or relatives.
So Where Is The Opportunity?
The opportunity, in my opinion, lies on the "efficient frontier" of support ratio and elder's population. This efficient frontier includes Beijing, Shanghai, Zhejiang, Liaoning, Guangdong, Jiangsu, and Shandong. It balances the potential market size and affordability. It is no surprise that these regions (except Liaoning) also have the highest economic growth in the country. They are the destinations in China's urbanization. With young workers migrating to these regions, these regions are more likely to be able to slow down the drop in support ratio.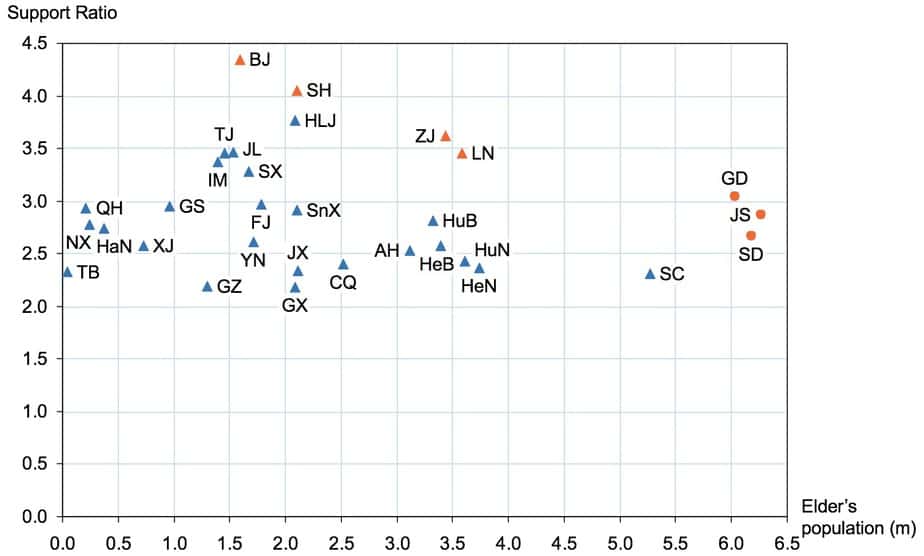 This is only a top level view on the elder's market opportunities and challenges in China. In the future, I might write another article to further explore this topic from another perspective, such as disposable income, product and service offering, and pricing strategy.
Until next time.
Data source: China Bureau of Statistics, 2014