Are you a digital nomad? More and more people are running their businesses from Starbucks coffee shops while renting an AirBnB for a week, heading to the next place a week later. Location is becoming less and less relevant.
But many governments and banks still want to keep us tied to a physical location.
I'm excited to announce that I have received my E-Estonia residency card and am going to be experimenting with it over the next few months / years. Today I will share how I got the card, why, and some other frequently asked questions as well as my future plans.
Check back for more expansion posts on leveraging this digital identity.
Applying for the E-Residency Program

First step is to apply. I literally did it while on a Hong Kong MTR train tethering wifi on my laptop. The cost is 100 Euro, and you simply upload your passport copy, a photo of you, and complete the personal information about you.
During the application, you need to state where you will go to pick up the physical card. For me, based in the South of China – my options were Singapore or Shanghai (or Beijing). They don't have a consulate in Hong Kong.
How Long Did Applying Take? (and getting approved)
So this blog post started out small, but have been getting a lot of questions, like the below:
Hi – I saw your posting on the e resident card. Hope you don t mind a question or two. Did it take long between applying and getting an 'ok'. I assume there is no photo on the card, though the seem to ask for one – is there anything on the back of the card. I can only see the front if I google search.

I am GB based but thinking of registering a company in Estonia too.

RegardsChris
So let me discuss how I applied and the e-mails that I received. I applied earlier this year in March 2016 (took a bit of time for me to fly up to Shanghai to pick it up)
Mon, Mar 14, 2016 at 3:52 PM HKT, E-Residency wrote:

Dear Applicant,

Thank you for applying to e-Residency. Your application has been submitted and you will be notified when the application review process begins. If your application is approved, your e-resident digital ID will be sent to your chosen pickup location.

The Estonian Police and Border Guard Board will keep you informed about the application process by sending progress reports to the e-mail address you provided in the application.

For additional questions please see: e-resident.gov.ee or e-mail e-resident@gov.ee

Yours Truly,
Kaspar Korjus
e-Residency Program Director
A couple days later I received notice my application was under review:
On Wed, Mar 16, 2016 at 1:21 AM HKT, Politsei- Ja Piirivalveamet wrote:

Dear MICHELINI,

Estonian Police and Border Guard Board has received an application for e-Resident Digi-ID submitted by MICHELINI born on 1981. The application number ____________ was submitted on 15.03.2016 and is currently being reviewed.

www.politsei.ee
info@politsei.ee
Client information (+372) 612 3000

e-Residency support: e-resident@gov.ee

Please do not reply to this automatic notification!

Sincerely,
Police and Border Guard Board
And on March 23rd I was approved
On Wed, Mar 23, 2016 at 1:19 AM HKT, Politsei- Ja Piirivalveamet wrote:

Dear MICHELINI,

Estonian Police and Border Guard Board has granted e-Residency to MICHELINI born on 1981.

You will be notified upon the document's arrival to the place of issue marked on the application form.

www.politsei.ee
info@politsei.ee
Client information (+372) 612 3000

Sincerely,
Police and Border Guard Board
But it was really fast for me. About a couple weeks total.
Yet, I am getting emails from people who are applying now, and it tells them it will take 2 months! Maybe it depends on the amount of applications they are receiving, or the complexity of your specific case.
I picked Shanghai as my pickup point – but wasn't able to get to Shanghai until the Wechat conference – so booked the appointment in September.
I had to re-schedule a few times as my personal schedule kept changing. I was always talking directly to the office in Shanghai .
Could I have Changed My Pick up Location?
So, as traveling business owners, we are on the road a lot. Where should we choose to pick it up? I actually was going to take a trip to Singapore earlier – but I called the Shanghai consulate and they said that I couldn't change the pick up location – well not at least quickly. I would have to request this online, and then the card would be mailed back to Estonia, and then they would re-send it to the new pick up location.
Anyway, I made it to Shanghai for a CHat wechat conference, and arranged the pick up at that time.
Arranging a Pick Up Appointment
I had to pick a certain day to pick it up, via email. They were fast to reply, and I changed it a few times as my travel plans are always changing. So I ended up picking Monday September 5 between 1pm to 3pm to get it. Arriving at about 2pm, there was no line, and I simply took a seat at the booth.
First one of the admin checked my passport and arranged everything. Then he got the Estonian consul to come out and meet me.
Here's a video blog I did on the experience
It took a total of about 20 minutes. I had to get both of my index fingers scanned in to the database. The consul told me that I had to meet at least 1 Estonian official (being him) and then I can use this digital card to verify my identity going forward.
What I Received
They passed over a blue envelope "welcome to Estonia". It contained the digital identity card, a USB adapter (so you can plug the card into your computer to verify your identity) and 3 PIN codes.
The card itself I can scan and put online, as below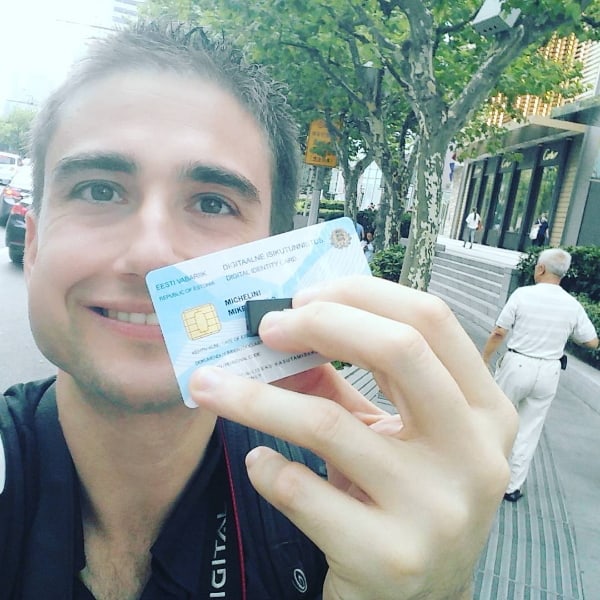 I am blurring out my information – but the Estonian consul said it is not necessary – as the PIN is the really sensitive and private part of it.
So it is 5 things
* The Estonia Digital Identity Card
* USB adapter to allow you to plug the card into your computer
* 3 PIN codes
And I was good to go, all done and off back on the streets of Shanghai.
Photos of The Estonia Card & Items
People are always curious how it looks!
Here's the envelope you get issued from the consulate: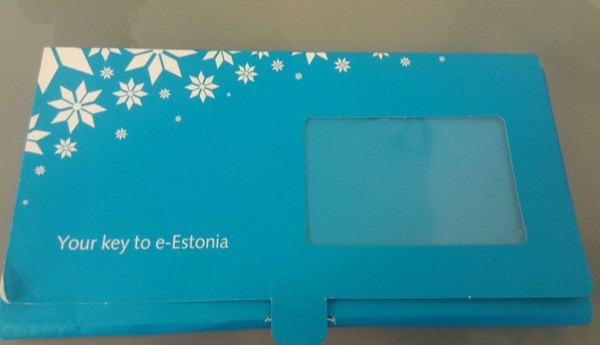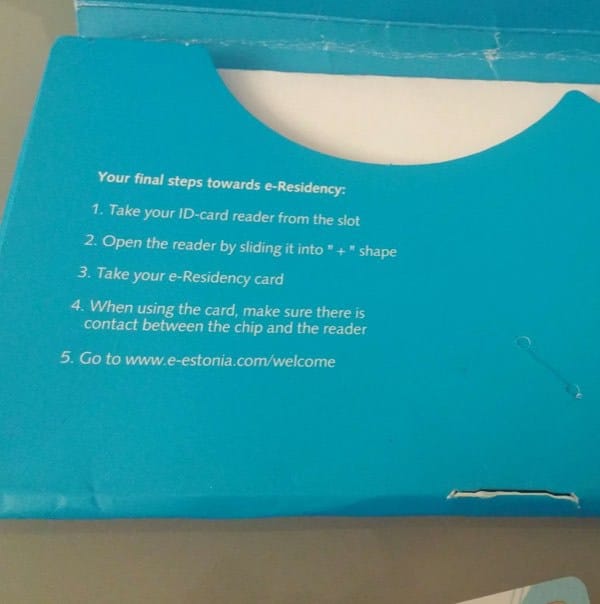 The Card (Front and Back Side)
Here's a scanned copy of the card – front and back. Some readers said they have not seen the back side. It is pretty basic, just a bar code. I blanked some of it out, just so I am not as paranoid.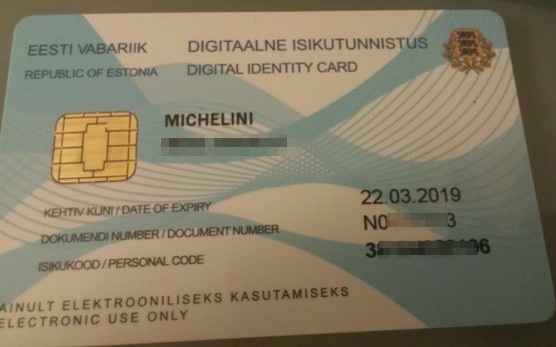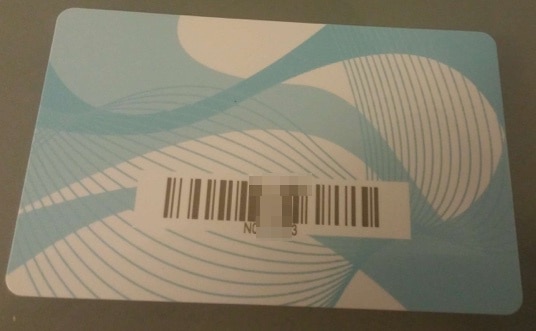 The USB Card Adapter
You also get a USB adapter as well, so I will put that in the photo too.
Below you can see it plugged into my laptop – it is cool how it lights up blue LED.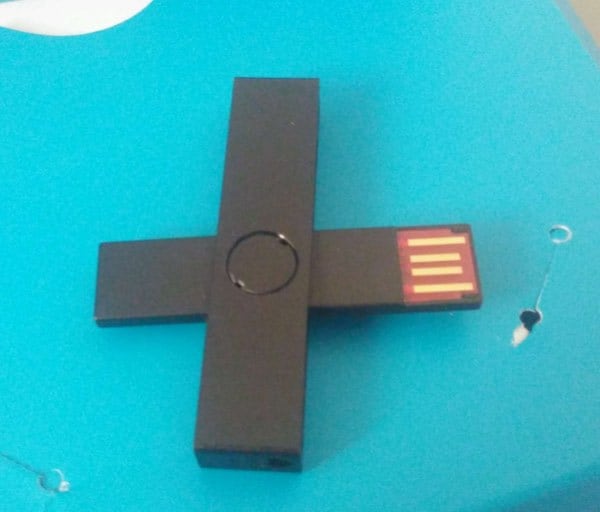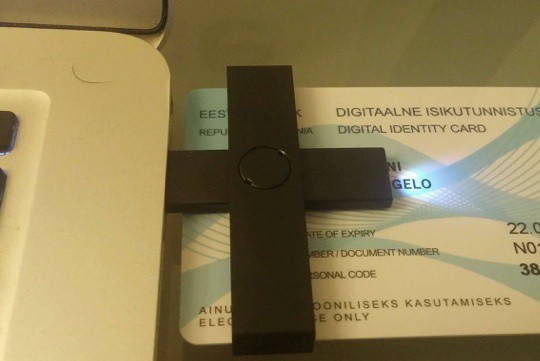 Received "Welcome to Estonia" email
Dear MIKE MICHELINI,
Certificates for e-Resident Digi-ID N09999999 have been activated and the document is ready for digital use.
Welcome to e-Estonia!
Sincerely,
Police and Border Guard Board
www.politsei.ee
info@politsei.ee
Client information (+372) 612 3000
e-Residency support: e-resident @ gov.ee
Please do not reply to this automatic notification!
What Can I Use This For?

So, the most common question I got on my Instagram and Twitter about this was – what is the purpose?
The main point is – I don't need to use my passport to verify my identity to any association that recognizes the Estonian digital identity card system. It is not a card used for residency, I am not a "physical" resident of Estonia. It is just a way to have an online identity and not need to send a scanned copy of my passport (how secure is that anyway).
I plan to open a company in Estonia, as well as a bank account. I can open the company online now, and they say in a few months I'll be able to open a bank account online as well.
This is very cool as I am working with a lot of clients have a lot of issues verifying their bank account – having to come in person to Hong Kong, going through a ton of bureaucracy.
Estonia has already passed the law to allow people to apply for a bank account online, but it just hasn't been implemented yet. I'll keep you all posted on that.
Other FAQ
I will add more frequently asked questions I have received, as well as add more as I go.
Is This For Hiding Myself From US Government?
No, I am still a US citizen, and this has nothing to do with my residency. This is for identification online. If you are trying to hide who you are from the US government, or any government for that matter, this e-Estonia program will not help you. This is an additional identification that is currently supported by the Estonian government so that you can use their digital ID card (and USB adapter) to verify your identity instantaneously and not need to mail in or scan in a passport copy, etc etc.
What Can I Do With This E-Estonia ID?

Right now, it is at the early stages. But it can be used when you are using the Estonian government websites to verify your identity. Later it will be used to verify your identity when applying ONLINE for a bank account in Estonia. Other businesses and governments can also recognize and support this e-Estonia ID card for their verification – but it is up to that party to decide if they want to integrate with it.
The main idea here is – you are traveling around the world, you need to verify your identity when applying for something or upgrading your current account. The current system is to scan your passport and email it, with other scanned copies. Or mail it in. This is either troublesome or not very secure.
Hopefully more governments will do this, and allow the growing number of "digital nomads" to be able to verify they are who they say they are from a coffee shop anywhere in the world.
Why Would I Get a Company Setup In Estonia?

Yes, so the next question is business registration. They have a fairly low corporate tax rate. But the main point to open a company there is for ease of us applying and running it long term. You still need to apply for the bank in person (as of writing this post in September 2016), but they have passed a law that allows banks to use this e-estonia ID to verify applicants remotely.
So the big idea is – people from anywhere in the world can get a digital ID, and then get a business and bank account quickly – online. Then the on going filing is all done online, and they are open and welcoming of "Digital nomads" – not thinking we are terrorists or money launderers.
What Do You Think of the E-Estonia Residency Program?
Hope today's article helped you out a bit. What are your thoughts? Am I crazy? Or is this the next big thing.
We need to step back and look at the big picture. The problem arising is – people are traveling around the globe running their businesses from anywhere. Governments and banks need to catch up with this, and I am happy Estonia is taking a lead on helping us have a global ID system.
Let's see if more governments and banks adopt.
Have you applied? How was your experience? Or think this is totally pointless and useless? I'd love to hear in the comments below!