---
I'm back on a bus! Recording today's intro on Sunday evening as I head into Hong Kong for some business meetings on Monday.
Which brings up the next topic – I will be hosting a workshop in CHat conference in Shanghai – Sept 1 – 2 on cross border tactics for your wechat shop. Would be great to see you there and I also have a coupon for 10% off the conference in the show notes.
Ok, this week's podcast is a fun one – we have Esther Jacobs who I met in Prague during my Europe tour – she is quite the world traveler, speaker, consultant, and author. Even with all her experience – she is having passport issues in her home country of Holland – today she shares her story
Topics Covered in this Episode
Intro Esther

Nice to meet you at the DC Prague event, you have quite a cool story – care to first share with listeners a bit about yourself Esther?

Citizenship issue

So you are dealing pretty positively I'd say with this horrible news you shared with me – you – lost your citizenship in your home country of the Netherlands?

Law of Residency

Because you don't stay there at least 4 months out of a year?

What Happens To Properties

My heart skipped a beat – so your house, bank account, pension – everything….?

Taxes

But you still need to pay taxes in Holland – without rights or representation?

Dutch Travelers

I don't want to get other listeners in trouble – but I definitely know some Dutch friends who have not stayed in Holland for 4 months every year – for maybe close to a decade – should they be worried?

Published Books

So you have a couple books about this, and speak on the topic – what is the normal reactions people give?

Dutch Government

And you have even presented to the Dutch government on this topic – how do they react?

New Passport

And you are getting a new passport soon – and planning a whole campaign around it – what's the plan?

How To Fix

Definitely seems like governments are far behind on this online business, digital nomad, movement – any ideas on how to fix this growing problem?

Contact Esther

Thanks so much for sharing Esther – how can people find you online, and get behind in supporting you and this movement.
People / Companies / Resources Mentioned in this Episode
Episode Length 21:09
Hope my Dutch friends listening don't have the same issues! We are still ahead of the curve from the rest of society with our international business structures and global empires – but don't let that discourage you – just keep on pushing forward.
Download Options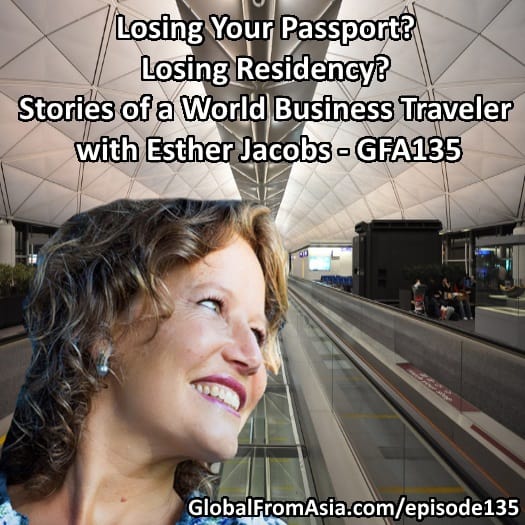 Podcast: Play in new window | Download
Subscribe: Apple Podcasts | Android | RSS