Podcast: Play in new window | Download
Subscribe: Apple Podcasts | Android | RSS
Looking to get some insights on Logistics, Warehousing and Fulfillment from China to the USA and international markets, today we dive into them, so listen in!
So I am recording today's Global From Asia episode 92 intro from Cebu, Philippines, and I didn't realize I was coming down right during rainy season, it is down pouring right now from my hotel as I record this you might even be able to hear the rain – let me hold the microphone out the window:
Listen in to the Streets of Cebu.
Such a different vibe here in Philippines from Hong Kong and China, I haven't been here since early 2012 according to foursquare, and there definitely is a lot more construction and development than I remember last time, seems the economy is finally picking up some more.
Hope all the Americans out there had a great fourth of July holiday over the weekend, I spent saturday with the family and a few friends in Shenzhen. Also got to meet Victor Leal, a long time podcast listener, on his second trip to China now – he is Global From Asia's top fan in South America, spreading the good word from Brazil to Chile – great to catch up and get some tips on what to cover in the future.
Ok, now for today the show's continuing quest to discover the process from Factory to Consumer (F2C) we have a good show for everyone today, Fred Perrotta of Tortoga ?? backpacks who I was connect to from Nick _____ from Enter China shares with us some of his processes and tips on how he does logistics and fulfillment between USA and China and fulfilling his orders in today's global economy.
Topics Covered in this Episode
Introduce Fred
Where you based now, living out of your backpack? 🙂
You were originally in digital marketing before this product business, give us some background?
How did you finance Tortuga Backpacks to get it off the ground?
Any crowdfunding launches, Kickstarter?
Wow, bootstrapped and hustling, give us some tips on how you did that?
How was your China sourcing experience when you first made the products
And samples, shipping internationally.
Southeast Asia orders, customs, horror stories
Experiences in B2B logistics between China and America
The magic of figuring out how much a container will cost
How do you do your B2C fulfillment
Service providers you have used for logistics and warehousing, fulfillment.
What do you recommend someone just starting out sourcing from China and doing international e-commerce?
Ways people can reach out to you and your business, Tortuga Backpacks
People / Companies / Resources Mentioned in this Episode
Episode Length 34:39
Thanks Fred for coming on the show and sharing – I am pretty sure you guys enjoyed the show as much as I did – as always the show notes and links can be found on GlobalFromAsia.com/episode92 . As always comments, feedback, show ideas are much appreciated. I'm thinking to do more case studies like Fred, where we dig into their international ecommerce and trading businesses to understand how they are sourcing, QC-ing, taking care of logistics, and marketing and distribution – but at the same time I wonder if that would get repetitive after a while. Let me know!
Also he had a good excerpt from the Location 180 post:
If possible, track down a reference so that you're working with a reliable freight forwarder. I recently found Flexport and Kontainers, two tech-focused freight forwarders. I haven't used either one yet but will get a quote from them for our next shipment.
Having additional tracking and a web-based interface may be worth a small price difference. The freight forwarders that I've worked with use the phone, email, and spreadsheets, which leads to extra back-and-forth that I prefer to avoid.
For storage and fulfillment, we've used Fulfillment by Amazon (FBA) and Shipwire. I've also heard good feedback about Mochila which was started by ex-Amazon FBA employee
K, time for me to get back to organizing this new internet marketing office here in Cebu, I'll show some of the early construction pics on the show notes at GlobalFromAsia.com/episode92 and i'm happy to say I'm getting some people interested in leveraging this new office with their business – we'll mostly be doing content writing and link building, but open at this point to dedicated desks for those interested. Let me know
Stay safe everyone and keep taking action in building your global business, cheers!
photos coming soon of the office construction.
Download Options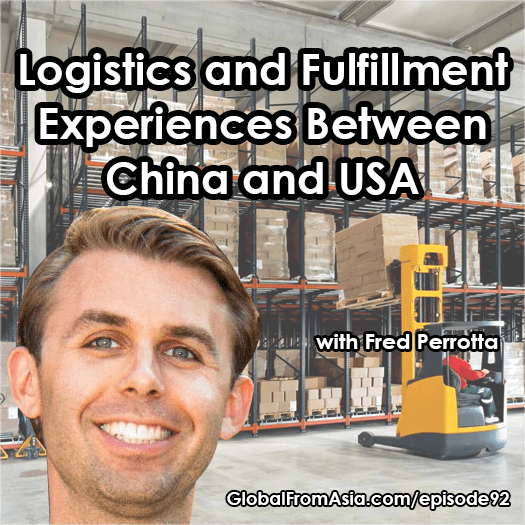 Listen in Youtube