E-commerce is becoming more than just a trend but a solid direction that most businesses take to expand their operations globally. The e-commerce industry in Asia has grown exponentially in most recent years and surveys by Statista are optimistics for the future of the industry and the region. Reports show that revenue in the Asian e-commerce market amounts to US$970,868m while Mainland China has emerged as the number one in e-commerce with US$634 billion in revenues and will be leading through 2023.
Hong Kong's e-commerce industry too is not to be ignored and the expected annual growth rate of 7.9% as well as the projections in terms of revenues that should reach US$6,484m by 2023, make the market as one of the trendiest in Asia. Question is, how can brand leverage that potential growth and how entrepreneurs can launch innovative e-shops?
What's the state of e-commerce in Asia?
The year 2018 was a turning point for the e-commerce industry in Southeast Asia as reported in the e-Conomy SEA 2018 research by Google and Temasek.  Dubbed as the fastest-growing internet region, Southeast Asia's internet economy reached $72 billion in gross merchandise value (GMV).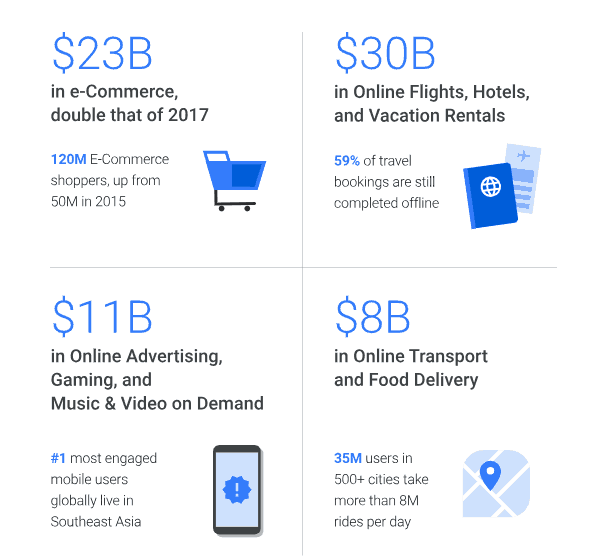 Of all the sectors under Southeast Asia's internet economy that includes online travel, ride hailing apps, online advertising, music & video subscription, among many others, e-commerce remains the fastest in terms of growth.  It has expanded significantly from year 2015's $5.5 billion in GMV to over $23 billion in 2018. That is a growth of 4x in just three years.
The growth in e-commerce or the internet economy in general is fueled mainly by investments in internet companies headquartered in Singapore and Indonesia.  Of the $24 billion total funds raised since year 2015, $16 billion was raised in Singapore, $6 billion in Indonesia and $2 billion in other regions of Southeast Asia. Also, with more than 350 million internet users all over the region, the formula for growth on an unprecedented scale is already established.
Why Shopify is a great end-to-end solution for business owners?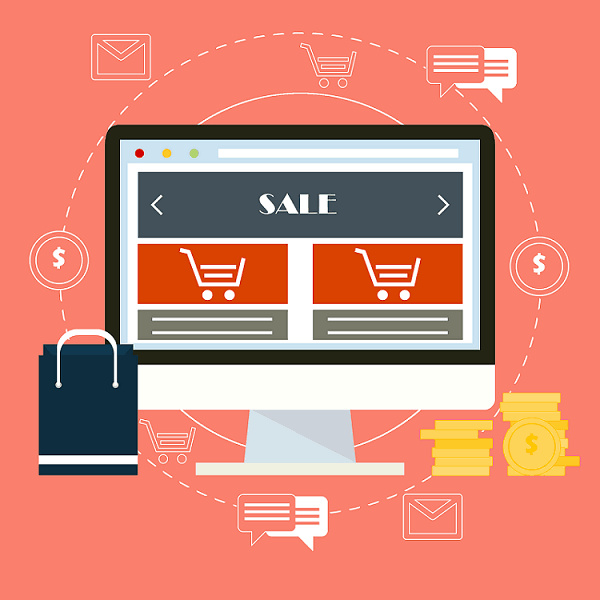 Shopify is a fully integrated e-commerce platform that covers all the necessary activities for you to start, manage and grow your business.
Create your website or online store

Through Shopify's online store builder and themes, you can customize the look of your site even without web designing and developing skills.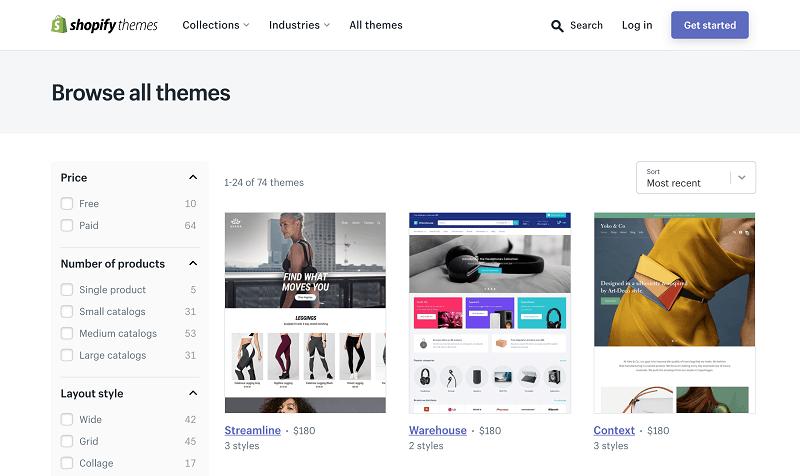 There are 70 professional and free store themes that you can choose from.  Your online store will also come with a built-in mobile commerce shopping cart so your customers can do purchases or browse through your products using any gadget. Like any other website, your online store has a full blogging platform feature. You can write blogs, articles and other pieces to help drive traffic to your site and moderate comments if there are any.
You can also add some features and functionalities to your website with apps from the Shopify app store.  Some of the available apps are Facebook Messenger Marketing, Sourcify, Oberlo, Kit and many others.
Sell in multiple channels
Shopify allows you to sell practically anywhere thus extending your reach.  You can sell through your website or online storefront and in all of your sales channels or platforms.
Currently, it has 24 sales channels in its network which also includes, Facebook, Instagram, Amazon, eBay and Google shopping.  It would be like having different stores or branches for the price of one. You can even take your online store occasionally in pop-ups, fairs, festivals.
Manage products and inventory
Like any other online store, you add your products and their variants by uploading images and product details.  When they're already up for sale, you of course have to ensure that you have them available for sale or if already selling, you have them in your inventory.
The inventory tracking feature of Shopify lets you view your inventory and adjust inventory counts. You are supported in this way to avoid running out of stock.  It will let you know when you need to manufacture or order your products.
Manage payments
Shopify has its own payment gateway, Shopify Payments through which your customers can pay using their credit cards.  Shopify also works with third party, international payment providers so your customers can pay in their local currency in the payment method they prefer.  If your customers do not have a credit card, they can pay using Paypal, Amazon Pay, Google Pay or other alternative methods like virtual currencies.

Besides, Shopify offers some cool payment features that will help you managing your activity:
It also has a Point of Sale feature that allows you to receive payments anywhere even if you sell in person in pop-ups, fairs and festivals.
You can create a cart for each of your customer, customize them then accept payment through the payment methods you have specified.
Shopify has a Payments Providers area where you can manage your store's payment methods. And, as Shopify supports over 100 payment providers all over the world, you are somehow assured that your store can accept whatever payment method your customers prefer.
Shipping using Shopify
In Shopify, an integrated shipping plan allows you to manage your store's shipping requirements, whether your customers are located in Hong Kong or abroad, and as a business owner, you might want to have a strong focus on the delivery since it will be quite important for your customers.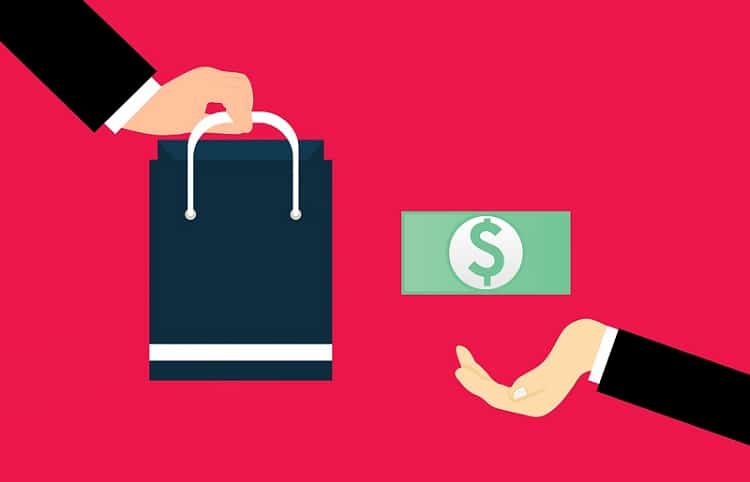 Here are some of the main features Shopify proposes regarding the shipping:
You can use a third-party fulfillment service that can ship your orders for you.
With the bulk order fulfillment and easy label printing that you can do from your phone or computer, you can prepare multiple orders at once.
You can either charge the exact rate as computed by the shipping company or charge a fixed shipping rate.
How to build your online store with Shopify?
While Shopify allows you to launch an online store in an easier way, there are different areas you might want to focus on to improve your chances to develop your sales.
Building your brand
Your brand starts almost always with the name that you come up with:
It has to be representative of the image, advocacy, passion and personality behind the business that you ventured into.
It has to be well thought-out, unique and has a name recall.
To help you in creating a name for your store, Shopify has a business name generator feature that can also instantly check the domain availability. While you ultimately choose the name, this tool can help you think creatively with the results that it can return while you search.
What complements the store name in building your brand is a logo that acts as a trademark of your store.  Shopify also has a simple logo maker feature that it named Hatchful, where you can create or design your own out of hundreds of templates.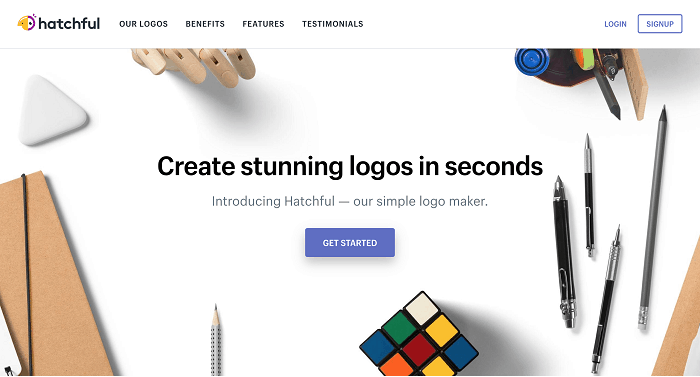 You can have your professional logo done in seconds and can download it on high-resolution and optimized for social media, business cards and your merchandise.
Building your online presence
After having chosen your brand name and logo, you can then register your domain name and you can do this through the automated setup feature of Shopify as there are no complicated configuration processes involved.
Your online presence doesn't stop at having your domain name ready. You have to promote your shop in social media for instance and to do this, you need to be creative and get high-resolution photos that you can use commercially in your website and in your ad campaigns.
The good news is that Shopify offers you the possibility to do so, thanks to Burst, a free stock photo platform powered by the company.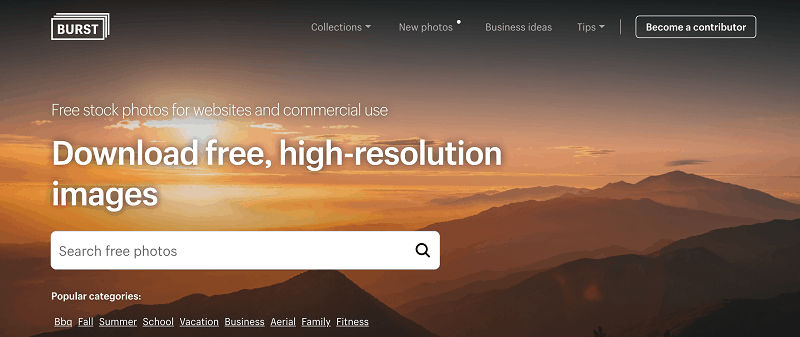 The meat of building your online presence is in the ad campaigns you run and Shopify has plenty of solutions to make your new e-entrepeneur's life easier, especially with Kit.
Shopify's Kit acts as your virtual marketing staff that:
Can create and post your ads for you in say, Instagram and Facebook.
Has an email marketing automation feature that you can take advantage of as a way to gather feedback.
Can be integrated with other Shopify apps to further boost your marketing efforts.
This smart tool gives out expert recommendations and messages you about it.  It tells you how many store visits were done at a certain period then recommends some actions to take to maximize profit out of this traffic.
Building your online store
With everything in place, you now are prepared to set up your online store.  But, what products will you sell in your store?  If you are not sure yet, Shopify can help you with that through dropshipping platform, Oberlo.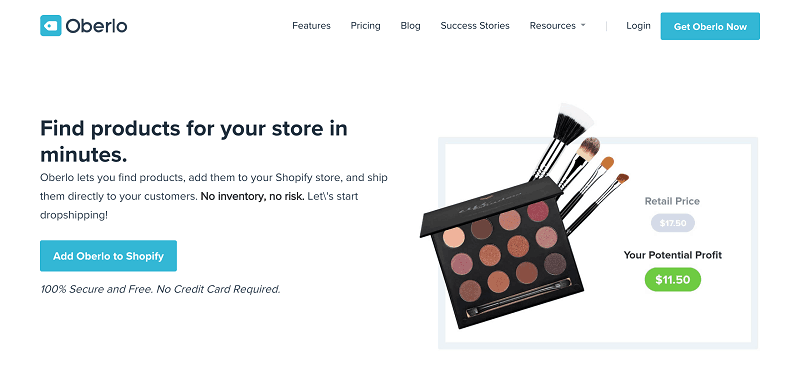 You can browse through it to choose the products you want to add to your store, directly sell them and the platform can even handle your warehousing requirement for your inventory and the packaging and shipping of your products.
With Shopify, you have all the keys to create your e-commerce shop in an easier way and while it might require some technical skills, be sure that Shopify's website builder feature is very handy. You should already be able to set-up the basics, especially with about 70 themes that you can choose from to start selling online.
More and more platforms are going into the region making Asia a very lucrative marketplace and to save you time and effort, a fully integrated solution is a necessity.  Shopify is exactly this kind of solution and thus, can be your valuable partner in your expansion in Hong Kong and Southeast Asia, especially with the different packages they offer. You will find for sure the one that best fits your needs.