---
Episode 157 today, January is already halfway over, Chinese New Year is coming, and I'm shipping my son up to North China for the holiday – grandpa and him are going up and we're staying down south.
We are getting a good group people together for the official Global From Asia course, had a good chat w/ Michael Eagleton about it just now, if you want to get in this round, deadline is Jan 25 – globalfromasia.com/course
And for the cross border summit – we moved the dates back a week – Easter weekend was just too tough for some people to commit to – so it is April 21 and 22 – crossbordersummit 2017 everyone.
Alright and now for this week's fascinating show – Noah Herschman is here – with decades of experience in China with export e-commerce, working at Groupon, DHgate, eBay and is on today to discuss how the evolution of the Chinese export seller has developed over the year, fascinating conversation so let's listen in!
Topics Covered in this Episode
Intro Noah

Met at his big Amazon seller meetup in Shenzhen at the end of August

Evolution of Chinese sellers overseas

We've discussed this in previous shows, actually, some of your speakers at the event – Jeff Cohen from Seller Labs and Cynthia Stine – but I'd love your take on the evolving Chinese sellers on overseas platforms like Amazon.

The Taobao Platform Overview

I believe a lot of listeners have at least heard of Taobao, known usually as the Chinese eBay. So this is where you say a lot of the Chinese sellers get their "first impression" of e-commerce and doing business online. How does their system work for sellers?

And its Weighted for the Seller rather than the buyer

We've discussed this, and I love the parallel here – Taobao is a platform built for the sellers first, then the buyers, can you share some insights

And Amazon is customer first, above all

Then we get into Amazon, and it is all about the buyer. The seller is, way down on the priority list of Amazon as far as keeping them happy. Love to hear this perspective.

So, a Chinese Seller With Taobao Experience and Mindset Going to Overseas Markets

Let's make the connection, you must work with some new Chinese sellers. Getting them setup on Amazon and things rolling – what is the mindset when getting started?

Feedback Treatment

This is a fun topic – how Chinese sellers have been handling the changes in Amazon's feedback policy for incentivized reviews. There have been news articles going out in the US about some aggressive sellers in China begging, or even threatening, to change the feedback they left. How's your experience with that.

So this stems from Taobao Mindset

So to bring this back home, a Chinese business owner or entrepreneur hears online about the Amazon book, maybe they have been buying on Taobao or selling on Taobao – they go through the steps to get their business setup on Amazon. Then a 1 star review comes and they start freaking out. Well, let's be fair – all sellers freak out on their first negative review. Does your phone or wechat start buzzing when this happens?

The future of Chinese sellers overseas

The last few months have been pretty interesting for Amazon and international e-commerce in general. Donald Trump is president elect, Amazon is squeezing new sellers out – what are your predictions for 2017 and beyond for cross-border ecommerce, and even business in general?

Noah, how can we reach out?

Thanks so much for these valuable insights and perspectives – how can people find you online?
People / Companies / Resources Mentioned in this Episode
Episode Length 35:04
Thank you Noah – and now I was in conversations over the weekend about Amazon, and the complexities of shipping and other hassles – but like my friends were saying – if it was easy, everyone would be doing some of these obscure and un-sexy products they were selling.
The show notes as always are on the blog – this one is globalfromasia.com/episode157
And – please mark the dates – if you're in town for the fairs – Cross Border Summit, April 21-22, 2017 crossbordersummit.com – peace!
Download Options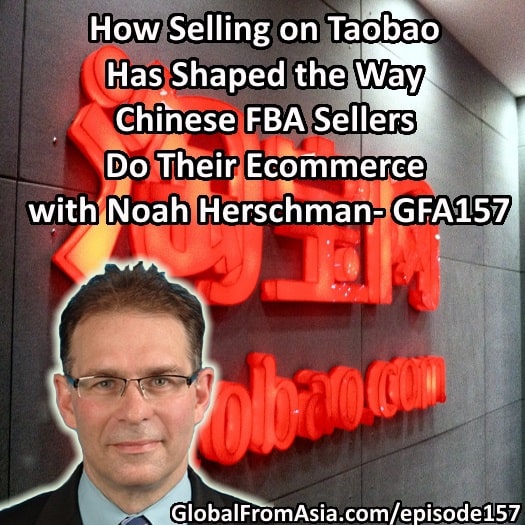 Podcast: Play in new window | Download
Subscribe: Apple Podcasts | Android | RSS