---
Chinese new year is over, well, probably this week a lot of factories still will be slow to get back started. Yes it is always a frustrating time for business owners, another fun fact about post Chinese new year, a lot of staff decide to not come back to the company. They were in their hometown and got some ideas to follow their dreams and change their career paths or maybe their parents and family got them on a new life path, so lots of hiring happening after things start back up.
For our cross border summit I am excited businesses are Back, I will visit again the venue and confirm the food and layout of the eating area, more people registering and even got a cross border taxi service talking to us.
Now onto the show,
Jeremy hanks is back, doing a quick trip in Hong Kong he came to the office and we had a fun podcast. He's been in the e-commerce game for decades and discusses some warning signs about being 100% in in one channel.
Topics Covered in this Episode
Jeremy is back!

Introduce Jeremy

Amazon vs Google vs Facebook

What about eBay?

Walmart and other big box retailers

Don't forget them

Ways to stand out

Not getting too comfortable just on Amazon FBA

How to win, how to compete

Factors that make a startup successful

Timing is important

Bill Gross's tedX


Contact

Ways people can reach Jeremy
People / Companies / Resources Mentioned in this Episode
Episode Length: 30:08
Thanks for coming on Jeremy – for all the show notes – as always check GlobalFromAsia.com/ episode113
See you next week!
Download Options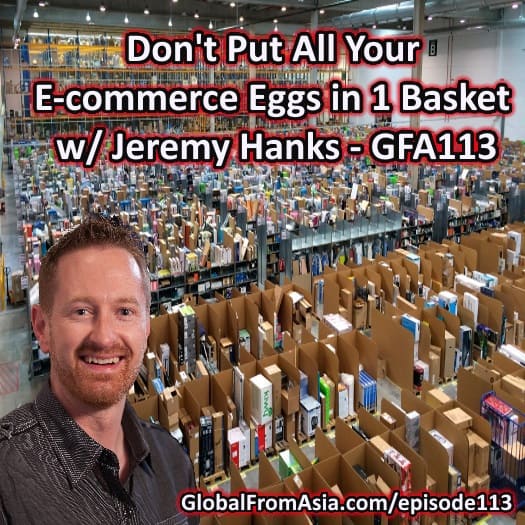 Podcast: Play in new window | Download
Subscribe: Apple Podcasts | Android | RSS