---
We are in interesting times – this is the first Amazon FBA meetup that we have done here in Chiang Mai since late 2019 from what I recall? My story is – my wife and children and I left during the Christmas holiday to spend it with my in-laws in China. The FBA meetups started to pause as well – and I remember Ivan talking to me – "we must sell masks now, the world is changing" in early 2020.
How much the world has changed – and while we can talk about all the things in the world that have changed – we will focus today on the ecommerce, and Amazon FBA space.
Topics Covered in this Episode
Everyone Dropping Everything and Selling PPE

For the first half of 2020 – I'm sure most of you at least had conversations with people wanting to buy masks, right? So many ecommerce and Amazon Fba sellers put aside their focus on their main businesses and jumped into the import/export game of PPE.

Amazon Inventory Storage Limits Implemented

It was Friday the 13th of March 2020 – I remember it clearly. I was at an airbnb in Cebu, Philippines trying to get back to China, and a red alert in our Amazon FBA operations team – rumor was that Amazon would soon stop receiving new inbound shipping plans for the time being.

Ocean Shipping Went Sky High

With the rush to send PPE products around the world from China, combined with the boom in e-commerce – ocean container shipping rates went through the roof. From a couple thousand dollars to twenty thousand dollars (or even more), it just got ridiculous. One of the brands I was working on launching – we delayed the launch (by YEARS) due to this insanity. In a way we were lucky to have not launched yet, as we wouldn't have had to re-launch later (or get stuck paying the massive container shipping rates).

Many Sellers Frozen / Scared

At that time in March 2020, it was like d-day. Many Amazon seller friends who had travel products, or other non-essential products just decided to fold. Some jumped into PPE just to survive. Even I dove deeper into PPE here at Global From Asia, we interviewed Ivan (another co-organizer here at the Chiang Mai meetups, now in Singapore) – and GFA started Loadpipe to help smaller businesses buy PPE direct from Chinese factories in group buys. Just felt like D-Day.

Then a huge Surge for Ecommerce from Brick and Mortar

As the PPE started to wind down in summer 2020, and quite a few friends got stuck "holding the bag" with a lot of mask inventory – the craze for ecommerce went exponential. Lockdowns started happening around the world more, following China. Or simply people chose to stay home and buy online. Those ecommerce sellers doing PPE soon picked up their focus again on their brands.

Massive inflow of investor money to roll up Amazon brands

And as the world fully flipped into e-commerce and established stores had to move online – Amazon was the king of the mountain. Tons of investors started pooling funds together and signing off on pitch decks for aggregators. It was already happening pre-covid (I was part of one), but covid and the e-commerce boom and the excess capital just flooded the market.

Huge Multiples - for both Buyouts but also PPC

As these massive amounts of money flew into e-commerce, so did the multiples (premiums paid on businesses). Yet as I have discussed with experts in Global From Asia podcasts, the money also flew into advertising campaigns on Amazon's PPC campaigns. Bids for top keywords became crazy expensive and seasoned ecommerce sellers simply had to back off.

Collapse of Many Amazon Aggregators

As you can tell, burning money on PPC and paying excessive multiples for businesses cannot last forever. At some point investors started questioning the burning, and the numbers didn't add up on the potential growth. Investors started cutting back and the house of cards for many of these newly minted ecommerce investment funds started to tumble.

Economic Depression

On top of the boom and bust of aggregators, crypto and the stock market took a hit – as consumers seem to be running out of money (honestly where has all the money come from anyway) Many sellers are fearful to predict Christmas 2022 sales – not sure if consumers would be willing to open their pocketbooks much. But as any "ecommerce gladiator" has to do – onwards we march, and keep on pushing.

2023 The Year of the AI

And now we are in a new year, and on November 30, 2022 OpenAI released their public product Chat GPT. AI had existed before, but behind paywalls – this was totally open and free for anyone with an internet connection. Many sellers, entrepreneurs, and anyone really trying to stay ahead of the curve – is furiously studying this and working on adjusting their entire workflow (I know I am!)

Summary - What Is In the Crystal Ball

What a roller coaster, just typing this up has gotten me on the edge of my seat. Still, those staying the course, being diligent with keeping their operations costs reasonable, and their PPC and advertising budgets in line – will be rewarded. All of this I feel is a lesson – those who just stayed on track during that roller coaster ride and didn't jump on the latest bandwagon – would most likely come out ahead. To me, it is still all about branding and differentiation of your product in the marketplace. Not just be a keyword and a commodity product – but stand out in the search results, and ultimately have the consumer searching by your brand name. I'm furiously studying AI to create even more content
People / Companies / Resources Mentioned in this Episode
Episode Length 01:12:21
Hope you enjoyed this presentation – we're running a few Amazon and ecommerce brands ourselves, while also hosting podcasts and starting events like this.
Mark the date – November 16-17, 2023 in Chiang Mai, Thailand we will have a 2 day full conference on cross-border trade, mainly around Amazon FBA and the Western marketplaces and B2C. Tickets are not open yet, but if you join our GFAVIP membership you'll have first access.
If you're looking for consulting help- we have AmzAssistant.com service, and if you're looking for content creation, we have ChiangMaiStudio.com to provide tools and services to sellers looking for a straightforward solution.
Download Options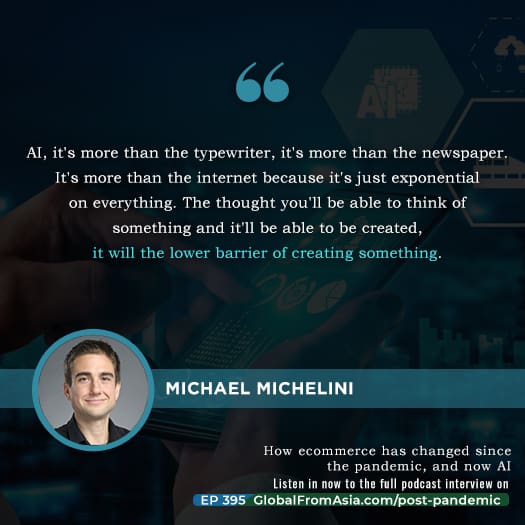 Podcast: Play in new window | Download
Subscribe: RSS