---
Staying warm? Seems like the whole world is frozen over, record cold here in the south of China. Reports of freezing rain in HK. And to make this time even more memorable – baby Maggie was born this past Sunday Jan 24! A snow princess for sure, keeping us all warm in our hearts.
Ok, enough of the soft stuff, let's cut to the chase and dive right into the show – I need to get back to the hospital to check on Wendy and Maggie, enjoy!
Maybe not in the best interest of a podcast talking about China manufacturing and Asia business, but a topic I think due discussing is the topic of reshoring manufacturing to America
Background of rosemary Coates:
Ms. Coates is the President of Blue Silk Consulting. She is a seasoned executive with an MBA, 25 years' experience in Supply Chain Management, Operations Management, Project Management and Systems Consulting. Prior to BSC, she was a Senior Director at SAP, the Supply Chain Practice Leader at KPMG Peat Marwick and at Answerthink, and a Regional Manager at Hewlett-Packard. Ms. Coates has consulted with global and domestic clients, VCs and PE firms on operations systems and processes. She has considerable international experience and has worked for extended periods in Asia and Europe. Her experience spans a broad range of industries including High Technology, Software, Chemicals, Health Care, Consumer Products, Industrial Products, Food Distribution, Transportation, Publishing, Retail, Oil and Gas. She has extensive knowledge and experience in manufacturing and outsourcing in Asia, Europe and the US. She has authored an Amazon.com Best Seller book: 42 Rules for Sourcing and Manufacturing in China, 42 Rules for Superior Field Service and the Reshoring Guidebook.
Topics Covered in this Episode
What is reshoring?

Details

How is this trend, when did it start, how is it going


How it will affect China

What factors to consider

When it makes sense

When it doesn't

Example case

First steps in doing it

Issues to watch out for

Is it all or none?

Maybe can mix and match reshoring with Asia.
People / Companies / Resources Mentioned in this Episode
Episode Length: 23:55
Thanks everyone for listening. What did you think? I have heard Chinese businesses are even open in American factories. Maybe some alternate ways to thinking as everyone is still talking about manufacturing in China. Try to stay ahead of the curve.
Send me some feedback – mike @ global from asia – that's a wrap this week – catch you next time!
Download Options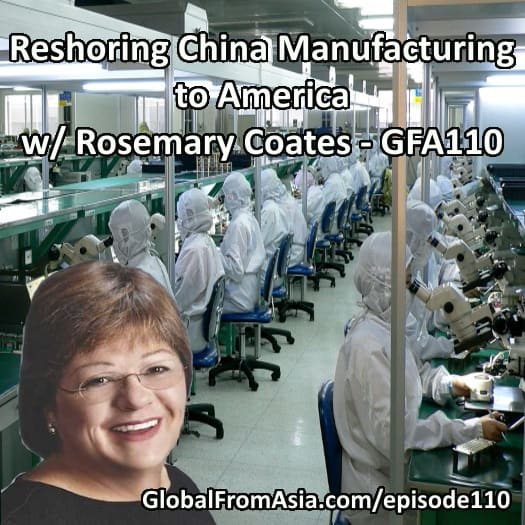 Podcast: Play in new window | Download
Subscribe: Apple Podcasts | Android | RSS