---
It is hot and humid, feels great to be back in the South of China in mid-July. The two weeks in Europe was a much needed "China break" but I am ready more than ever to rock for the rest of the year here in China and Asia.
Which brings me to an interesting announcement – I have mentioned on some previous episodes I am now a partner at the Enter China community, a members community of product manufacturers in China – and we are hosting a live webinar on August 4th giving tips and tricks on finding the right factory for your crowdfunding campaign – to learn more and signup go to globalfromasia.com/enterchina
And, if you are here in the south of China on Friday July 29 and want to do a full and in person event – we are going to visit the Qianhai Free trade zone here in Shenzhen – government will be there, workshops, and a roundtable. Lunch and dinner included, limited spots – check it out at globalfromasia.com/qhtrip
Alright – and now for this week's show, episode 132~ – we have John Niggl from Intouch Quality, a full service QC company – and he is sharing with us some common things you should look for when doing factory inspections – if you are even doing them at all!
Topics Covered in this Episode
Intro John from Intouch Quality

China story

A little bit of your story and how you came to China

Qc vs inspection

Cost of third party inspection

Mistakes people make

QC Checklist

Tell the factory they are coming

Audit vs inspection

When you may not tell the supplier you are coming

What happens if you show up to the factory unannounced

Letting factory staff control equipment

Checking raw materials

Inspecting tablet pc

Sample size inspectors should make

Aql , what it is and how it affects inspection

Ways to contact you
People / Companies / Resources Mentioned in this Episode
Episode Length 30:21
Thank you John! Finding the factory is one part – but oftentimes we rush things and skip having someone check the factory when doing our manufacturing run. I know a ton of you aren't based here in China – but that is why there are these QC specialists who have your back!
And that's it this week – if you want to get on this webinar for finding the right factory – check it out at globalfromasia.com/enterchina !
See you guys soon, time to get outside into the heat and humidity!
Download Options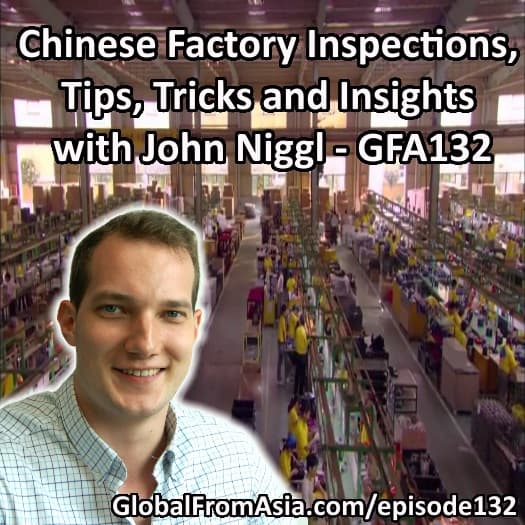 Podcast: Play in new window | Download
Subscribe: Apple Podcasts | Android | RSS