Oh the joys of dealing with Paypal! It's a struggle anywhere, but most especially in China.
Today, we are helping a foreigner in China with the below question:
Hi, looking for some advice about PayPal and China…. so I'm sure this question has probably been asked before, but what I'm trying to figure out is can we now use PayPal in China? There are some online jobs I want to get into but they only pay via PayPal, so what I want to know is can I set up a PayPal account which is linked to my Chinese bank account? Has anyone has any joy in doing this? Any info would be such a great help!An annoyed foreigner in China
Before explaining how to set PayPal up along with a Chinese bank account, it's important to first mention a few things about PayPal and how it works in China.
China has its own type of online payment platforms and the general population in China does not use PayPal and many banks don't even know what PayPal is if you were to ask them about it.
Since China has alternative online payment platforms (like AliPay and WeChat pay) there's not a huge demand for PayPal in China, which is why there is no simple solution to setting up a Chinese bank account with PayPal.
It's important to know WHY you're trying to set this up and WHAT you are trying to accomplish.
There may be far simpler methods to reaching your financial goal (i.e. withdrawing money in China) than using PayPal in conjunction with a Chinese bank account.
In this article we will outline:
How you MIGHT be able to setup PayPal with a Chinese bank account (doesn't always work)
How to withdraw those funds from the Chinese bank account (spoiler alert: you'll need a Chinese ID card)
Alternative ways to send funds to China using Xoom.com or a foreign ATM card.
First you'll need to setup a new PayPal account. This new account is NOT the same as your US based or other country's PayPal account. You can't add a Chinese bank card to your already created US based PayPal account because the account is flagged for specific countries and cannot be used for both China and America.
Why Is My Paypal In Chinese Language?
See something like this when you hop on Paypal in China? Consider getting a VPN (read our extensive VPN guide here for tips) for changing your IP address and default language.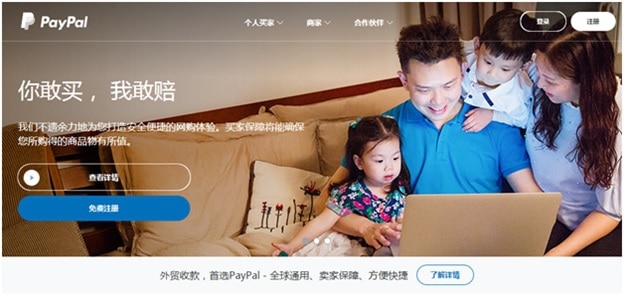 As this article has been published, a lot of people are now asking us – why are they getting their Paypal account showing in Chinese language after logging in?
There are a few potential reasons:
You are inside of China (Chinese IP Address) when logging in
You signed up for a Paypal China account and it thinks you are Chinese
Computer / browser language / geographical setting
We recommend looking on the top right for the language option to go to English – also sometimes in the footer of Paypal's website UX.
If you're a foreigner and cannot read Chinese, you can simply scroll down and switch to English version by clicking the permalink below: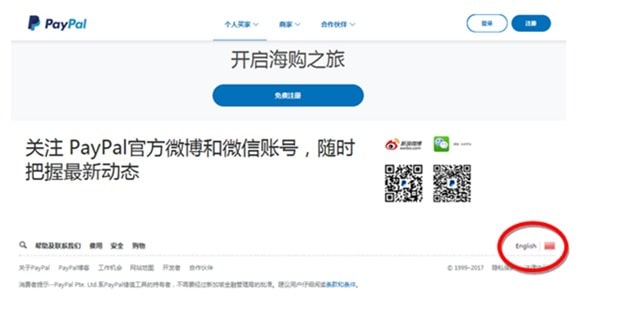 Signing Up on Paypal.cn
Signing up for a Paypal account is free and easy. With that being said, to create a new PayPal account based in China you can follow these two steps:
1. Choose the type of account
First off, you need to choose on what type of account you want to open: Individual or Business. But if you're someone who only wish to use Paypal to shop online or simply send/receive money, I suggest you sign up for the Individual type. You can always upgrade to Business type if you wish to, anyway.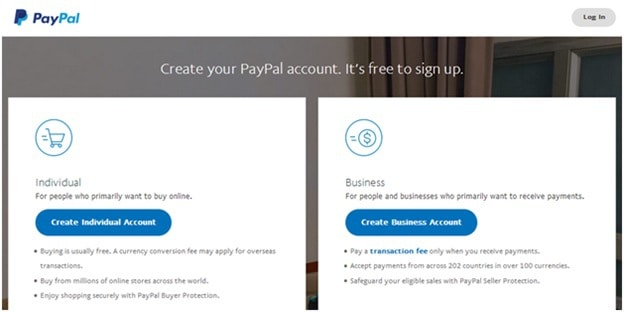 Next, you can click here to sign up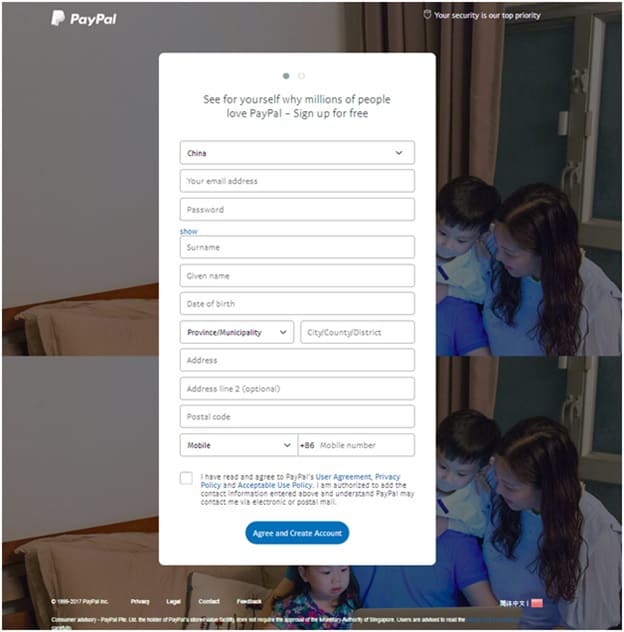 2. Link card to your account
Once the first part has been filled out, it'll redirect you to another page wherein you have to link your card to your account.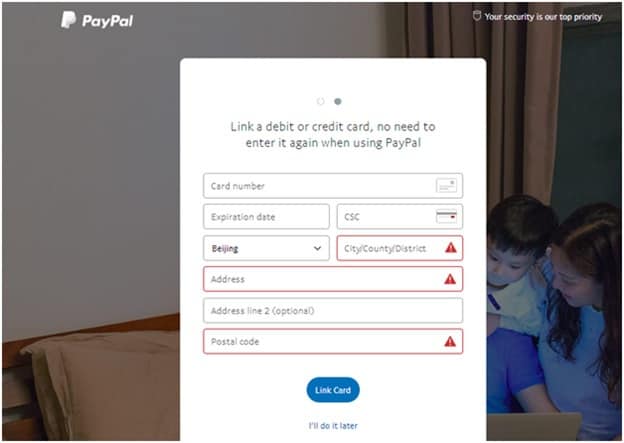 At this point you'll need to input your Chinese bank account card info. Most Chinese bank account cards are UnionPay instead of Visa or MasterCard and Chinese PayPal WILL recognize these types of cards which the US PayPal will not.
This is where things start to get a little problematic. If you setup your bank account through one of the major banks like ICBC, Bank of China, China Merchant's Bank, or China Construction Bank then your card should be accepted without a problem.
However, if you used some smaller banks or banks that are specific to a certain city (Bank of Nanjing, Bank of Ningbo, Bank of Dalian, etc.) then your card may not be recognized by PayPal.
If it is recognized by PayPal then you can proceed to the next part on how to withdraw money from PayPal. If it does not work you can skip this and go to Part 2a and find alternative (and possibly much easier) methods to take out money in China.
How to Withdraw Money from Paypal

Congratulations if you've managed to successfully open a Chinese PayPal account as a foreigner without a hitch.
However, at this point you will have 2 different PayPal accounts that do not share the same balance. So if you have funds in your American PayPal account you will not be able to immediately withdraw them in China because the accounts are separate.
Now you simply need to send the funds from your American PayPal account to your separate Chinese PayPal account.
For this, PayPal will charge a cross border fee of 0.5% to 2% of the balance transferred.
The transfer will be completed within moments, but it will take 3-5 days before you'll be able to withdraw the funds from your Chinese bank account. And before you withdraw the money in China you will need to convert the USD to RMB!
Converting US Dollars (USD) to Chinese Yuan (RMB)
So how do you do that?
You can use an officially supported PayPal service called LianLianPay.
LianLianPay is a third party payment service that helps you withdraw your money from USD to RMB using your local Chinese bank account with 1.2% withdrawal fee and only takes up to 2 days.
To use this payment service, you need to sign up for a LianLianPay account, verify your personal or business information, and link your PayPal account with your LianLianPay account. All of the information among these accounts must be identical.
However, LianLianPay requires a Chinese ID card that matches with the details indicated in your Paypal account. So if you're a foreigner with no valid ID in China, this will not work for you and you will need to find a trustworthy Chinese friend or colleague to help you complete this transaction.
If you're stuck at this point and can't access your funds, Global From Asia has written up some alternative ways you can access your PayPal funds in China even as a foreigner.
Can I Use Paypal Without A Bank Account?
Many find this out after they even make a Paypal account – that they keep getting bugged by Paypal to verify their account by linking a bank account. You don't need to link a bank account, and can use it for transferring money to and from friends and business colleagues. But I don't always feel comfortable leaving a large amount in a Paypal account, especially one that isn't verified – so proceed with caution if you're keeping large amounts.
Paypal China Alternatives
After reading this, you realize need a Paypal alternative and looking for options?
We got a dedicated article on Paypal alternatives.
Yes, you're welcome. 🙂
This is part 2, called alternative ways to send funds to a Chinese bank account and withdrawing in China (RMB)
The easiest way to go about this process is to avoid using PayPal at all costs in China. Since the local Chinese population does not use PayPal at all there are not a lot of convenient procedures in place to make transferring money between the two countries using PayPal smooth or easy.
You can go through the steps mentioned above, which will most likely require the assistance of a local Chinese friend to use their government ID card, or you can take an alternative route as mentioned below.
To withdraw money from your PayPal balance in China:
Transfer your US PayPal's balance to your US bank account (or wherever your home country bank account is)
Use your US or other country's ATM card associated with the bank account to simply withdraw money from almost any ATM in China.
If you don't have the ATM card linked to your home country's bank account, you can use PayPal's Xoom.com service to exchange and transfer money directly to a Chinese bank account. After doing this, you can withdraw the money from the Chinese bank account using your Chinese ATM card
More About Xoom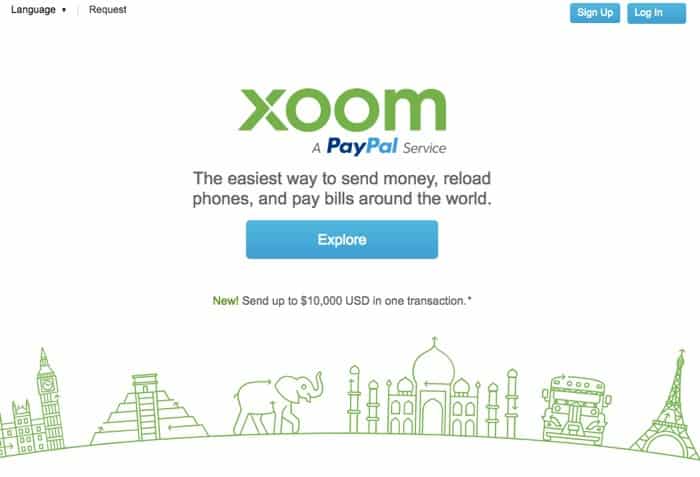 If you don't have your ATM card though, you can use a service provided by PayPal called Xoom to transfer money directly to a Chinese bank account. The Xoom website is very easy to follow and explains the fees very clearly as well as giving you a few different options in which to pay. While using this site the money will be transferred from your home country's bank account to the Chinese bank account of your choice. You CANNOT transfer money from your PayPal balance using Xoom.
So basically, take advantage of the ATMs in China that almost always support all major foreign debit and credit cards. Using the ATM will eliminate the hassle of exchanging currency because the ATM will do it all for you and generally will charge you minimal fees and sometimes no fees depending on your home country bank account's policy.
After that, you have your cash in RMB and you're good to go! Read Global From Asia's writeup on Xoom here and learn more about how this service works.
Look Up More Cross Border Payment Solutions
Really, as you study about Paypal in China – we hope you realize you don't need it! What you really need is to find a cross-border payment method you prefer.
Global From Asia keeps them as up to date as possible – so check the page above often.
Paypal Process with a China Twist
Signing up for a Paypal account in China is basically the same as it is in the other countries, but there may be just some minor hurdles in verification – for example: code for verification fails to reflect in your bank account – thus you will have to personally visit the bank to ask for help. Unfortunately, most of these banks aren't too familiar yet with Paypal, hence finding help is a little tough. Thing is, Paypal isn't as widely used in China compared to Alipay and other local payment services. However, having a Paypal account is indeed useful to people who would like to work and get paid online.
Strongly Recommend Using a Cross Border Payment Solution
After reading this post – you must imagine what a nightmare and headache Paypal is in China. Most of us use various Cross border payment methods – so please check out our full free blog post on all different cross border China/overseas options here.
Can I Withdraw USD With a Paypal China Account?
Many ask why Paypal China require you to convert your USD (or any foreign currency) into RMB (Chinese Yuan) before being able to withdraw the funds.
It is better to step back and think of the big picture. Each country has their own official currency. Banks there also force clients to operate mainly in their own home currency. The checking and savings accounts are almost always in that country's currency.
Same holds true for Paypal China or any country. You need to have it converted to that currency to send it to your linked bank account. Maybe it's true – Paypal is doing this to make more fees off the exchange, but on the other side, many bank accounts in certain countries don't allow you to receive foreign currency to their checking account.
So it's probably a mix of "making more fees" and the simplicity of having a policy for all of Paypal's country accounts to force you to withdraw in the currency of that country's home fiat format.
Believe me, I wish I could keep all the funds in USD as well!
Have You Used Paypal in China? Any Tips?
Let's help each other out! If you have experience (or war stories) of wrestling with Chinese Paypal – please share in the comment section below.
Sharing is caring 🙂
Leave A Review for Paypal China
Now it's your turn to share – what is your rating for Paypal China.
$35 fixed withdrawal fee
★★☆☆☆
" I send money to chinese friend. PayPal shows the recipient gets $x amount. No, they must pay $35 withdrawal fee. Minimum transfer is $50, which is really $15 minus PayPal's declared fees (not censored fees. ) The $35 withdrawal fee is mentioned NOWHERE on PayPal.If you call them, they deny this $35 withdrawal fee exists or they'll claim it's a bank fee. My friend send me a screenshot of PayPal China's fee schedule and there's that $35 fixed withdrawal fee shown, NOT CENSORED IN CHINA. IT'S CENSORED IN THE U.S. like so many other things. The USA has more censorship than China and thus, most of the world. We're routinely lied to about most international affairs and that's all I'm willing to cover at the moment. Also, in China, if it's censored, they tell you. In the USA they just lie and misdirect you. People, you have no idea the extent of this. For the purpose of sending a Chinese friend money through PayPal, they must pay $35 to PayPal to withdraw the money. In fact, if you go to Xoom.com, the fee structure shown for $200 is $5 plus $20 plus an *. The * means that on top of this, Xoom charges a hidden exchange fee. I don't use Xoom but I bet it comes out about $35 OR MORE to withdraw money through Xoom, if it isn't flat cancelled, if yiu read the reviews it's criminal. Xoom is PayPal's answer to sending money to China. I DO NOT recommend Xoom. I'd rather pay the $35 fee. You CAN send money through PayPal if you're ok with $35 and sometimes it's worth it. But to send a friend $100. It costs $40 approx, and that's too much. Our alternatives all involve greater risks and vast complications. I wish that PayPal would at least simply state this $35 extortion fee honestly and not just hide it and lie about it. It just wastes time. Time is money, which is why I often just pay the $35 and move on."
- Gavin Rowley
China PayPal Withdrawl Fee Solution?
★★★★★

" Thank you so much for the comprehensive article about China PayPal. 35$ Withdrawl Fee too much which is surely being charged while Withdrawing 150-1000$. The minimum withdrawal amount is 150$. Anyone can share solution to avoid this fee while getting PayPal funds to local currency RMB? Please write to me at "azamlyh@gmai.com" if you have any solution."

- Azam

How To Connect Paypal China To A Chinese Bank Account

3.5

out of

5

based on 2 reviews.

Anonymous

Overall rating:
Share Your Experiences with Paypal China