Are you a Filipino or business owner in the Philippines trying to figure out Paypal?
Then this guide is perfect for you – so read on my friend!
How To Link Paypal Account To Your Bank Account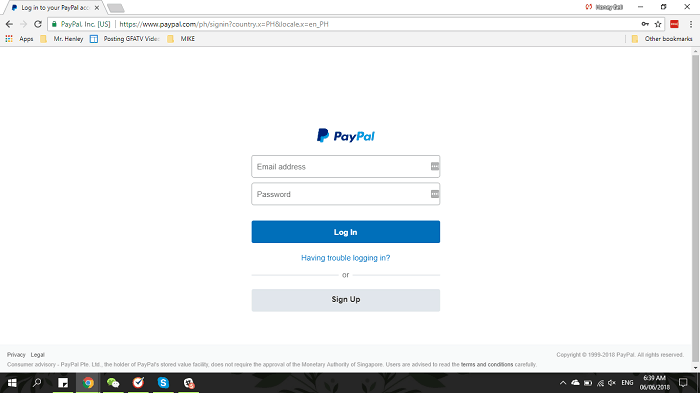 Transferring money has become more convenient through time. With today's technology, people from around the world can easily transfer money in just a blink of an eye. This gives an amazing opportunity for businesses to be able to offer products and services in the global market.
Nowadays, Filipinos are now opting to work online rather than being tied to a 9 to 5 job. Indeed, there are many advantages of working for online jobs that you can't enjoy when working for a local office job. For instance, you can save in transportation since you work from home, you can save more time since you no longer have to commute in Manila's horrendous traffic, you can juggle as many projects as you can handle and, finally, you get to choose which job offers to accept.
Thankfully, it is very easy to receive money even if your employer is located abroad. One payment platform that is very popular among Filipino online workers is PayPal. In case, you are recently employed and is now about to transfer your first paycheck, here are the steps on how you can withdraw your money from the PayPal site.
How to Connect Your Philippine Bank Account To Your PayPal Account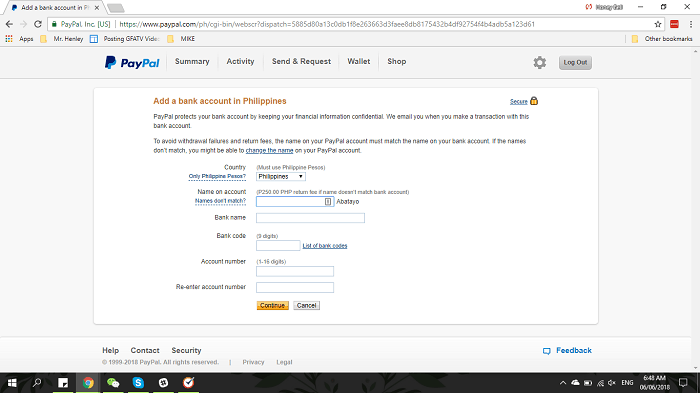 If you already have a PayPal account, you can actually start receiving money from your employers or from anyone using the platform. At this point, you can see how much money you have in your PayPal account, but you will not be able to withdraw that money yet.
You need to transfer that money first into an account you maintain with a Philippine bank before you can access your funds. To be able to make that fund transfer, however, you have to link your Philippine bank account to your PayPal account.
Linking your bank account number to your PayPal account is a very easy process. You just need to choose the "Wallet" option and then press the "Link a bank account" option. Then you will need to fill up the following details: country/currency, name on the account, bank name, bank code and account number.
Country/currency
The portion already defaults to Philippines/Philippine peso. If you maintain a dollar account, you need to click the drop-down button to change it to dollar.
Name on account
Be sure that the name of your Philippine account matches your PayPal name. If the name varies, it can be used as a ground for your bank to return the money to PayPal. If this happens, a return fee, which is currently set at P250.00 as of writing this guide. For this reason, you should not use another person's account when linking an account number to your PayPal.
Bank Name
Type the name of the bank where you open your account. (Bank of the Philippine Islands, Land Bank of the Philippines, Metrobank, Banco de Oro, China Bank, Philippine National Bank etc…)
Bank code
In this past, this is a major source of confusion for both PayPal account holders and the bank personnel who are also unaware of these codes. Fortunately, PayPal already created a list of bank codes for all the Philippine banks which you may access by clicking this link.
Check out these bank codes below:
ALLIED BANKING CORP    010320013
ASIA UNITED BANK    011020011
BANGKO SENTRAL NG PILIPINAS    010030015
BANCO DE ORO (& EPCIB)    010530667
BANK OF COMMERCE    010440016
BANK OF THE PHIL ISLANDS (BPI)    010040018
CHINA BANKING CORP    010100013
CHINA TRUST COMML BANK    010690015
CITIBANK N.A.    010070017
DEVT BANK OF THE PHILS    010590018
EAST WEST BANK    010620014
EXPORT & INDUSTRY BANK    010860010
LANDBANK OF THE PHILS    010350025
MAYBANK OF THE PHILS    010220016
METROBANK    010269996
PHIL BANK OF COMMUNICATION    010110016
PHIL TRUST COMPANY    010090039
PHIL NATIONAL BANK (PNB)    010080010
PRUDENTIAL BANK    010150018
PHIL VETERANS BANK    010330016
SECURITY BANK & TRUST CO    010140015
STANDARD CHARTERED BANK    010050011
UNITED COCONUT PLANTERS BANK    010299995
UNION BANK OF THE PHILS    010419995
UNITED OVERSEAS BANK    010270189
If you are unable to find the bank code of your bank on the two lists provided, you can directly contact or ask your bank customer service regarding this matter.
Account Number
Be sure to enter your correct account number here. If you make a mistake, it may cause unnecessary delays to your fund transfers, or worse, the bank may credit the amount to the wrong account number. In addition, be sure that the account number you are adding is still open and active. Closed bank accounts will likewise cause your fund transfers to be returned to PayPal.
Another thing to consider is that the numbers appearing on your ATM card are not necessarily your account number. In BPI's case, for instance, the numbers on the front of the ATM are called the card number while the ten digit number at the back portion of the ATM card is the correct account number.
After you've entered all the required info, click "Continue." The PayPal website will then display a summary of all the details you just entered so that you may review it. If everything is correct, click on the "Save" option. Otherwise, click "Edit" to correct erroneously coded information. Once you click on the "Save" button, the site will now confirm that you may already start making fund transfers to that particular bank account. You can actually enroll additional bank accounts if you want.
How To Withdraw From Your PayPal To Your Philippine Account
It is likewise very easy to transfer funds from your PayPal account to your Philippine bank account. Of course, you need to first login to your PayPal account. Usually, it will display your "Wallet" tab, which is also where the "Withdraw funds" option is located. The page will also show you the account balances arranged depending on currencies.
When you click on the "Withdraw funds" link, you will be asked to enter the amount that you want to withdraw. Just key in the amount you want to transfer to your Philippine account then click continue. Before PayPal processes your withdrawal request, it will first display a summary of your transaction. To push through with the withdrawal, just click on the withdraw button at the bottom part of the screen.
Withdrawal Fees and Processing Time
Just a moment of your time, please. Before you click on that withdraw button, there are a few important things you need to remember.
Don't be too surprised if the amount added to your Philippine bank account is slightly lower than the amount you transferred from the PayPal site. PayPal actually charges P50 per transaction if the amount is below P7,000. However, the company will not charge if the amount you transfer is P7,000 and above.
Also, some banks impose a fee for transfers coming from PayPal. This fee will be deducted from the amount you sent, which means that the amount added to your account will even be lesser than what you entered via the PayPal site.
According to a PinoyMoneyTalk article, Banco de Oro (BDO) charges between P200 and P250 for every PayPal transfer to a BDO account. Meanwhile, Bank of the Philippine Islands (BPI) is said to charge between P150 to P200 for every fund transfer from PayPal. However, you need to clarify these charges with your bank to check if they still apply today.
Unfortunately, you need to wait for a few days before the money you sent from your PayPal account will be received by your bank account. According to the platform, there is a processing time of 2 to 4 days for money transfers.
Alternative Withdrawing: PayMaya
Recently, a partnership between Paypal and PayMaya was established. This partnership bears good news for people who want to quickly transfer funds out of Paypal.
Once you have a PayMaya account, head to "Banks and Cards" and select the "Link a Card or Bank" option. Once there, you'll want to select the "Link a Debit or Credit Card" option next.
It is also important to note that you will need a minimum of Php100 in your PayMaya account before linking. This is for the authorization request that Paypal facilitates.
When you have chosen the card, you will be asked to add several pertinent details on your PayMaya virtual card. You'll also want to make sure that the address on both your Paypal and PayMaya accounts are the same.
With all the information provided, you'll now be able to link your card. With bank accounts, the transfer usually takes 3 to 5 business days. With PayMaya, you can get your money instantly.
The minimum withdrawal amount is Php500, with a Php250 withdrawal fee.
---
Share Your Review of Paypal Philippines
0

out of

5

based on

0

reviews.
Overall rating:
Leave Your Review