---
Time to prepare for take off. I have been brainstorming the task list for kicking off this Amazon business and I broke it into 6 departments: HR, Finance, Operations, Marketing, Sales, and Customer support. Each founder will need to "own" one of these boxes and know the procedures inside and out. We will use a lot of the framework I have in my program ScaleByOutsourcing.com – I'm really passionate about systems and structure, as it allows me to free myself from the stress of wondering who is doing what and how to manage everything.
So here's our launch plan for the first few months. A lot of this will be ongoing work that we will do regularly, but of course need to get them set up and started as well!
Topics Covered in this Episode
Departments:

Finance Accounting, Setup budgets, Choose accounting software and procedure, Setup KPI targets, Prepare for inventory purchasing, Work with legal team to make founder agreement

HR

Make SOPs, Make Job Descriptions

Sales, Business Development

Find influencers and KOLs in industry, Create Launch Campaign, Find product reviewers, Create Outreach Plan, Create B2B Distributor Sales Pitch

Marketing

Product / Keyword Research, Competitor Research, Write Listing Title + description, Product Photos, Create Brand, Create Product Video (s)Build Website, link to Amazon first, Email list, Get Focus Group feedback, Setup Shopping cart

Operations

Open Seller Central Account, Create Inventory Tracking System, Decide Inventory Flow – stock in FBA, keep some in China, etc., Bargain with Factories Get Samples from factories, Make contract with factory, Place Order With Factory, Input listing, keywords, listing title, description, photos, Apply for Trademark, in USA and China, Apply for Brand Registry 2.0 * Add Quality (Thanks Jack!)

Customer Service

Create Standard replies to customers, Setup helpdesk system, Create followup series for buyers * Add Returns (thanks Jack!)
People / Companies / Resources Mentioned in this Episode
Show Sponsors
Please show support of our GFA media sponsors as they make this podcast possible to be free!
√ Aureliapay.com Cross Border Payments in Asia
Episode Length 23:10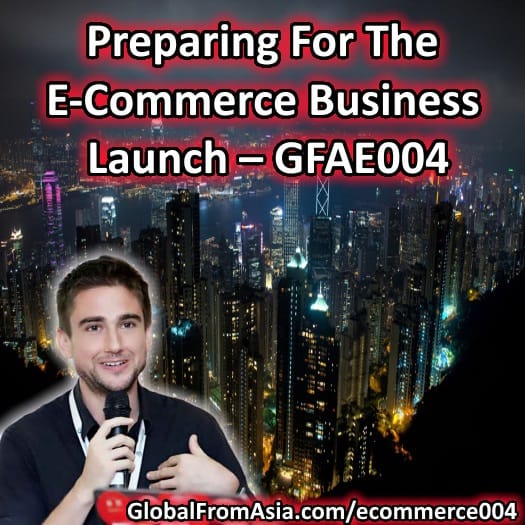 Podcast: Play in new window | Download
Subscribe: Apple Podcasts | Android | RSS