---
Welcome Danny and Will on the podcast – both have been on separately in the show thanks for coming on today together in this unique roundtable format.
We are in for a treat today – two amazing Amazon experts, Danny McMillan and Will Tjernlund come on the show to share insights and trends they are seeing in Amazon and e-commerce in this new year of 2018.
It is a nice discussion while I'm stateside and able to get all 3 of us on a session at the same time. And, the exciting part is these 2 experts will be speakers at our upcoming third annual Cross Border Summit April 20-21, 2018 in Shenzhen China. On top of that, they will also be hosts for a new half day mastermind the day before on April 19 afternoon for those with VIP level tickets.
Now, let's dive into today's show, enjoy!
Topics Covered in this Episode
Amazon as a Percent of a Ecommerce Business Sales

Amazon has evolved quite a bit – I remember selling on it back in 2006 and it just being about 10% of my revenue as a total in eBay and website sales. Now it is a major channel for most e-commerce businesses. So my first question is – will Amazon still be the main revenue source for product based businesses this year and for years to come?

The Strictness of the Platform

We should all know, as a FBA seller we have limited rights and ability. This is true on any marketplace, whether you are on Amazon, eBay, Taobao, Google play, even Google SEO – so we shouldn't complain too much. In exchange for giving up some rights – we get access to the massive user base which is Amazon's customers. But there is no secret – Amazon keeps tightening the chain for sellers – is there any end in sight?

Product Launches and Amazon

Seems like everything is "Grey" for Amazon launches now. Reviews, giveaways, discounted items. But we need to take some risks in order to be successful, no?

The Tightening of Regulations

Not just Amazon – but also governments are getting more strict. States are requiring Amazon to have sellers provide their business information over to that state and declare income and taxes, etc. Some say this is the beginning of a tidal wave to come.

Diversifying From Amazon

At conferences we have this debate – some say to focus on growing out of Amazon as soon as you can with Shopify or other shopping carts, others say it is a lot of energy for minimum return. Thoughts here?

The War Between Amazon and Alibaba

Now, really, it seems like Amazon and Alibaba are the heavyweights. And there is some future overlap with them as we see both stepping on each other's turf more and more. Thoughts here?

Future of Ecommerce as a Whole For 3rd Party Sellers

We see it in groups on facebook and Wechat – what is the future for sellers. Amazon Basics, bigger brands coming on the platform, price increase in PPC, what is the future for the "mom and pop" seller and hustler entrepreneur?

Excited to have you guys at the Cross Border Summit in April!

Now, let's talk a bit about the upcoming Cross border Summit in April – 20-21 with a bonus mastermind you guys are hosting the day before on April 19! Let's first chat about this mastermind session – Danny you want to share.

Speaking at the Summit

And we have some other great speakers – you 2 of course, and also Brian Johnson and Anthony Lee. I am so excited, its our third annual and gets better and better each time.

Thanks for coming on guys - see you in April!

Boom, an amazing podcast, as always- thank you so much for coming on the show!
People / Companies / Resources Mentioned in this Episode
Show Sponsors:
Today's podcast is brought to you by Aurelia Pay. I use them for sending money to my Chinese supplier from Hong Kong – it is a cross border payment solution between China, Hong Kong and South East Asia. So when I need to make a payment to a Chinese supplier, I just hop in to place a remittance, pay to their HK bank account, and Aurelia Pay settle RMB within the same business day! Check them out
Episode Length 34:29
Thanks Will and Danny – that was a fun one and interesting insights. The one topic I always enjoy asking people is if it is worth going off Amazon. Something I am always nervous about is being reliant on one sales channel – especially one that has been a bit more strict lately.
Do it for the love of the game! There will always be a need for consumers to buy products, and sure, way out in the future things will be 3D printed on demand in everyone's house. Think long term, and to me, the only real value we can invest long term on is our own brand.
Cheers, thanks for listening, and hope to meet some of you at our upcoming Cross Border Summit in April
Download Options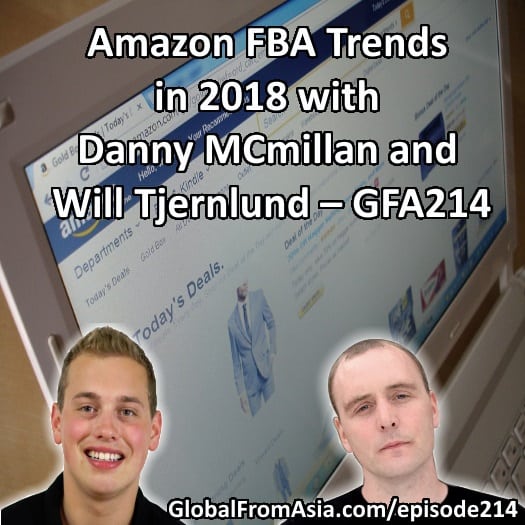 Podcast: Play in new window | Download
Subscribe: Apple Podcasts | Android | RSS