---
In today's episode we will be talking about Multi-Level Marketing Schemes or MLM – debunking the myths and talking about different business opportunities. Let's tune in.
Topics Covered in this Episode
Intro Ally Mona

Great to have you on the Global From Asia show, finally! Can you introduce yourself to our listeners today.

The stigma of MLM

I have to admit, it does have a bad rap – in my mind I hear it and I think of scams. Care to share your perspectives.

Any business model can be a scam

Whether it is MLM or not, I had a rough experience lately with a guest who got caught up in the scam course seller category.

Ways for people to know a business model is legit or not?

What should people look for?

Not every business model is for everyone - depends on your strength and time

Many people call out scams but actually a lot of times the person doing them didn't put in the time / effort to make it happen.

Chat about various business ventures and models

Let's talk biz!

What you are working on these days and opportunity for listeners to get involved

How people can find you online
People / Companies / Resources Mentioned in this Episode
Episode Length 24:48
Thank you Ally Mona. It's been a real pleasure. Thank you for your time and your listening ear and I loved hearing your stories.
Download Options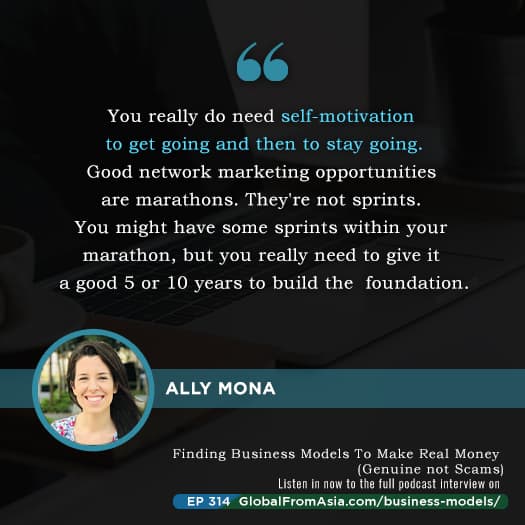 Podcast: Play in new window | Download
Subscribe: Apple Podcasts | Android | RSS