Podcast: Play in new window | Download
Subscribe: RSS
Welcome everyone to magic number 99 – the summer is coming to an end! Back to school and back to work season is coming – luckily I got a couple more years before my kid goes to school and I start paying those bills! Good motivation to keep pushing!
A big announcement, I'm ready to announce Wendy and I are have our second kid on the way! Due end of Jan, right around Chinese New Year. I'll put a post up on my personal blog (mikesblog.com) and link it up on show notes if you want to read the details.
So next week I will launch Global From Asia TV! Ya, I'm finally over being shy to put my voice online, so let's take it up another notch and do videos. I have a few pre-recorded and will start releasing them every other Tuesday. So 1 week will be audio podcast that you're listening to, and the alternating week will be a video show.
K, enough of the announcements, let's get into the meat of today's show – we have my friend Andy Church on the show. He is a huge source of knowledge about quality control and gives us some overview of the process and terms you should be knowledgeable. Some things I even heard the first time, so let's get our notebooks out and here we go:
About Andy Church
With over 20 years of experience in retail, manufacturing and quality assurance, Andy is a demonstrated leader. He has worked with retailers, vendors and manufacturers on improvement initiatives including quality assurance, global sourcing, supply chain engineering and manufacturing operations for both industrial and consumer products. After eleven years in Shenzhen, China Andy relocated to Dallas, Texas in 2014 and founded Insight Quality Services with offices in Dallas and Shenzhen, China.
Topics Covered in this Episode
Andy Church, from Insight Quality Services.
1. About Andy, How you got into QC business and China – 5 min
2. About Insight Quality Services company – 5 min
3. Distributors tips for finding a manufacturer – 5 min
4. Manufacturer tips for finding a distributor – 5 min
5. QC tips for distributors – 10 min
6. QC tips for manufacturers – 10 min
7. True myths and fake myths about factories – 10 min
8. tips for Chinese factories/suppliers – 10 min
9. Take away tips and conclusion – 5 min
10. Ways people can reach out to you and your company
People / Companies / Resources Mentioned in this Episode
Episode Length 42:54
Thanks Andy for coming on and sharing! Hope to catch him on his next trip to Shenzhen! Thanks for listening everyone, and let's keep learning and keep our minds open for international business.
So don't forget to check out my video podcast next week, the best way to get all the various news and links for new and upcoming things I do is to subscribe to our Global From Asia newsletter at globalfromasia.com/subscribe
Have a great day everyone, 🙂
Download Options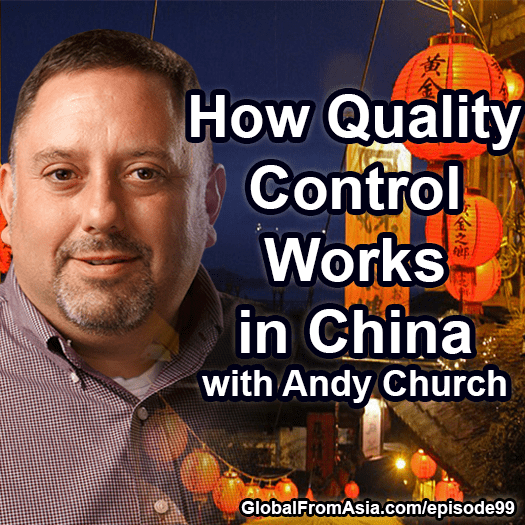 Listen in Youtube