---
Now, I know how you guys love logistics! It is a necessary and imperative part of any e-commerce business, or import/export product based business in general. So we are bringing on Forest Zhang, founder of Forest Shipping who has an amazing FBA prep business based here in Shenzhen, China. As a female entrepreneur as well as mother, she is doing exceptional in growing and scaling this focused business on the Amazon FBA prep niche and today she shares insights on what Amazon sellers should know when preparing to prep (pun intended) for their Amazon orders, enjoy!
She is also a sponsor of this year's Cross Border Summit and we will do a fireside chat together at the conference – thank you Forest and Forest Shipping – now enjoy everyone!
About Forest Shipping
Forest Shipping Offering A Complete Solution for FBA Sellers, including freight forwarding, FBA Labeling. We are One Of the Best International Freight Forwarding Companies, China Shipping Company, Shipping Companies in China and Experienced FBA Shipment handle forwarder.  We are fully aware of how high Amazon has raised the bar in relation to customer expectation. The average Amazon customer is fully aware that they can return an item for any reason whatsoever, it's the main reason they shop with amazon. (the average customer normally would never send an item back unless …)
Topics Covered in this Episode
Introduce Forrest

Can you tell viewers a bit about you and what you do

When and How Did your company get started?

What inspired it to get started , and how did things get rolling?

So you specialize in FBA shipments, what exactly is it?

People need to get their goods pre-labeled for Amazon in China, right? Amazon Prep?

But they could also do this when it arrives at Amazon, or in USA - but it's much more economical here? Any other benefits?

Consolidating shipments from various factories

I think the struggle a lot of Amazon sellers have, as exporters from China in general, is taking multiple factory orders and putting them all together to a container – how does this process work?

Can we see some consolidation happening in action?

So many sellers never actually see their own products, let's take a look at this one here.

Let's take a look at a container ship being loaded too

Logistics Decisions

What are some of the common things an e-commerce seller should look for when making their logistics decisions?

Common mistakes

What are some main mistakes you see foreigners make when doing their shipments.

Contact

How can people work with you? You focus on sea container shipments correct? FCL? LCL?
Thanks so much for the insights
People / Companies / Resources Mentioned in this Episode
Episode Length 45:47
Thanks Forest, appreciate the education on the FBA prep process from here in China. As she mentioned, education is critical and she and her team do their best to get their clients up to speed on the process as well. But you should also spend time learning – just like listening to this podcast – to get ahead.
Ok, now it's just a few days til the third annual Cross Border Summit so I need to get to work!
Download Options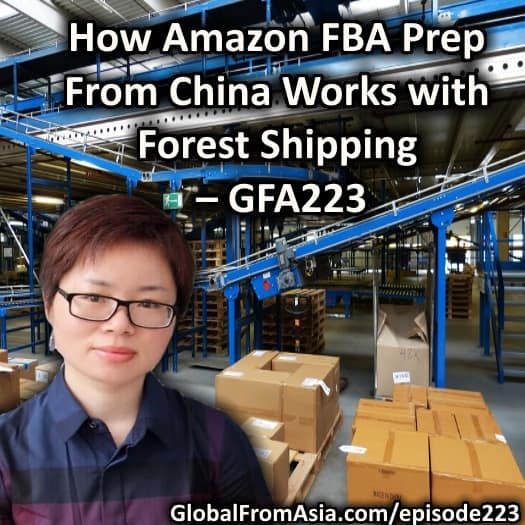 Podcast: Play in new window | Download
Subscribe: RSS