---
Greetings from my aunt in law's sofa in Shenyang, China. October is off to a busy month as expected – Golden week last week has wrapped up, Monday was a holiday in Hong Kong as well as Columbus day in America – now business if off to a roaring start in 4th quarter.
DCBKK starts this week and I'm heading there as this podcast goes live – tons more events you can check out on a page I made globalfromasia.com/cantonfair as there are so many to name here.
Today's show is Cynthia Stine, who Peter Zapf from Global Sources introduced me at the Yangbo group Amazon seller conference in late August. Global Sources has an amazing Smart China Sourcing Summit conference next week – tickets may be sold out – but that is also on our Canton Fair page.
And of course, if you're in Hong Kong on Oct 21 we have our cross border trip – Globalfromasia.com/hktrip on selling in Chinese ecommerce via Hong KOng companies – an action packed day of learning and networking.
So back to Cynthia, she is the go to person for Amazon seller prevention and re-instatement – she took a first trip to China and we met up to talk about the evolution of the Amazon violation policies and how Chinese sellers have been growing like crazy on the platform, let's tune in.
Topics Covered in this Episode
Intro Cynthia

Welcome to Shenzhen, China

How is it?

China Sellers

China is a big source of Power sellers on Amazon

How It Started

How did Amazon start opening things to Chinese sellers?

Product Suspension vs Account Suspension

Difference of product suspension and account suspension

Tactics

Proactive vs Reactive Tactics on Product Suspension

Examples of those getting shut down

Mike's Friend

Mike's example of a friend making a violation by mistake

Copyright infringement

False Claims

Competitors

Dealing with fierce competitors

Tips

Liability tips for beginners

Is bigger better?

Having multiple Amazon accounts

Good or bad?

Contact

Ways to contact Cynthia
People / Companies / Resources Mentioned in this Episode
Episode Length 28:41
Thanks Cynthia – that was a fun one – I always prefer to do the podcasts in person when I can. Got some gear invested and loving this podcastin'.
More investments- I am finally updating the Podcast artwork and logo for Global From Asia. Hasn't changed since day 1 – Damian Ruse made for us. It probably won't update on this week's show but keep an eye out for it.
Enjoy the rest of your week – also if you want to see me LIVE streaming, episode 3 of our live talk show will be on Thursday at 9pm – each week – and this one will be from Bangkok, Thailand at the DCBKK event.
Then, last but not least don't forget our Hong Kong business trip on Friday Oct 21 – a few times for you to pick , thanks Chris Davey for helping get the word out – and others too – let's meet up!
Peace out.
Download Options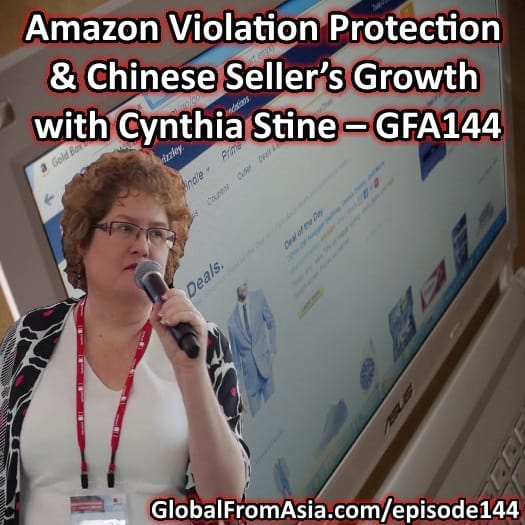 Podcast: Play in new window | Download
Subscribe: RSS