---
Happy Chinese New Year everyone! It is just the first day of the lunar calendar, but we're 10% done on the solar one, hope business is going well for all of you!
Today's show we have back by popular demand Mike Bellamy of Passagemaker – he was a top interview on episode 71
Welcome back to the podcast! You're one of the most popular shows of 2015 (episode 71 on avoiding Factory scams) – glad to have you on this year too Mike!
Topics Covered in this Episode
Short Intro

For those who missed the last show, can you give us the short intro of what you do

Transfer Pricing

So today is transfer pricing, this is something I learned about when first in China – can you explain a quick definition?

Normal Cases for Transfer Pricing

Many business owners listening today are doing trade around the globe, buying from china, via a HK company a lot of times, selling to their company in USA – what are some normal cases for transfer pricing?

Company set up

So they should set up multiple companies? Or just buy direct from the factory from your USA company?

Standard Margins

How to value the product, at each stage in the distribution chain? There's manufacturing, importing, wholesaling, retailing – are there standard margins people can or should use?

Tax income rules and policies

All governments want the max in tax income, does each country have different rules and policies?

Who to ask

Who should people ask when trying to figure out the pricing to charge themselves between various countries and companies?

Tips

"mike, you are american, have a HK holding company and source from China, any tips for my listeners…"

When to think about this

What stages of a business, say an Amazon seller, should start to think about this? Is there an easy way to get started, then get more complex?

Lesson Learned

Some may have their heads spinning now, what is 1 thing a listener can take away today to get started improving their business with transfer pricing?

Contact

And of course, what are some ways people can find you online and contact you for more info
People / Companies / Resources Mentioned in this Episode
Episode Length: 29:59
Thanks Mike and Neale for coming on and sharing! As we mentioned on the show, full disclosure, we're helping as best we can with these complicated tax and international business issues, but please talk to a specialist who knows your exact situation before implementing these things.
Feedback and questions are always appreciated! We had a fun bike ride afterwards as well, make it into a video blog you can check out on the show notes too at globalfromasia.com/episode112
Download Options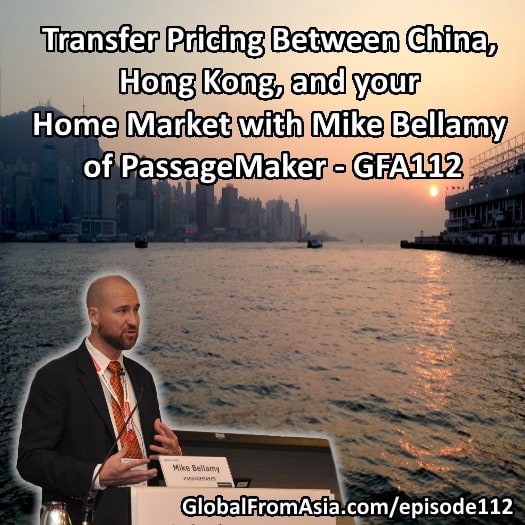 Podcast: Play in new window | Download
Subscribe: RSS