---
Back on the move – on the cross border bus from Huanggong border to Jordan station in Kowloon. Had a good afternoon of family and rest time during this hyper active trade show season.
I just don't know how everyone keeps up here – I've met a bunch of you guys and you're hoping from Global Sources to HKTDC show to Canton Fair. There is a meetup after meetup and guys like Chris Davey will have just done a massive one in Guangzhou yesterday (Monday night) with another next week at McCauleys pub. On Mon May 2nd in the evening during Canton Fair Phase 3 so stop by and say hi to Chris and the gang there.
Now this lead's me to this week's show – Dr Neale O'Connor, he is such an upbeat guy and full of energy! He was on with Mike Bellamy's show, episode 112 before we took a bike ride together – and finally we have him on his own show today to discuss China sourcing in the year 2025,
Topics Covered in this Episode
Intro Neale

had a preview of your knowledge sharing on episode 112 and I'm glad to have you on.

China 2025

The China 2025 Initiative – can you share some light on what this is?

1000 Chinese supplier interviews

so you've visited over 1000 Chinese factories, what were your first few like, and when did you start this factory visit frenzy?

15 factories in past few months

And 15 factories in the past few months – much different probably from the first few, any highlights of the changes – or like total night and day differences?

2025 predictions

So then for the year 2025 – based on what you've seen – we'll all be buying from chinese factories still?

Is 3D printing ready?

I always wonder about 3D printing and others – where do you see that coming into play, or is it already?

F2C, Factory to Consumer

We've talked about F2C, or factory to consumer here on the podcast a bit – is this a real thing, that we should be worried about?

Entrepreneurs preparations

how can entrepreneurs, mainly over in the West, who are listening, best prepare for that is to come?

Risk Mitigation

You specialize in mitigating risk in China, care to share some fun case studies with us?

Tips for Risk Mitigation

What are some quick tips for someone to mitigate risk?

China Sourcing Academy

And you cooperate with Mike Bellamy – a regular guest on the show here – and you're heading up China Sourcing Academy with him – can you share with us that business and other things you think listeners should know about

Contact

How can people reach out to you and your business?
People / Companies / Resources Mentioned in this Episode
Episode Length 33:08
The air conditioning is freezing on this bus – not sure why but if you've ever been to Hong Kong you'll notice they crank up (or down) the air conditioning to bitter cold.
Well, thanks Neale, really a pleasure to have you on. Fascinating talk, and I have been chatting to you after the interview, and you're still cranking away at supplier interviews, it's great.
Download Options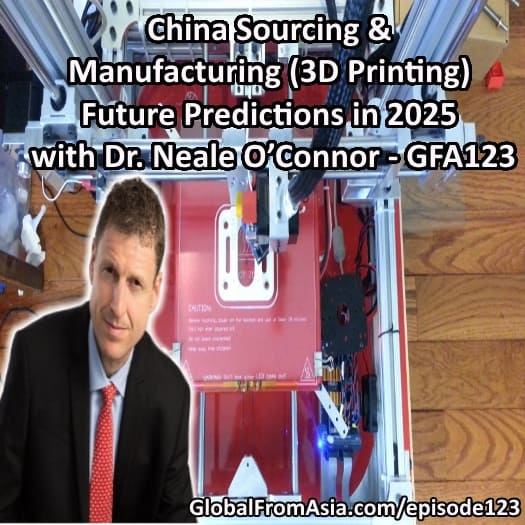 Podcast: Play in new window | Download
Subscribe: RSS