Podcast: Play in new window | Download
Subscribe: RSS
Thanks everyone, I'm totally excited today – well honestly, to take a break from writing my book… up to 40,000 words… brain is fried.
Received 3 5 star reviews in past two weeks, really cool thanks everyone. Let's start off by reading 1 from Aaron:
Great perspective from a leader in the industry — 5 stars
– by aarontschirhart from Canada on Sep 15, 2014
The foucs of this podcast combined with Michael's extensive Asian experience makes it a must listen for those who are interested in running an Asian focused business out of Hong Kong. I really enjoyed learning about launching a sucessful kickstarter and crowdfunding in Asia. Highly recommended!
Glad you liked the kickstarter ones, I will work on getting more – and keep mixing it up with learning about business services and case studies.
And Michael Eagleton Founder FABAPC – aspiring new brand in Shenzhen. sent me a wechat asking if it is OK to link my podcast on his website – of course! Thanks Michael, for listening and supporting so much, and anyone who wants to link to Global From Asia, that is super and I really appreciate that.
So this week's show we have Shlomo Freund who I have been tweeting and wechatting with for years and finally got to meet when I was in Beijing back in August and was also able to get some time with him to do this interview about getting your mobile app in the Chinese market. He gives some insights as he is co-founder, CEO of AppinChina.co a service company helping western app developers get into the Chinese android marketplace so let's listen in!
Topics Covered in this Episode
Introduction of Shlomo and AppinChina
Listing your app in the Chinese market – why?
What you need to prepare
What are some cultural differences you have seen in games and mobile apps between international and China?
hosting for the app – need it on a Chinese server?
Need a Chinese company ? Or can use HK, USA ?
Top Android app markets in China
I know there are so many markets – should they list on all of them?
How long does the process take to list your app in China?
How to promote your app in these app stores? what are the Chinese app store's business models?
What are your costs if people want to use your services?
How can people contact you and your business?
People / Companies / Resources Mentioned in this Episode
Episode Length 15:18
Thanks Shlomo for sharing and glad we got to meet and do this. That has been the most fun about this podcast, meeting people I have known for years face to face and being able to share their insights and story with you guys – so thanks for listening everyone. Show notes will be on globalfromasia.com/episode52 and I'll add a photo of me and Shlomo in a group photo at Startup Weekend Beijing you can check out there too.
Also have now had 2 sessions with my first ever mastermind and we have a good group of 7 of us each time, mostly based in China and Hong Kong, but some in Europe too. If you want to check out what it's about and get on the list for the next one check out the details on globalfromasia.com/mastermind
So that about wraps it up for this week's show – next week we'll have Martin Kessler talking about Kickstarter tips from a Hong Kong company – he launched a successful campaign and is working on another one right now – he shares all his secrets so don't miss it – til then, take care everyone!
Photo with Shlomo while up in Beijing Startup Weekend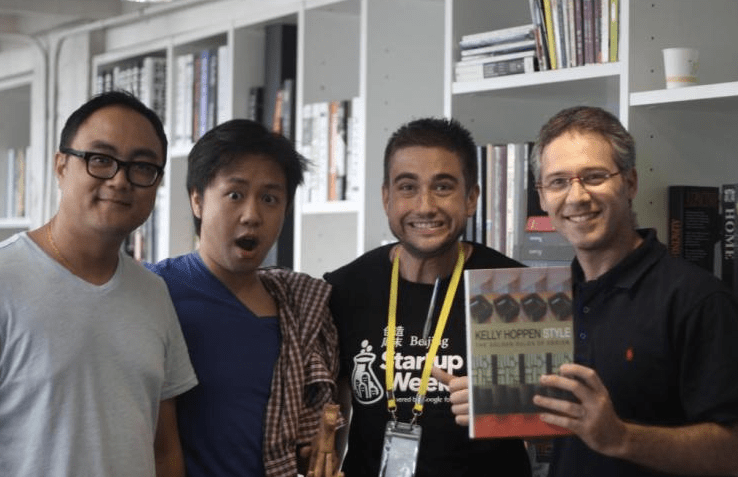 Download Options