---
This week we are talking Instagram! Something that I keep hearing more and more about, we are lucky to have a true guru on the show – Zach Benson who has built businesses off of it and worked with major brands. I was surprised on some of the insider hacks and tricks he shares with us today, and recommend you get out a pen and paper, enjoy!
About Zach Benson
Zach Benson is a full-time entrepreneur, hustler, world traveler, dancer, and connector. Zach also was a round 4 finalist on the hit TV show "So You Think You Can Dance and he is the Founder and CEO of www.assistagram.usHe specializes in creating Instagram campaigns reaching millions. His philosophy in life is to encourage others to reach their potential through the arts and social media. Zach is all about becoming the best version of himself and making people & companies better.
Topics Covered in this Episode
Introduce Zach

We met in Saigon at a DC event – very cool to get you on the show. So you're based in Taiwan, right? What's your story?

How did you get into Instagram?

What drew you in?

Instagram for Amazon and Ecommerce

Seems there is a pretty direct correlation from Instagram to ecommerce and product sales, right?

The Angle / Position an Ecommerce / Product business should take on IG

For me, I feel it's easier to be a "person / personality" on social media – I think many ecommerce sellers struggle being a product brand there – what are some angles product brands can take.

Building your Own Account vs Sponsoring Posts on Influencers

What is the balance in building up your own account vs going on something like Fame Bit and paying other influencers to share your products?

Common mistakes you see ecommerce sellers make on instagram

What are those things that make you cringe?

Starting from zero today?

The longer someone waits to build their account the harder, right? In today's more mature and competitive market, do new accounts still have a chance to build up?

Content Ideas for Product Businesses

What are some sample content ideas an ecommerce seller can use to stand out in Instagram? Some case studies you've dealt with or seen in the market.

What about your business?

So you're an Instagram pro, what are you offering, anything special for the listeners today?

Connecting with you

How can Global From Asia listeners connect up with you Zach?
People / Companies / Resources Mentioned in this Episode
Show Sponsors:
Today's podcast is brought to you by Aurelia Pay. I use them for sending money to my Chinese supplier from Hong Kong – it is a cross border payment solution between China, Hong Kong and South East Asia. So when I need to make a payment to a Chinese supplier, I just hop in to place a remittance, pay to their HK bank account, and Aurelia Pay settle RMB within the same business day! Check them out
Episode Length 44:33
Thank you Zach! Fun fact – his birthday was last week and we are just a few days apart with early April birthdays – he seemed to have had an amazing time in Boracay, Philippines for his! Living it up.
If you enjoyed this show, check out his other sites and programs. Also – I really appreciate any support you can give our upcoming Cross Border Summit – April 20 -21 2018 – our third annual in Shenzhen China. Of course supporting buy purchasing a ticket and coming, but also online ticket or even sharing on your social media or with a friend – all is appreciated.
Download Options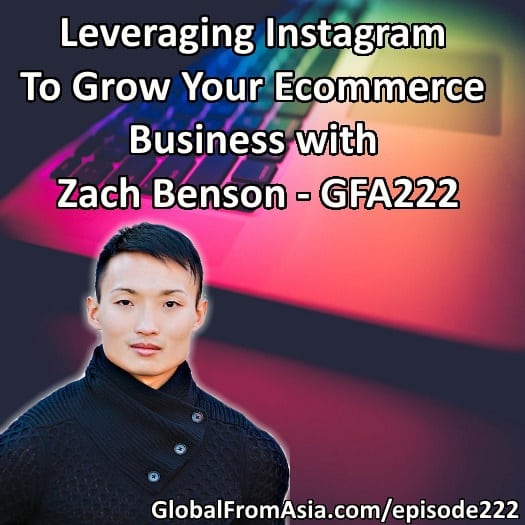 Podcast: Play in new window | Download
Subscribe: RSS