Podcast: Play in new window | Download
Subscribe: Apple Podcasts | Android | RSS
Today we have a Dutch businessman based in Shanghai, Sebastian Van Der Wals, explaining his process of setting up a Hong Kong company, establishing himself in Shanghai, China, and building up his wine distribution in the Chinese market.
About Bas Van Der Wals & European Finest International
Bas is founder of European Finest International, based in Shanghai, China from September 2011
At European finest, we specialize in Old World wines, with our leading suppliers being France, Spain and Italy. Our comprehension of the wine trade has given us the opportunity to strengthen our contacts allowing us to find the best for our customers across China. We offer an extensive range of wines from individual family-owned wine producers from all of the above mentioned countries and are able to offer many different appellations and all quality levels.
Topics Covered in this Episode
Briefly introduce yourself and your company European Finest
So how did you get into this, is this your first business?
How was the process of opening a hk company? Can you explain how do you use your hk company for your business?
How do your customers pay you? Do you sell B2B, B2C? Cash, paypal, invoice and hsbc bank transfer, merchant account (if merchant account can you share what provider you use). How do you manage cash flow between countries and currencies.
Do you have other companies as well setup or do you run everything through this entity?
For listeners today, whats the biggest tip you can offer newbies to International business via Asia?
People / Companies / Resources Mentioned in this Episode
Photo of the Chinese locksmith at the office door before he kicked it down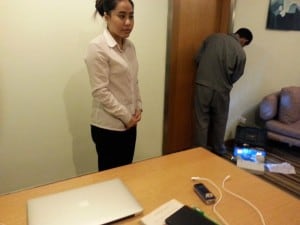 Photos of Sebastian's Wine Business As It Progressed
Episode Length: 21:26
Download Options