---
Where should you incorporate your Amazon FBA business? It's our second show on the Global From Asia E-commerce series and while applications are still coming in (and you have until AUg 8, 2017 to apply) – I need to prepare how to incorporate this new company. While I'm here on the Hong Kong and China border – applicants – even Chinese factories – are suggesting we set up in Delaware. For me, as a US Citizen, it seems a necessary thing to do in order to sell on Amazon FBA and I can't use my HK corporation for it. But as we talk on the show, there is something called transfer pricing and more tax planning. Its an exciting show – and we bring on Mike Hartman to share, let's tune in!
This one we have quite a few show notes, you can check them out at www.globalfromasia.com/amazon-fba-corporate-setup/
Topics Covered in this Episode
Welcome Mike Hartman to the podcast!

We've been talking about getting you on the show for some time now – thanks for making it. We met at Rise Conference last year (2016) and it's cool to have you here and sharing. You are living in Romania doing FBA, Delaware incorp, and probably a bunch of other awesome projects, loving it man! Welcome to the show

Getting started on Amazon FBA

So, as you know Global From Asia and I are getting back in the e-commerce game – becoming sellers and sharing it live on a weekly update. Currently still vetting applicants for business partners but need to prepare the company structure and the Amazon Seller Central account – so my first question is a few parts

Do we need to incorporate right away?

We need to make founder agreement and other contracts – should we just get started by me listing as an individual seller in Amazon USA? Can we switch from an individual Amazon seller central account to a company account later?If yes, is it a tedious process?

My liability if I sell in my own name

So during the time I sell as a US citizen individual – if there is a product liability issue – I can be sued personally right? But once we transfer over to the company name I will be protected under the corporate veil right?

Where to incorporate

I even am a partner in Unipro Consulting Ltd in HK where we help business owners setup in Hong Kong – but I have this idea that because I'm a US citizen I shouldn't do the Amazon FBA business in HK or outside of America for that matter. My experience has been when I started selling my kindle books, I wanted to use my HK consulting company Shadstone Limited so opened the author's account that way – but it asked if anyone in this company holding more than 10% shares was an American. It was a scary screen and said under US law code blah blah blah if you lie you will go to jail forever, etc etc. So I said, yes, there is an owner of this company who is over 10% owner – ME. Then it went back to the home screen and said you made a mistake an need to file as an american individual or a us company then. I am now selling my books in my personal name as a US citizen – but for this Amazon seller account – I don't want that liability so need a corporation.

So - US citizens on Amazon FBA need to do US Incorp, how about others?

Seems like Americans like you and me have no choice to sell on Amazon via a US company. Do you think others should also do the same?

Foreign corporations and US Citizens

So if we do this – actually 25% ownership is Global from Asia – we have partners in there like Claire Chen and Andrew Voda – I want them to benefit from this venture as it is a GFA investment. So should the company in USA – should my HK company be the shareholder – or me as an individual US citizen? I guess I don't want the US tax department on my behind for looking shady here.

Foreign business partners in a US corporation

So we will welcome and hope to have – shareholders from around the world. Is there any issue having Mainland Chinese partners, Europeans, etc in this corporate structure?

Any thought process on which state to choose?

We're thinking Delaware Corporation- that is your speciality – but there is also Wyoming and others

US banking with a foreign owned US entity

Banking is a pain in the butt everywhere. If we open this US company with foreign partners, how will bank account application be?

Short term vs long term

Well – we want to get started selling on amazon right away. Especially for the Christmas rush and Black Friday sales in America. I guess I'm willing to be the US citizen who signs up as an individual to start and then later transfers the listings to the company Amazon FBA account. Is this the right logic and strategy and is it possible and smooth?

Any other tips you can give us on this new e-commerce venture

Something I should have asked you but didn't that you think we should be aware of.

About your service

So thanks so much for putting your knowledge out there and making it happen. How can people find you online if they need your services – and heck you do quite a bit of things – one being Delaware formation – how about others.
People / Companies / Resources Mentioned in this Episode
Show Sponsors
Please show support of our GFA media sponsors as they make this podcast possible to be free!
Today's podcast is brought to you by Aurelia Pay. I use them for sending money to my Chinese supplier from Hong Kong – it is a cross border payment solution between China, Hong Kong and South East Asia. So when I need to make a payment to a Chinese supplier, I just hop in to place a remittance, pay to their HK bank account, and Aurelia Pay settle RMB within the same business day! Check them out
√ Aureliapay Cross Border Payments in Asia
Episode Length 38:41
Thank you Mike! Great insights, and I am enjoying this new e-commerce series – and I hope you are too. We are diving deep into the nitty gritty, and I am mentally preparing – as well as filling my own notebook up as we set up this new Amazon FBA business.
So if you are interested in applying – I would love to have you part of this new Amazon FBA journey – and while there are so many great applications, we will have to narrow it down. But don't worry – everyone who applies will get a special gift from me for their time and trust in applying. Plus – all of you will get to follow along on this journey. Even though I am having Amazon FBA friends BEGGING me to not be stupid and tell everyone the product – they said it doesn't work like this, etc etc. Let's do it – and I am feeling great about it.
Next Tuesday we have the GFA interview series, part 2 with Christopher Oliva on mass production oversight, and then next Friday is episode 3 of this GFA E-commerce series. So many amazing things to share, let's do it one step at a time, peace!
Download Options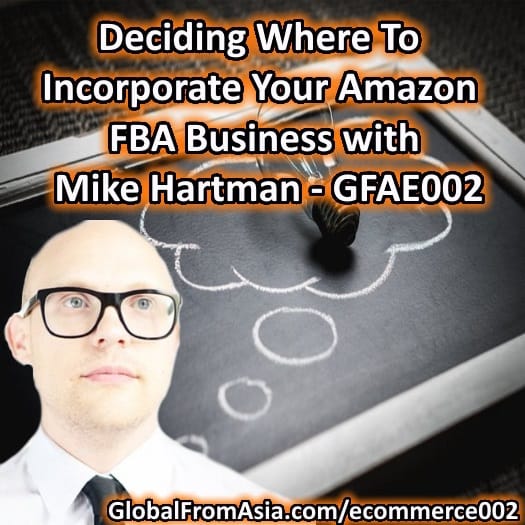 Podcast Transcription
"Mike Hartman: Once you start making more and more money, you can change this, this status. So, whether it's a FOC or a Corporation, it's just how equity is distributed and how different things happens, but you can change the tax status."
Introduction: Welcome to the Global from Asia E-Commerce Series where you can follow along the progress of setting up a cross border e-commerce business from start to finish. Hear insights of real product research, Amazon FBA, China Manufacturing, Branding, Marketing and all the blood sweat and tears. Building a global business from Asia, now let's tune in.
Michael Michelini: Today's podcast is brought to you by Aurelia Pay. I use them personally for sending money to my Chinese suppliers from Hong Kong. It's a cross border famous solution in China, Hong Kong and Southeast Asia. So I need to make a payment to a Chinese supplier? I just hop online to place some remittance, pay it to the early pays Hong Kong based bank account and Aurelia Pay will settle RNB within the same business day. So check them out online at www.aureliapay.com or check out the link on a show notes.
Where should you set up your Amazon FBA Business? Good question for us on this e-commerce series episode 2. We got to figure out where to incorporate this new business, just this new investment company and could become a seller's our self. It is the 2nd show here for the Global From Asia e-commerce series. I'm still on my own, Mike Michelini here and we are still getting applications coming in and when the show goes online, Friday August 4th, you can still apply, we have a few more days left for applications, ending August 8th, that link we'll put on the show notes at globalfromasia.com/ecommerce002 so this is a primer series and it seems that it makes sense to the 2nd word to incorporate the company. We've had applications coming in from people around the world, very-very exciting. Thank you everybody for your interest and your trust in me and Global From Asia to want to be a part of it. It's a, it's been so amazing. Thank you. We gonna have Chinese factories, Chinese companies, Chinese people so it is very exciting to get them involved as well. Even the Chinese factories we have been talking to wanted to set up in Delaware and I am a US citizen. I don't know, sometimes, I get embarrassed a little bit with some of the news in the headlines but I'm American and I think I have to do my a favoritism in America. We'll talk about this in the show. You don't have a Hong Kong business set up for many many years. I don't have a current US company open. I do think I do have to incorporate in America. So we'll talk about that in the show as well as transfer pricing and tax planning, something a lot of you will always talk about. So I know this seems to be an exciting one and bring on Mike Hartman. I have been in Hong Kong for a couple of years ago and he's very knowledgeable amazing resource about Delaware corporations as well as FBA selling and he's in Europe permanently in Romania Bucharest and he's really drop great values on this. So, today is a great show. Let's tune in and I can't already wait to have you guys listen.
So everybody, ahh this is Episode 2 of our new journey, the e-commerce series and it's a, it's in, it's very-very exciting and I am very excited to have Mike Hartman on the show. First time your
first parkest, he said we're talking about it for recording in a couple of years. So, I feel special, thanks for, thanks for a great a common.
Mike Hartman: Thanks for having me here. I'm looking forward to it.
Michael Michelini: Sure. So, we, we met in a RISE conference in a ah last year. I remember and we connected really well. You've done a lot of e-commerce, crowd funding, you know, your Marketing FBA, so you have quite huge resource of knowledge and you're currently in Romania Bucharest just back. I think you are on travel just recently and…
Mike Hartman: I was out in the UK meeting with the Russian community and it was pretty big like 15 to 20 thousand followers.
Michael Michelini: Amazing. It's really amazing.
Mike Hartman: Yeah.
Michael Michelini: So you specialize. You kinda do quite a few things but today we are going to talk more about your incorporation business, you help people in Delaware Corp, US Corps and that was e-commerce on my businesses. So, today we are going to talk about my case of setting up and getting up in the FBA game and like I mention and people on the show know this is a having partner supply so we have, of course, on a known American applying and I think we should do it in Delaware actually in some a Chinese factory so wish it up in Delaware it as well. So today, you kinda guide us a little bit and give us some insight on that and maybe before
we start we can share a little bit of background and I try my best there but you have some much great stuff to share.
Mike Hartman: Alright. So, I have been living in Bucharest, Romania now for about 4 and a half years living the Eastern European dream. You know, and trading with the American more with
specializing in e-commerce businesses, helping set them up for about 7 years now. I originally went for school for MBA and international taxation, work for the ROS for brief and gave that up and move it up and figure it out, then gathered system marketing out here as well, did pretty well out of it, work for cloud funding campaign for 40 million dollars from FBA businesses doing over
million per month, set up over seventeen eighteen hundred FBA businesses in the US and all over the world and have clients like a hundred and nine countries worldwide currently. And basically, I also help manage several brand on Amazon. And that is basically it. And I have been doing this Amazon game since I wanna say 2013 2014, a few years.
Michael Michelini: Cool, cool. It's great. I think this is ah perfect to have you in the show, especially now. I got out in 2012 and I guess I was too early (laughs) but you know, getting back, better late than never. Now getting in. So we are talking today about you know. Parts of those you say. Chinese factory. We have some Chinese factory that we have applied. We haven't yet finish the application process. When the shows goes live, people can still apply. August 8th is the deadline. So people listening might catch that ending but what is happening now is that we are just kinda deciding where to incorporate. I know even before our recording it depends on your background as well. I feel like I am almost stuck doing a US company because I wanna sell on Amazon. A little bit of background for you Mike is that I have a few books that I have written. The Hong Kong Business and My China Business Experiences and I tried to sell through my Hong Kong company and when I registered as an Author. All the stuff are being a kindle publisher, is said: Is anybody on this Amazon account an American citizen? 'cause I registered on a Hong Kong company and this is under perjury of law and those like scary pop-ups so, I still owning the company so I said yes. It's over. There's somebody ten percent shareholders is American and back to the home screen it says that: "Sorry you fill this out as an error you need to fill this out as an American citizen or as an American Company". So I feel like I'm almost forced to do it as well as my partners are forced to do it because I'm an American, is this how would you say the situation is for this business?
Mike Hartman: So for a US citizen, let's be honest, if you own more than 5% share of a foreign corporation, you have the power to put it in the form for additional tax return which is a headache most people don't comply to it where the IRS can really sue you. For the most part, I recommend just filing a company in the US straight from the beginnin,g it's just more straight forward for a US citizen even if your getting a Hongkong company or something like this more than likely because the US is one of those, let's say aggressive in those tax review even they tax you in the worldwide income and they will tax you even where you are in the world. I just recommend doing the company straight from the beginning specially if you are a US citizen just because it makes more sense also if you are US citizen and if you have US asset. It is a way to insulate your other personal asset doing it on our company in the US than say, your personal name because we all know all know all Americans are so happy.
Michael Michelini: Exactly. Which goes into my next question. I sell on eBay in my own website on 2003 and I just use my personal name and I have a general partnership with my roommate and I got lectured by a lot of people that I had to have an actual limited liability company and I assume that it is correct now. But I guess my question is we want to do it as fast on this new e-commerce business is gonna come up quick, we are trying to hit the Christmas season so we got to a seller central account. I know there is a personal account or a company account is different. I don't know if you can change that later, or should I get comp. I guess pretty fast is Delaware corp anyway.
Mike Hartman: Delaware can take 24 hours to do it as a company and you can just change it later. When you move it from one to another, you might go through a review the process which normally takes 2-3 days.
Michael Michelini: Okay. In Amazon.
Mike Hartman: In Amazon. Exactly. 5 moves from personal sellers to professional sellers. I move from let's say Romanian company or Hong Kong companies US companies. Normally when you are moving from one company to another it goes to additional review process. It didn't use to be that way but the additional review process takes about 3 days. So basically uploading your ID's and your company information documents and the copy of your EIN. That's pretty sure is it.
Michael Michelini: Okay. Got it. Basically, we got to make founder's agreement. Incorporations are pretty fast but just to deal with each other. I might have an intern that we use myself as an individual as an American. We are deciding this but of course we have to discuss it to, something worth thinking about. So is it possible to switch at least so that we can get some kinda an intermediary get going but of course there is like what you have said so happy in America. It'll be a liability to me personally if I use an individual seller account.
Mike Hartman: Yes.
Michael Michelini: Yeah.
Mike Hartman: Yeah. You would have here your personal liability. Which means here that if you have US assets they could get judgement from you. They could get after your assets from the US. I don't know if you're like me. Most of my assets are actually held to different US company or US bank accounts so the most are every time I am doing business. I am doing it through a US company. Even though I live overseas, I maintain my financial resources in the US.
Michael Michelini: Got it. I'm opposite. I really don't have anything in the US. I haven't been there for years.
Mike Hartman: I haven't been there for years either it's just easier for me and for my point of view, it's easier.
Michael Michelini: Got it. I guess this is so helpful already for our listeners. So, any idea we could set up Chinese factory or maybe EOSSN not an American greatest company, and that is most probably be in the future and so sure for Founder's Agreement and different ways course to make sure there is a proper ways to deal with the issues in the future with business partners but would you say this issue would be straight away?
Mike Hartman: Actually in LOC they don't issue shares to something called membership certificate. The membership certificate are just equity in the company so you just distribute basically the equity in the company. The company is run through something called Operating Agreement there is a website right there which you call rocketlawyer.com and you can check it out and you can sign up for a free trial for 7 days or whatever and after 7 days they would hit you for 40 bucks. You can create Founder's Agreement on there you can create your Offering Agreement you can create all your additional documents basically for free for 7 days and just cancel the the membership and that's what I had done in the past. It use to workout pretty well. So it is a way to get all your documents without paying an attorney to do this stuff. You can pay an additional 40 or 50 bucks and have an attorney review all the documents for you, which is pretty cool.
Michael Michelini: Yeah it's pretty nice. Great tip. Great tip. So you are suggesting LOC over a corporation?
Mike Hartman: Well. It depends. I would normally recommend the simple fiber taxation because of the path thru entity. If you're a former or a US citizen, there's two different people ROC is fine. Once you start making more more money, you can change the status whether the LOC or a corporation, it's just how equity is distributed and how different things happens but you can change the past status, you can change from an LOC which will be past and disregard of entity or partnership if there's more than one or two corporation and you can change it back. However, if you are a US citizen with another US citizen, totally go for the out S CORP. It has so many benefits if it has only US citizen in the company. You have to be a US resident or US perguson in order to have an S CORP to the media.
Michael Michelini: My last business in the USA was an LXCORP. It seem like the best option. So do you think with foreign. Honestly the thing why it's kinda making it exciting is the people I want to possibly invest and this is going to be an inventory business and it is going to be a public case. I already have listeners that want to be an active partners but they want to come in as a minority shareholder and investor later. I think prior for our case is a C Corp which is a…
Mike Hartman: You can issue more shares. You can distribute shares. You can stock core value of the shares. If you are looking for investment let's say venture capital is kind of investment and is a hundred percent bonafide corporation. If you are looking to do this in your own dime as we call it go for it without any say. Also once you make any money, time will convert the limited liability company into a corporation and this is normally when you're hitting the one or two million dollars mark or something like that for tax purposes. Because then once you are making this money we normally help set up like a we refer you to the proper attorney for taxing accountant to set up a multi jurisdiction where you can up your tax liability.
Michael Michelini: Got it. So as far as venture. I'm an American citizen, I own an Hong Kong corporation which I am actively living here overseas. Of Course I am an individual but I want my whole company to own it because I become and I have other partners in this. Any idea of this venture that is going to benefit this new e-Commerce business for FBA business for also be going towards the global asianic brand company. It seems that I can't imagine American government thinking that I am trying to avoid tax because I am using a Hong Kong company to own my shares. Is that going to be an issue? Or should I try to put my personal name on there?
Mike Hartman: It's not an issue at all. A US company can be own basically anyone in the world unless from North Korea or Iran. It can be owned by a foreign corporation, it can be owned by foreign individuals. You would still be filing a US tax return on the company itself and you'll get into something more likely than not if you are by Hong Kong company or something like transfer pricing. It is really really awesome if you are doing it correctly and it gets somewhat so dangerous. Put it this way, Amazon itself to transfer pricing and got hit with a two billion fine from the IOS for transferring too much software overseas. So there is like a healthy balance. Once you have entered into moving or making some real money. I normally say it comes thru me. I will give you the proper tax account and that more it will help you transfer it to an appropriate way where you don't get screwed.
Michael Michelini: Great! For those who don't know what transfer pricing. It is basically a point of if we have a Hong Kong corporation or an offshore company or what we can do if an invoice or bill say that the expenses or the price of the goods than the value of the goods are done outside. Usually has a minimum profit in the US corporation for a minimum profit to be tax in the US or it could be anywhere like China or any kind. Usually it's a high tax country has the lowest profit coz the corporation or the company is trying to let's call it a tax plan in a nicer way.
Mike Hartman: Tax plan is like tax avoiding. Tax evasion is illegal. Remove proportional profit to the holding company or to the shareholder. Also when you are doing trademark branding. In the US right now, you have to register a trademark. Register the trademark on the Hong Kong company and have the US company pay for the royal fees for the Hong Kong companies around ten percent and the sale price you can set your tax also that way.
Michael Michelini: Agreed. Agreed. The only complicated part about that is the Hong Kong companies. Unless we set up a new one, this ownership would be a separate business in the e-commerce business unless we set up two companies. This is going to be complicated right? For the people listening. I'm sure listeners will think the same thing. So will I set up a Hong Kong company, anywhere I mean. I set up an offshore company and I have a trademark in IP and I have a US company that owned that sales in Amazon then I wire the money over and keep how much money I keep in America. This is very complex and I don't want I think we can go deep into it today. But like I said when we get into that point of business we can have you on it and bring some your other experts to but business is a big complicated thing. I think for this structure the IP should be owned same entity that the partners are in. I don't think it is fair to them if the IP isn't in the same company.
Mike Hartman: So you can back it in Hong Kong company if you want it that owns the IP which is a separate one but we are getting into more and more thing. Normally what I recommend to my clients which is first validate your business right? Make sure that it will start making money. Once it starts making money then you can start doing these other things because it is not worth to spend a lot of money to try and optimize your taxes and other stuff if it will not start making money. So, we don't carve it on the horse as we say it.
Michael Michelini: So I think we still going to get the US IP on this corporation for the short term just to keep, I don't want the other partners sneak things and have ownership on the IP outside the structure that they have invested in. I mean then, you have to sell the IP, later?
Mike Hartman: The wholesale price of the IP has still a value to the other corporation
Michael Michelini: I'm not sure how to calculate that. Even the Domain Name and stuff like that. Or is there a fair market value?
Mike Hartman: There is still a fair market value that you can base like there is different websites that run audits and if you are doing like a domain and actually do an audit the websites that they are selling for at that time and go from that.
Michael Michelini: Okay. So, you're like the Delaware guy. Do you..
Mike Hartman: I am originally from Delaware. Yeah. Funny enough. But I do registered to all fifty states. I do a lot of Delaware because of base is the best jurisdiction to register your company in. You have zero sales tax, zero state income tax for the state, there is a privacy of the directors and everything is not public on any website and because there is no sales tax you can pretty much optimize your accounting purposes and renew that. For the first year, I actually recommend using the software tool called GoDaddyBookeeping it plugs in right into AWS and it does all your accounting for Amazon you just have to show it to your supplier and that's it.
Michael Michelini: Awesome.
Mike Hartman: So, 10 bucks a month can pay an account for 150 or 200 bucks a month so it is way better for my opinion. I use for for different company that is doing like 7 million dollars a year and it worked and they end up paying 300 dollar a year and move it to a fax program and another 600 dollars to file for tax insurance.
Michael Michelini: Great. People sometimes throw out the word the Wyoming or Nevada what Delawares.
Mike Hartman: Okay the Nevada, you need to stay out of because of the like 2 years ago jack the fees so the renew and the Nevada company up to new business sales job. You have to do all sorts of crazy stuff and just to pay the space fee in Nevada something like 800 dollars a year, just space fee. So on top of you have to pay the registered office, you have to pay other stuff. So it will cost you more than it will work also with the business owners and the public rate of Nevada secretary and you have to pay for there website and most people don't want everyone to know who owns an FBA business, so I don't normally recommend that. Wyoming is very similar with Delaware. Delaware has a 300 dollars a year space credit franchise tax regardless of income, Wyoming has 100 dollars. The difference between Delaware and Wyoming is sales tax, you actually have to register for sales tax and charge sales tax to Wyoming customers and sales tax returns and which cost you more in accountancy than it would in Delaware. Wyoming and Delaware basically have both zero income tax after the first year in Wyoming they disclose the image director of their ownership. In Delaware they never do this coz that is a corporate wall coz if you ever get sued if not public like it is in Wyoming and believe it or not a lot of FBA are always get sued for pattening French men or trademark in printing like it's quite impressive. Normally you have to do a mandatory arbitration in the state of Delaware which is close door which is not public and so you are not getting bad publicity. So, I normally register like Amazon, Google, Facebook, Youtube, they are all in Delaware. They have over 60 percent of the fortune 500 company. We have more companies than people in the state of Dianne and…
Michael Michelini: (laughs)
Mike Hartman: .More chickens
Michael Michelini: More chickens you said?
Mike Hartman: More chickens than people.
Michael Michelini: Amazing.
MIke Hartman: So you would go for two things, chickens and companies.
Michael Michelini: (laughs) Very cool. Very cool. Nice fun talking to you. So, the next one is a cringe for a lot of people thinking and seems to be a nightmare everywhere. I haven't actually haven't wondered about the US banking especially with the foreign corporation, foreign owners just gonna be painful or? Troublesome?
Mike Hartman: I make. If you want to work with me on this?
Michael Michelini: Yeah. Definitely.
Mike Hartman: It's like a thousand bucks. I do the company, I do the bank account, I do the whole thing.
Michael Michelini: Okay
Mike Hartman: The only thing is that it requires a personal visit to the US. So we all have to abide to the process whether you're a foreigner or not a foreigner. I work with properly training companies doing this work with small account e-commerce businesses.
Michael Michelini: Okay.
Mike Hartman: So, in my living alien make encounters a lot of issues because of the patriot act. The banks now have to know their customers and it depends on how they interpret that but we work with four of the top 10 banks in the US and we expedite the process to help of open the account of member of the company who owns 40 percent or more or 40 percent ownership of the company needs to be present when we open the account and this is it. We make it so you have an appointment in an hour and you're done. Everything is pretty straight forward.
Michael Michelini: So, I don't know if I caught you up on these shares split but is it still negotiable? I put a blog post out there so it is like 25 percent we are looking for Financial Adviser investor at 40 percent and we are looking at Operations Manager kinda like the project manager at 35 percent? And we are looking of course to raise at least a ten thousand minimum. Lot of people are asking how much people needs to invest to money or time of course we are not giving the exact formula but we are going to review the applications. Some people coming in saying that they don't have no money some people saying ten thousand twenty five a hundred thousand. So there are different ranges so far in the applications but of course it's not just money, smart money and or hustle. I'm looking at it on different things but so that means all this different partners need to go into the US? You said something about 40 percent you said so I'm just…
Mike Hartman: The only one partner who owns 40 percent or more would have to be there to open the account. So, obviously you have 10 percent you couldn't open the account of the account. So you had to have 40 percent or more of the company present at the bank. Let's say, Like for instance the other day I did a company of program from a 5 different investor in one company. They all have 20 percent, 2 of those investor are going over to open the bank account and the other three will not come.
Michael Michelini: I see.
Mike Hartman: So because that will equal to 40 percent. So if there's one person who has 40 50 60 70 percent they can go over you only have 25 percent? Then you need to come up with another 15 percent and that's the bank requirement. It's not mine.
Michael Michelini: Understand. I guess I'll take a trip. I don't know about you but I haven't been back for like 2 years so I guess.
Mike Hartman: You are actually in a lucky situation where US citizen on the company and you might be able to do everything remotely. There's a couple banks out there who will do online bank applications and accept from a US citizen and sometimes you can get away with a banking resolution from a board of directors where you would only be the owner in the account course because you are social and sometimes this works out. It depends on if you still have a credits score in the US how long have you been away so as long as you still kinda have a financial as long as you have the credit score.
Michael Michelini: I think I do.
Mike Hartman: More than likely, you can get away or you have a bank account in the US. I know you do.
Michael Michelini: I still have a personal US bank account still. Bank of America.
Mike Hartman: Bank of America does it remotely and the paper works you will mail it to yourself in where ever you are in Hong Kong and you will sign the paper works have it notarized in the US embassy and you will mail it back when you will open the account back there they will open the account if you are a US citizen.
Michael Michelini: Got it.
Mike Hartman: or corporation.
Michael Michelini: You know. Still selected the other partners in this but we can discuss with them. I guess they are applying and they have to trust me. The signing might be an issue but and this is very cool. I guess this is about the short term and a long term. You know. We're in August now. We want to hit the Christmas rush. Of course like everybody. For Amazon or any e-Commerce or any business. What do you think, is this possible? Should I just get an individual seller account?
Mike Hartman: I think. Honestly. If I were you, I would recommend the best people is just get the company done EIN in the US address open a business pay in your own on your account. Activate it with your personal debit card. You know Hong Kong or wherever in the world you live and rock the personal pay near in your account and use it around 10k a month in sales. Once you hit that amount it's better to fly over because within 4 to 5 months you gotta save the amount pay charges you in fees with a savings by having a US bank account. So first, like I said, always is that validate the business first. Do everything you need, open the pay in your account which is really easy and straightforward takes about, I don't know, like 2 days in your account once you have all the documents of the company and that's it. Just go from there.
Michael Michelini: Awesome. This is very helpful for me. About the time, is there any kinda, you know. How do you think of this venture? Some people it's crazy that we're being transparent about the process I even deciding about the, can't prior reveal those supplier we source from and I think we're gonna share the product, I mean, we talk on episode 1 last week was Meyer, he is an Amazon seller. You think we have a big advantage even though most people are secretive I think we gotta get a lot of a push as hard with media and get traffic to the listings. Any tips of either about what we have discuss today? Thing that I have missed? Or should have thing that you think. Anything else?
Mike Hartman: My personal opinion is to promote companies is to start with the US companies. The US company are normally treated better by the Amazon, out of 17 hundred lost accounts none of them either been favorable. I have some suspensions we have able to get to those that kind of thing. They also got Amazon lending which is possible from Amazon and I have a client that take out 8 hundred thousand dollars and 9 percent financing. Amazon lending is huge and also Amazon does want to lend to you you got to cabbage and be able to market it and the capital after that 6 months of sales and start doing it. So it's normally better to start from the beginning if you are looking more raise if possible to quickly grow your business. Specially if it is doing well. The capital restrictions can always been an issue. Also it's normally it's treated better you can get access to Amazon exclusives in your company which is possible for growth hacking a business. So everybody know that lightning deal cost you a hundred and fifty bucks of the top what if you can do it on the same product and negotiate your break and you're not paying them and you just paying the extra five percent. So they now only accepting US companies for this. It's like give away except it is even better just keep on doing the lightning deal and setting up perfect one and the last light bill fee page you blowing the rock and different product
Michael Michelini: Yeah. Yeah.
Mike Hartman: For instance, I have been a lightning deal in one day and we move forty five hundred units.
Michael Michelini: Huh, Amazing.
Mike Hartman: It was an hundred thousand bag. So it was good.
Michael Michelini: Definitely a great day. You got me excited. We're gonna work with you in this service. It seems that in Delaware it makes sense and I want of course the approval of my other partners. We're gonna be in a couple of weeks. Set up companies and everything. How can people find you? You have been so generous for this tips.
Mike Hartman: So what I could do is. We have a special package just for Amazon stuff. We'll help you set up the back end of the account from the tax point of view and everything. The company with the EIN US Address all in is just 500 dollars.
Michael Michelini: Okay.
Mike Hartman: With the account set up. If you have any problems getting approved. We can get you have an approval process. I'll give a link to that. You can find me on inkplan.net or Facebook Michael Hartman I have a pretty big followers on both of them. Pretty much it.
Michael Michelini: Okay. Great. Will link it all up It all going to show up on the show notes all globalfromasia.com/ecommerce002 I got the double zero holder so it's gonna be we are going to have a hundreds on this show again. Thanks so much Mike for sharing. To talk to you and will keep you updated with the progress.
Mike Hartman: If you have any questions grab me along.
Michael Michelini: Thank you so much Mike for sharing and I'm enjoying this e-commerce series for my own personal interest. I hope you guys are too. We're diving deep really and I am mentally preparing get back in the e-commerce game for my own notebook here as we set up these new Amazon FBA business. So, as I have mentioned in the interview. We still have a few days left for applications. Applications are closing on Tuesday, August 8th. So, please give it a shot. Keep a positive mind and I know some people are thinking that I'm not gonna be picked and they talked to me. Please, this is a good exercise for you. Take some actions, take some steps. I'm gonna review and gonna get back to every body. I'm gonna give everybody a small gift. Just for appreciation of trusting me and for applying. We'll get something out of it and you are still sitting there walking their dogs in the morning or riding their bike some are driving their cars and you still gotta follow a series when you apply weekly fridays 2pm China time and let's do it and just the applications and the friends have Amazon FBA begging me to not do this transparent they said. They said I don't know FBA. There obviously a reason why everybody is secretive they think how can I be smarter on all the other sellers they don't share their products and I have long long WeChat messages emails and all other friends begging me not to do this series not be so transparent. It's gonna hurt and stop the things that are being done. I will appreciate them. I know they are looking out for my best and I am happy to get the love and care from people but we're gonna do this and it's gonna work so follow along. Maybe it will work maybe we are going to slam with negative reviews and go out of business. I don't think that it is how it is always going to be. Even with just Mike's interview today helping us. We're gonna do this. So I'll just give you some updates and some content coming up. Tuesday we are going to have a part 2 with Christopher Oliva. He is, had his first part of couple of days ago. On tuesday. We have the interview series on Tuesday and on Friday we have this e-commerce e series. We have interview which is not really connected. Ecommerce series is really gonna be order lined up to actually developing our FBA Business and our E-Commerce Business and in order. So hopefully, you guys enjoy both listen to iTunes feeds seen Podcast feeds and that's basically it and episode 3 we air next Friday 2pm thanks for listening to me all the way to the end. Clara was just joking do people listen all the way to the end. I'm not sure if you're still there with me. Maybe you skip another part of it. Anyway, thanks for making it if you did and let's keep going. Peace.
Global From Asia e-commerce series where you can follow along the progress of setting up a cross border e-commerce business from start to finish. Hear insights of real product research. Amazon FBA, China Manufacturing, Branding, Marketing and all the blood sweat and tears. Building a global business from Asia.
Podcast: Play in new window | Download
Subscribe: Apple Podcasts | Android | RSS