---
This week, I am excited to finally get Greg Fisher on the podcast! He is doing amazing things for the hardware community and has also been supportive of the Global From Asia movement, too. Founder of Berkley Source Group and doing great things with the hardware community via Hardware Massive. Today, Greg comes on the GFA podcast to share some tips and strategies for opening up your own factory in China as a foreigner.
Yes, that is right – a foreigner opening and owning a factory in Mainland China. He has one in Zhongshan, China and gets on the show today to give some tips and pointers about the various parts of the manufacturing process (there are quite a few) and also, if you go down the route of owning your own factory in China. #Thestruggleisreal and we hope today's show gives you some more knowledge to grow your business and manufacturing strategy.
I bumped into a listener!!!
Andrew Brannan started the conversation
Sorry for delay, finally back in UK and got on top of my email.
Hope we can meet next time
Andrew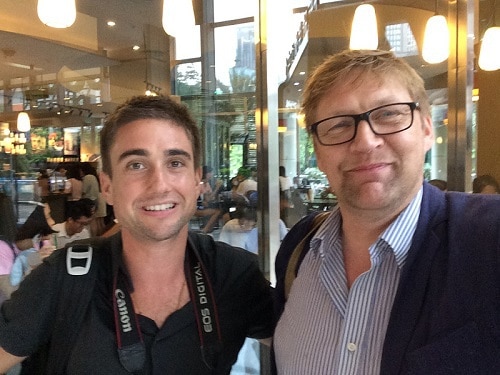 Greg and I feel like we are both doing amazing things for our respective communities – he is founder and CEO of Berkeley Sourcing Group – and has also created an amazing hardware community called Hardware Massive which is a global network of makers where I have had the pleasure to speak at a couple times and really enjoy the people in the community. Another fun fact is when I went to see his office in Shenzhen – it literally was a block away from my first apartment / home office when coming to China in late 2007 – heck we probably passed by each other on that road Nanhai Dadao in 2008- 2009 timeframe. So, it is a pleasure to have you on the show – and thanks for being with us, Greg
Topics Covered in this Episode
How did you get into the hardware space?

For those listening, and want to get into hardware – do you think they need educational experience – like a mechanical engineering degree, to get in?

So we had lunch recently where you mentioned you had your own factory – pretty epic – how does that work?

What exactly is a factory in China

When I was doing my own product back in 2008/2009, I was considering hiring workers – at Hai Wang Dasha – nearby you – to do final assembly – literally in our office. Would that be a factory?

Mould + Material + Components + Final Assembly

Are these the main processes of different factories? In China, there are various parts of China that have different specialities – like Shenzhen of course is known for electronics, I tell people ningbo / Zhejiang province is often the lower tech, more home gadgets, Zhongshan I did some inflatable beer pong tables for a client back in my sourcing days – there are these 4 parts of a factory – and each one can be done either in the same factory / location or all done separately – hope I'm right or you can correct and clarify – there is the mould factory that makes the mould – which many factories outsource. Then there is the materials needed, raw materials, which can even be imported from overseas. Then we have components – often times injection mould plastic parts that use the mould we made (if a custom product) and then the cream of the crop, the part taking all the parts and making final assembly. Of course there is a QC that the factory should do, at each phase here. Am I getting all the parts ready? Of course packaging you order from a print shop factory and that is part of final assembly.

Bigger factories do all of this? Smaller factories outsource

Is that the main idea or do even larger factories outsource parts of these various phases in manufacturing?

How can listeners living overseas know what a factory even is?

The reason I am making this joke about me having an assembly factory in my office is – I could have said I am a factory, right? So for listeners there scouring Alibaba and Global Sources – trading companies vs factories – what is the way someone can decipher?

Thanks for following our e-commerce series show – hope to synergize and get some of your exclusive new products plugged in to our seller community!

So about Hardware Massive -this is a great community for people manufacturing – which I know a lot of our listeners are. You also have Hardware Con conference – your yearly conference in April. And some new projects you told me about which is exciting called Elevate – maybe we talk about these and how listeners can get involved
Thanks so much for coming on Greg!
People / Companies / Resources Mentioned in this Episode
Episode Length 33:06
Thank you so much, Greg. I am honored to have been a speaker at their Hardware Massive events in both Shenzhen and Hong Kong and see they are making moves a lot with events and premium training programs.
Download Options
Podcast: Play in new window | Download
Subscribe: Apple Podcasts | Android | RSS