Podcast: Play in new window | Download
Subscribe: Apple Podcasts | Android | RSS
Want more insights, especially positive ones, on finding Chinese business partners for your e-commerce business – welcome to Global From Asia episode number 81!
Thanks for tuning in everyone, happy Tuesday morning today is a much longer than usual episode so I will get right into it – but first a message from my wife Wendy – her good friend runs a massive Ecommerce shop in China and is looking to import baby products to sell, if you or anyone you know are in this business – shoot me a note at mike @ globalfromasia.com ! Now, let's get into today's episode, with Russell Smith, taking about his experience selling on ebay then moving to amazon, giving some tips for China fulfillment, and some positive insights on Chinese business partners and his current Chinese partner – And after the episode we'll go through some more personal stories w/ Russell and some listener feedback, so stay tuned! now let's go!
Topics Covered in this Episode
So the big news is that Russell just got married in China! We briefly discuss the differences that the marriage situation can make to life in China. You're able to take a much more 'long term' approach to everything and certain things come into focus, as Mike has mentioned in several blog posts.
We also talk about that fact that Russ lives in Tianjin (天津) and that happens to be the home of one of Mike's favorite Chinese foods – the Jian Bing (煎饼)! It's a kind of savory, fried pancake with onions and it's delicious.
Another point to mention is that this episode makes a good partner show for episode 66 with Wilson Blues, where he talks about F2C and westerners partnering up with Chinese factories. Only this time, we're looking at the western perspective and how it feels like to go into business with a Chinese person.
Here's what we talked about in the show (written from the perspective of Russell):
A brief intro to RussellI moved to China to teach English initially and started to learn Chinese. When my Chinese got to a higher level and teaching got boring I realized I 'wanted more' from life and started to look for generic 'business opportunities in China'. I ended up buying some products and shipping them back to the UK to sell on eBay, and the rest is history.Here we talk about the basics of how I found the first product, how I went about finding a Chinese partner, what kind of deal we struck, checking out samples, how we got products back to the UK initially and where we went from there.
Transitioning from eBay to Amazon and other E-commerce sitesEbay was so easy back in the day, and I kinda wish I'd capitalized on it more now. It used to be easy to whack up some cheap goods and get it out the door, but competition is tight now and margins are constantly squeezed. The name of game is quality and creating your own brand, and Amazon is the place for that nowadays.We talk about the challenges and points of creating a better brand, shifting from Ebay to Amazon and the issues that can come up with inventory and other logistics.
FBA vs. 3rd Party Logistics / FulfillmentFBA is super hot for Amazon and pretty simple. Also great benefits for customers using Amazon prime. If I was starting now, I'd use that, but we already have our products in third party fulfillment. When we have used FBA, we noticed higher sales, so we are in the process of moving more stock over and creating new products.Chinese / other companies also offer great solutions which are all inclusive. With our provider, we don't need to worry about shipping at all, once we set up taxes with company they handle everything from Shenzhen to customer in UK / USA. Also can be very cheap if your Chinese partner gets a deal with them. We got two years free warehouse storage to jump from our first company (Chukou1) to the current company (link in notes below).There is also some information about some great Chinese postal deals which can be had shipping direct from China. The deals vary from province to province and often you need good connections to access the deals. It's worth knowing about them and looking around / asking about it when you start to ship things directly from China.
Partnering Up With a Chinese Business PersonThis is the main bulk of the show and we go into a dialogue about our experiences working with Chinese. Sometimes we agree and sometimes our experiences are totally different. China can be like that!!It's worth saying here that I want to be positive about the 'challenges' of working with them and respectful of the Chinese way. It's easy to 'complain' as a foreigner in China but the Chinese way is good too.
Benefits of 'partnering up':– easy factory communications and better gauge of price (nice to be able to contact as foreigner and chinese and compare. Generally prices are lower for chinese. Also in my exp attitude seems to be different. Barking orders down phone and talking to boss directly)- often Chinese with money are willing to invest, and you can play your 'branding and knowledge of western market' card. I got a 50/50 deal using that.- options for leveraging a Chinese company / legal structure. Ours is run through an established China company. Not for taxes, but to set up an office etc.- obvious local / cultural knowledge / 'insider' viewpoints (questions answered more quickly, know what's possible etc. useful at beginning especially when i wanted to order a few of these, few of those or get custom in low amounts)- someone to invite you for business / work visas

– someone to make you feel at home. book you hotels, make you feel welcome, show you the ropes, do everything basically. Can't be under estimated. (hotel / apartment confusion)

– very very *hard* working. very focused when they get going. while we work smart, they still work hard. (in my opinion)

Things to consider about partnering– cultural understanding of what things 'mean'. Examples: quality, good, fast, reliable… don't take any meanings for granted. specify what they mean. Example of hotel / apartment? Example of what the 'product' was and what the outer packaging was.- (in my experience) much more willing to just 'go' and think about it later, whereas we prefer to plan carefully then execute. They're not getting caught up in analysis paralysis.- preference towards saving money now, rather than investing more (in packaging, quality staff etc) for long term gain. Usually want a guarantee of future gains before taking big risks.- Tendency to follow rather than innovate – a general observation. mindset is see what works then do that. rather than try to improve / do it better / differently. anything connected with much less strict copy right laws / culture??- straight up language / cultural differences (could be there for anything, but business especially).
Discuss the entrepreneurial mindset of the Chinese. Where they have come from historically, such an unstable future, tomorrow isn't guaranteed so they learn to take what's in front of them now… whereas we come from a much more stable country, culturally we can 'afford' to sit back, plan and execute slowly. big difference in there that affects how decisions may be being made.
Ways people can reach out to Russell
People / Companies / Resources Mentioned in this Episode
Episode Length 1:00:52
Thanks Russell for coming on and sharing so much and so openly – hope you Chinese business partner listens to this show and appreciates you being awesome, he's lucky to have you onboard!
Another thing I wanted to mention about Russell, before we started the interview he mentioned how he read one of my blog posts about visiting a Chinese girl's hometown, and marriage and life and he says he really appreciates my writing for it. He did't say I was behind his proposal – but that is still pretty awesome – I love blogging and connecting with people and Russell and I still yet to meet face to face – can you believe that! We both look forward to finally catching up face to face for a proper tea.
Ok and now to a new iTunes review – this one is a pretty cool one that got me to smile so here goes:
5 stars
From RioKine
Titled: Californian Living in Shanghai
Hi Michael, wanted to give you a shout out for your podcast. I am from California and have spent about 5 years in China and Taiwan. I'm living in Shanghai at the moment and love listening to the podcast while I'm on the road. I'm always communting to furniture factories in Zhejiang and Jiangsu provinces and the podcast helps get my mind going and gives me lots of inspiration and ideas. Appreciate what you're doing, bringing good minds together and speaking openly to the audience about topics we are all interested in. Keep it up! Greg McGrath
Thanks everyone for tuning in and catch you next week !
Download Options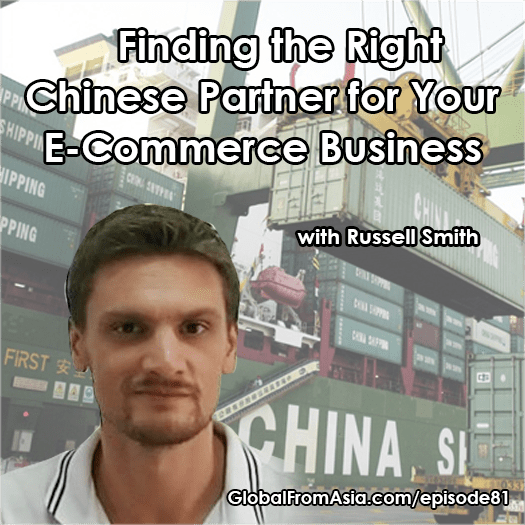 Listen in Youtube: