Podcast: Play in new window | Download
Subscribe: Apple Podcasts | Android | RSS
How to use hustle and sales and soft skills to find a niche and build a soy sauce and shake the market up!
Welcome to episode 98 – I want to start today off with our thoughts and prayers for those in Tianjin, China. The massive container ship explosion last Wednesday night was unreal, I'm about 4 hour flight from there, but my friend, and guest of this show Russell Smith, from episode 81 was in the building complex next door! He is ok I spoke with him Thursday and he was evacuating as he felt the burning of all those chemicals couldn't be good for him, believe his is on his way to Thailand….. also keep in our thoughts those firefighters sent in to the fire before the explosion….such a tragedy.
(dial in a phone call with Russ)
Well, then, let's keep our spirits up – life is short and we need to appreciate every day we are on this little earth of ours. Today's guest is quite an upbeat and fun guy to know – we have Gary Murphy from Little Soya – a veteran entrepreneur and expert in sales shares how he went from opening a bar to starting a soy sauce brand that has the big guys noticing!
After the interview i have a small announcement on show schedule so stick w me after
Topics Covered in this Episode
Introduce Gary Murphy
Story of Soya
How did you get to sourcing and trading?
How do you get clients for your trading business?
How do you figure out your branding image?
Tips on getting models / spokesperson for your brand
Tips on starting up a business and building a brand
People / Companies / Resources Mentioned in this Episode
Episode Length 57:02
Thanks for coming on Gary – I really think this will get some entrepreneurs off their butts and taking action! I really appreciate you sharing so openly, and those who enjoyed this please reach out to him and give him a quick thanks. Also tell your local restaurants to start carrying Little Soya!
OK, now for a quick announcement, I have decided to move this show to be every other week. I want to make sure that I keep the quality of the shows high and keep my momentum going. Many listeners enjoy the show but say they have trouble keeping up with it each week, and I was also saying I am having trouble keeping up with a weekly show. So going forward I'll post the Global From Asia show every other Tuesday morning 10am Hong Kong time.
Also I'm busy preparing for my USA trip, going to be a busy one landing in San Francisco Sept 11, a couple days there, then Florida until Sept 24th, then New York and Connecticut until the 28th, then back to China! I am used to these hyper trips when traveling solo, but will be the first time with the wife and kid! Wish me luck!
See you in 2 weeks, I'm off to take Miles for a bike ride now.
Topics Covered in this Episode
Introduce Gary Murphy
The Story Of Soya
How did you get to sourcing and trading?
Getting clients
How do you figure out your branding image
Tips in getting models/spokesman
Tips for starting up a business and building a brand
Download Options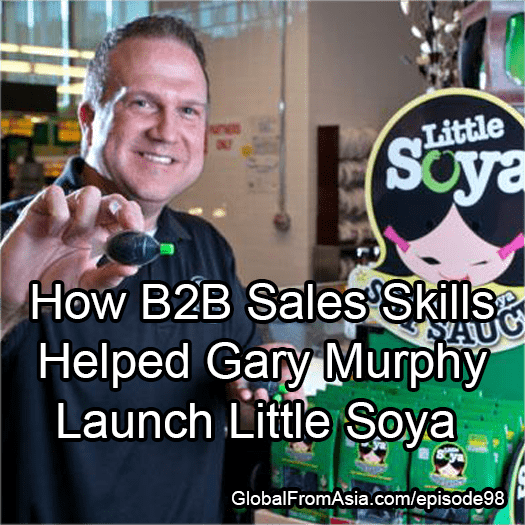 Listen in Youtube