---
Today's show is another amazing one – we are talking to US lawyers about this venture. I reached out to Edward as he is a listener of the show and also active in the startup community here – attending some of our Global From Asia meetups in Shenzhen too. So glad I did – he brought his partner, Greg, from Jacobson Associates on the show as well and we have been having some deep discussions about how to structure this new Amazon FBA e-commerce business partnership.
I have the template founder's agreement in the show notes for you to download and follow along, but please don't take this as a legal agreement to use – this is for the purpose of learning and context when you are listening to the show. The point is we are trying our best on this e-commerce series to give you transparency, and real actionable insights and advice.
Really appreciate having US lawyers on the show and we need to disclose, please consult a lawyer (them or others) before executing these tactics. The reason lawyers always say "it depends" is because it's true – it depends on the person and companies involved in the business deals.
Topics Covered in this Episode
Intro Edward

We met here in Shenzhen and you are a podcast listener now – thanks for that!

So your background as a lawyer

What kind of law do you do?

Our new joint venture

So we're on episode 3 of the e-commerce series – and what do you think? Listeners are applying – pretty cool – how do you suggest we vet these applicants ?

Structure in Delaware

We seem to think a C Corporation in Delaware is best for the Amazon FBA business with foreign investors. What do you think?

Should we register the company immediately?

Mike is getting a lot of suggestions to get the business rolling and set up the Amazon seller central account before the doors may close for new sellers in fourth quarter. But the partnership agreement hasn't been confirmed, so can we setup the structure now and add in investors and partners later

Partnership Agreement

How to set this up – with people investing money, and also some investing time and less money.

Reviewing the "template" Founder's Agreement from the website

After last week's episode, Mike downloaded a template founder's agreement and we used that as a point of discussion in the show. Went through points such as purpose of the business venture (scope), capital investment, ownership, voting, share vesting ,and IP.

Cliff, Vesting, KPIs matching to Share grant Milestones

Should we do a cliff period and vest? By milestone, or time?

Points missing in the template contract

Edward and Greg give us a list of clauses that are not covered in the contract. Discussing non-performance in short term, in long term, drag along, tag along, and right of first refusal.

Exit Clause

The biggest issue I have had in the past is that we didn't have an "easy" way for a partner to get out if they aren't interested anymore. This would be covered in an exit clause – there are different forms – any structure

How we should sign this agreement

What are some suggestions for negotiating and signing this – virtually?

Thanks Edward and Greg

How can people find you online?
People / Companies / Resources Mentioned in this Episode
Show Sponsors
Please show support of our GFA media sponsors as they make this podcast possible to be free!
Today's podcast is brought to you by Aurelia Pay. I use them for sending money to my Chinese supplier from Hong Kong – it is a cross border payment solution between China, Hong Kong and South East Asia. So when I need to make a payment to a Chinese supplier, I just hop in to place a remittance, pay to their HK bank account, and Aurelia Pay settle RMB within the same business day! Check them out
√ AureliaPay.com Cross Border Payments in Asia
Episode Length 22:30
Thank you Edward and Greg! We spent quite a few hours preparing for this show and a lot went into it. We are taking real action with this ecommerce series. The company is being formed right now, I am talking to those who applied to be a partner in the e-commerce series, and the founder's agreement will be signed next week.
We will introduce the partners for the first time on Tuesday August 22nd at the E-commerce gladiator TV show debut. You can watch it live streaming, facebook.com/globalfromasia or as a live studio audience, or we will have it professionally produced by ShadowFactory.io VR agency in Hong Kong.
My favorite part about this e-commerce series is how we are getting the various people in the community together.
Download Options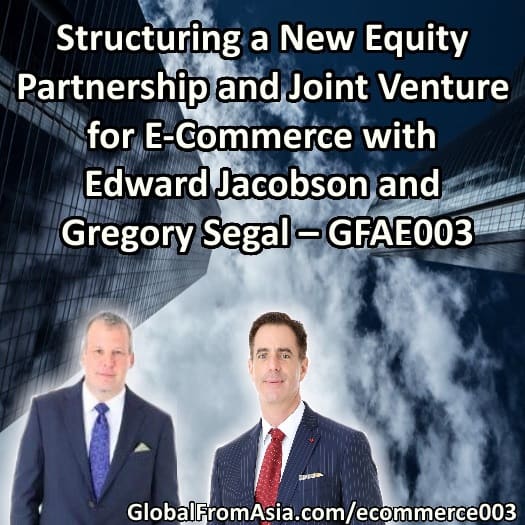 Podcast: Play in new window | Download
Subscribe: Apple Podcasts | Android | RSS