---
This one is a goodie! Had the pleasure to get Monica Chao on the podcast who has a wealth of experience from running a tech startup in Shanghai to working with ecommerce in San Francisco. This is a webinar we did for GFA VIP members and I'm bringing it to you for the podcast – for free.
But also please keep in mind, this show is supported by listeners who attend our events and purchase our online learning materials such as our books and courses. Even spreading the word by sharing on your social media or telling your friends about the show helps us get the extra boost we need, so thanks in advance!
Now, here is a longer, but extremely valuable, session on hiring and managing Chinese staff. Enjoy!
Topics Covered in this Episode
Introduce Monica

Welcome to the show Monica!

Attracting Chinese Staff

How to get the interest you need to have Chinese to apply to work with you.

Advantages of Being a Foreign Company in China

When hiring – what are some of the advantages of being a Western / foreign company?

Disadvantages of Being a Foreigner

On the other side of that coin, what are the disadvantages

Managing Staff in China

Once you hire them, what are some ways to keep thing running smooth.

Chinese holidays

How to balance Chinese holidays and Western holidays

Can Foreigners Manage Chinese Staff?

Should a Westerner even attempt to manage staff in China, or should they have a local partner handle that?

Working in Cross culture Teams

Tips for working with Chinese and Foreigners in the same organization

Team Building

What ways can we keep the team happy, especially cross-border, cross-culture.

Case studies and examples

Mike and Monica share some stories

Conclusion

What are some things we can take away from today.
People / Companies / Resources Mentioned in this Episode
Show Sponsors:
Today's podcast is brought to you by Aurelia Pay. I use them for sending money to my Chinese supplier from Hong Kong – it is a cross border payment solution between China, Hong Kong and South East Asia. So when I need to make a payment to a Chinese supplier, I just hop in to place a remittance, pay to their HK bank account, and Aurelia Pay settle RMB within the same business day! Check them out.
Episode Length 56:39
Thanks so much Monica for coming on and sharing your knowledge and experience. The team at Global From Asia is happy to have you on and I am sure the listeners got a lot of gold nuggets today.
We are also discussing doing some Cross Border meetups in San Francisco, USA. A lot of interest has been coming in from both the local Americans as well as the Chinese community traveling there. We are in early stages there but stay tuned.
What is really exciting is I'm almost back in America! China business workshop in Miami is coming, trip to Colombia for our new expansion to South America, and of course, time with my family back home.
Balancing work and life is always a challenge, let's not all be workaholics and enjoy a bit.
Download Options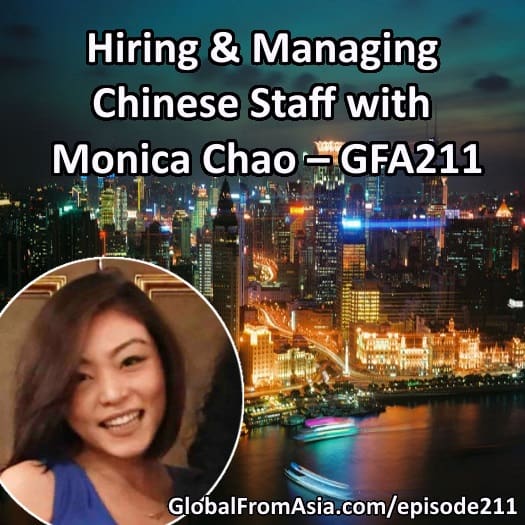 Podcast: Play in new window | Download
Subscribe: Apple Podcasts | Android | RSS