---
Everyone wants to sell to China. And one of the top product categories people want to sell is imported foreign foods. This guest has been on my list for quite some time and I am excited to have him on the show – Glenn Ball, the General Manager of Nogogo Online groceries. It is one of the first and largest online stores in China for foreign goods, based right here in Shenzhen.
Glenn was also one of our popular speakers at this year's Cross Border Summit and is already prepared to share and contribute at our Cross Border Summit on April 20-21, 2018! This conference will be epic as we have such amazing people supporting us, hope to catch some of you there.
On top of the audio podcast, while I was in his office we did a video tour of his facility. We will link to the video in the show notes so you can enjoy that as well.
Topics Covered in this Episode
Introduce Nogogo

What is Nogogo? When did it start, how did it get started?

Intro Glenn

How did you get involved with Nogogo. A popular speaker at this past April's Cross Border Summit

Food - a hot topic for Chinese e-commerce

Everyone has to eat – can you give us the idea of the market for foreign foods in China -and the growth I could only imagine over the past few years.

Selling food in China - challenge I'm sure

But with great opportunity comes great challenges. In our various encounters I have heard you mention some of the struggles with importing various foods, care to share some stories here?

Distribution channels

So you are selling on your own website nogogo.cn as well as Taobao and Tmall – any other platforms?

How do these distribution channels break down

What are some of the breakdowns – I recall you saying mostly foreigners are buying on the website, and Chinese are buying on taobao.

Marketing Strategies

You've been creative with various Wechat marketing campaigns – such as having people share in order to get some coupons – I think Wechat has to be doing amazing things for you and Nogogo can you give us some strategies that have been working for you

Ineffective Strategies

What are some things many foreigners think would work – but for you have not been effective – within marketing in China.

New Importers to China

You and I both get a lot of questions from Westerners who dream to sell to the Chinese market. And I think we both really want to help them. But it is not as easy as opening an Amazon FBA account and shooting some inventory to a warehouse. Especially in the food and consumable space – care to give some ideas on how people could start to crack the Chinese market, specifically within foods?

Working with Nogogo

Everyone is interested to work with you guys – I get requests regularly too. What is your process to decide on picking up a new product line for your business at Nogogo? Any tips or ways people can stand out

Ways to reach you at Nogogo

Thanks Glenn! How can people find you and Nogogo – Wechat, web, email, etc?

See you at Cross Border Summit 2018!

Thanks Glenn – and looking forward to seeing you at the next Cross Border Summit 2018 – April 20-21, 2018!
People / Companies / Resources Mentioned in this Episode
Show Sponsors
Please show support of our GFA media sponsors as they make this podcast possible to be free!
Today's podcast is brought to you by Aurelia Pay. I use them for sending money to my Chinese supplier from Hong Kong – it is a cross border payment solution between China, Hong Kong and South East Asia. So when I need to make a payment to a Chinese supplier, I just hop in to place a remittance, pay to their HK bank account, and Aurelia Pay settle RMB within the same business day! Check them out: Aurelia Pay
Episode Length 40:27
Thanks Glenn for being awesome and sharing. I even bumped into him while down in Saigon, Vietnam in July during our separate business trips – just total coincidence. I'm so happy to see Nogogo at the level it is today, I remember when it was getting popular back in 2011/2012 when I was doing Startup Weekends here!
I think that is the biggest takeaway you should take as a listener, Glenn and Nogogo has been in it for the long term. I get a ton of requests from entrepreneurs looking to make quick money selling a new product to the Chinese market. As we discussed in the interview, it is a long term journey, you need the patience and persistence to proceed.
If anyone is considering selling imported foods to China – Glenn and Nogogo would be a great parter to consider. To our mutual success in our pursuit to grow an international business, cheers!
Download Options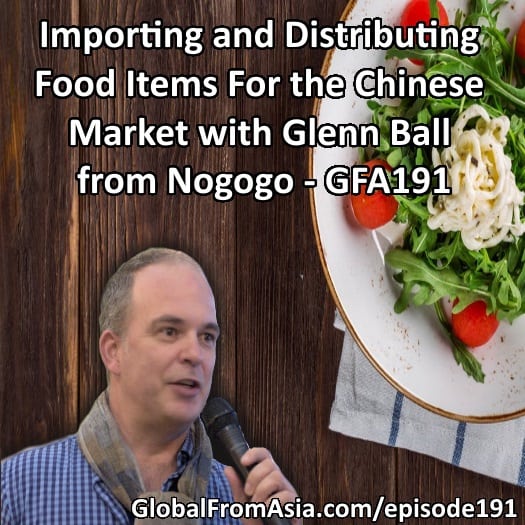 Podcast: Play in new window | Download
Subscribe: Apple Podcasts | Android | RSS