---
We are still in Vietnam – and this time I believe you are in for a real treat! Many listeners have asked for more South east Asia content, buying and selling in the B2B space – and today we are bringing it to you. This guest is our supplier in the e-commerce gladiator series – Para Living Inc – and was introduced by last week's guest, Fredrik.
Isn't this truly amazing – we are making some synergies online through this very podcast. Connections, deals, educating, taking action!
Danny shares some interesting insights about the differences in manufacturing in Vietnam vs China. At some previous GFA meetups we did in Vietnam, we noticed that things aren't as cheap as we think they are here and Danny gives us some insight.
Topics Covered in this Episode
Intro Danny

Glad Fredrik connected us! We are working together in Para Living Inc to sell your awesome products Aqua Grow Greens manufactured here in Vietnam on Amazon – exciting times.

You've been in Vietnam 8 years

How did you get here?

Vietnam's progress

Must have seen quite a lot of changes!

Product Design in Vietnam

I've noticed quite some nice design and creativity in Vietnam, and you are working on some cool products- with Roland and our Amazon FBA business – Para Living Inc is selling in cooperation with – seems we have quite a lot of local talent in design – and product design?

Manufacturing here in Vietnam

How is it – can you share your experience and insights on the manufacturing scene here.

Raw materials in Vietnam

We chatted before the show – the disadvantage in Vietnam is the raw materials – and many need to be imported, care to share and give examples?

Cost differences between Vietnam and Chin

I've met many Amazon FBA sellers and ecommerce owners in Vietnam and they are still buying from China. I'm excited to be working with you and Vietnamese manufacturing, but costs are higher? Care to share the reasons why

Main advantages of Vietnamese manufacturing

What are the big reasons you'd say someone should consider manufacturing here?

How people can find you?

Let's share some ways people can connect with you and the company – and also the Amazon business!
People / Companies / Resources Mentioned in this Episode
Episode Length 33:19
Thank you Danny – and thank you for listening. Was the interview different – I did it while also having the camera on me – and like Dan Andrews from Tropical MBA says – video makes us more self conscious and I can't focus on the content as "pure and raw"-ly.
But what do you think – will you be manufacturing in Vietnam or Southeast Asia more? Especially with these coming trade tariffs in USA, China is looking to be more and more expensive for e-commerce sellers.
Yet at the same time – it is about the infrastructure, the moulds, the experience. We can't just pick up and leave 20 – 30 years of manufacturing development overnight. Yet this is why in our e-commerce gladiator series we are investing in Vietnam, hedging, experimenting, diversifying.
Keep in touch with the global markets and keep learning .
Download Options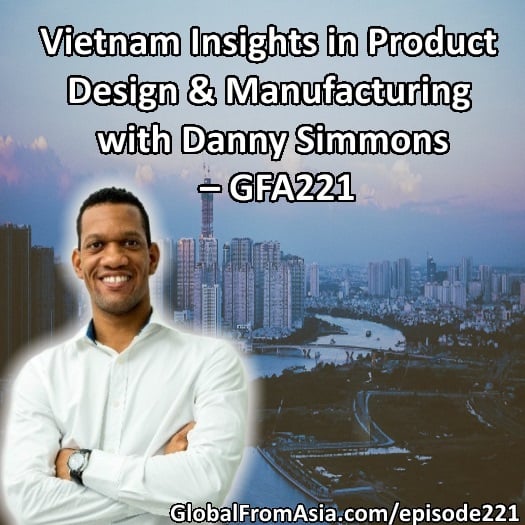 Podcast: Play in new window | Download
Subscribe: Apple Podcasts | Android | RSS