---
Looking to do global e-commerce from Asia directly? You're in for a treat, today we're talking all about B2C Warehousing and Fulfillment from Hong Kong – global from asia episode 103
Are you ready to rock!? I am, getting a second wind for Global From Asia podcast and growing agency after DCBKK conference in Bangkok. Will take some bigger investments and getting an office right in the middle of TST district of Kowloon. Can do meetings there, podcast interviews, hold mini meetups, and meet some of you when you're passing through Hong Kong. Lease will start in November, if you're interested in sharing some office space – let me know!
So way back on episode 37 we had Chris Moore on the show talking about HSBC Hong Kong bank accounts – nowadays he is at a HK fulfillment company called Floship a hot startup in town, and he's going to share with us on the often asked topic of fulfilling your e-commerce orders from Hong Kong – a quick note, if you do choose to signup for their service and want to thank me with a commission – you can signup via my link at globalfromasia.com/floship – that would be great!
Topics Covered in this Episode
Intro Chris Moore

Who is Chris? Where he currently is, and his experience with E-commerce fulfillment

Warehousing Costs in HK

What are the cost of warehousing? Is it more expensive to do it in HK than in China or USA?

Shipping Timeframe

Average Shipping times to major regions. USA, Europe, Asia. How does it work, what are some of the shipping options?

HK warehouse vs Amazon FBA

Hong Kong fulfillment vs the big gorilla in the room, Amazon AWS fulfillment solutions. How it squares up, and what are some pros and cons of each?

Integrations with Shopping Carts

How about integrating with shopping carts and marketplaces? Which technologies, how is the API?

Hk vs China fulfillment

So everyone talks about Hong Kong being the right place to base your Asia logistics. Why is that? Why not just keep the products directly in Mainland China?

Global Sales Tax?

Sales tax and VAT treatment for Western countries when shipping from Asia. Who pays, how is it calculated?

Case Study

Let's do a case study - I want to buy from a Chinese factory - warehouse in HK, sell in China and on Amazon - all from 1 warehouse, possible?

Connecting w/ Chris @ Floship

Thanks Chris. For all the listeners fiending to get ahold of ya, what are some of the best ways?
People / Companies / Resources Mentioned in this Episode
Episode Length 29:45
Thanks Chris for coming on, again, and sharing the value. If you guys want to thank him or give any other feedback shoot him a quick note at [email protected] – and if you do decide to go down the route of signing up for their service and want to thank me you can follow the link at globalfromasia.com/floship
alrighty, tons of people coming in for the Canton Fair and Global Sources fair – so I wrote up a massive blog post to give some pointers – totally free, no email required – I'll link it up at the show notes – globalfromasia.com/episode103
Til next time everyone, stay positive and keep on pushing to grow your global business, peace!
Download Options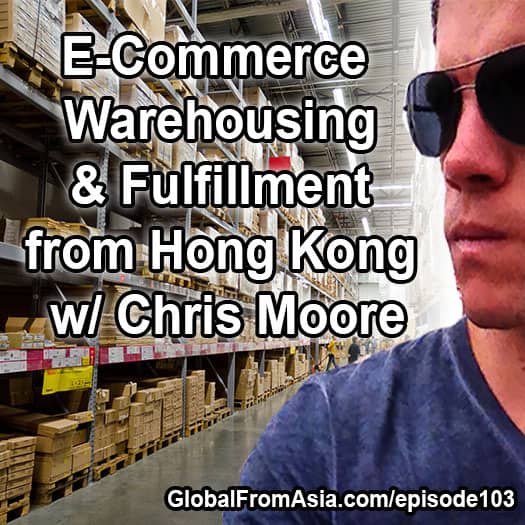 Podcast: Play in new window | Download
Subscribe: Apple Podcasts | Android | RSS