---
Happy Tuesday morning, episode 120 – I am just getting over the overeating of birthday cake, just turned the big 35 years old on Saturday. Laying low with the wife and kids. Having so many conversations about immigration, visas – where we are born, picking a passport – has such a big deal on how we can live our lives. Feels like an old system that is ripe for disruption….
Events are coming up ! The China Smart Sourcing Summit is happening at the Global Sources show April 17 to 19th, will be all about Amazon with amazing speakers, I'm also sharing there so would be cool to catch you there.
And of course our Global From Asia event – the Cross Border Summit is the day before that event, on saturday April 16 in Shenzhen, China. We are excited to announce we got another sponsor locked in – Netconcepts – which is a search marketing agency in China – helping Chinese do more export, as well as Westerners do Chinese internet marketing -thanks for that guys and you can check out their site at netconcepts.cn
Now for this week's show – we have a great one with Vitor Santa Maria, a very talented designer discussing the evolution of crowdfunding and giving tips and insights for those getting into the game!
From the top of the Shenzhen Grand Hyatt hotel, we have crowdfunding veteran Vitor Santa Maria. He discusses how it was in the early days and how to stay competitive in today's market.
Topics Covered in this Episode
About Vitor

Passionate about design in your early days? Can you tell me a little bit of your background?

Crowdfunding

The roots side? You worked with some of the big names as a professional?

Hidden Inc.

Hidden was your first venture together? How did it transition?

Exhibit

2010 Exhibited in Milan furniture Fair

Kickstarter

Big boom of KickstarterLaunched on Kickstarter on Christmas 2011.

Campaign

How did you get your first crowdfunding campaign started?How did you invest in the product?

Getting press in 2011 for a campaign

Kickstarter Then and Now

Crowdfunding challenges now

Project delivery

Non delivery of campaigns in the ecosystem

Building an Audience

Tips to build an audience?How to get started with an audience before you launch?

Crowdfunding Now

What is it supposed to be?

Entrepreneur's dilemma

Is it bloggable? What comes first, design or sales or sample, chicken or the egg?

Getting reviews

How to get that support you need?

Having a product now

Need it before you launch? Really?

Making a video - tips and tricks

How Vitor makes videos and tips for us.

Product tests

How to get an idea if your product will fly or not, before you do anything.

Costs to list in 2016

How much does it cost to get your product on Kickstarter now

Tips for Newbies?

How to get it started for them?What is the homework someone should do?Tips for listeners – audience, PR,

Contact

Ways people can reach you Vitor
People / Companies / Resources Mentioned in this Episode
Episode Length 30:41
Thanks Vitor – that was one show we should have had some video footage. Great view up 100 stories or so overlooking Hong Kong and Shenzhen skylines.
That is all we have this week everyone – we're working on a private members forum to help a lot of the hustlers doing HK business, stay tuned for launch updates – with the banking industry getting tougher – we need a private place to help each other out!
Download Options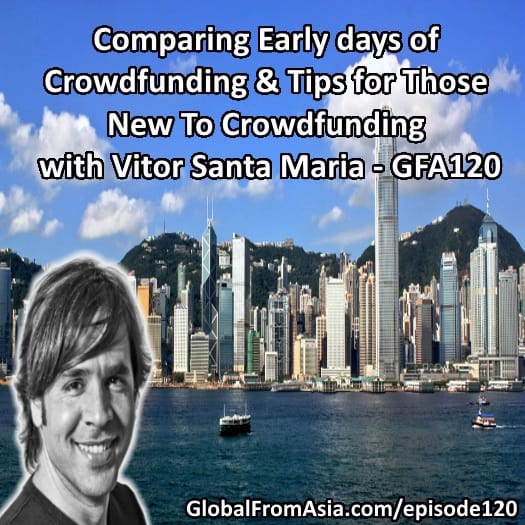 Podcast: Play in new window | Download
Subscribe: RSS