---
Regards from China, Again! I couldn't seem to stay away and flew back up from Thailand – this time to Ningbo area (Zhejiang) and spent a few days with Ino, our Quality Control parter at Insight Quality and also a supporter of the Global From Asia community.
We did the interview in his car while driving between factories! I have separate microphones and used clips on – we have quite an insightful conversation about adding a lot of listings to Amazon to trade war and even adult diapers in Serbia, I hope you'll enjoy!
Topics Covered in this Episode
Intro Ino

You've been on the show a few times already, but a brief background Ino (we'll also link your GFA VIP profile on the show notes)

China, seems less polluted?

We are driving and the sky seems much more clear

I miss China, honestly

The action, the markets, the shao long xiao crawfish BBQ with the Chinese businessmen with n shirts playing dice and drinking baijiu shots

Trade War Effects - What do you see?

Last week's episode was all about trade war – what have you been seeing?

Serbia is following in China's footsteps?

We mentioned this before the recording – was wild, can you share for listeners.

OK - now lets talk Sisitano and Amazon listings

We are driving now to a few factories, we are also buying from the market. One thing is we just need to add more listings.

Moka pot factory saga continues

We will be going to the moka pot factory Saturday. They moved a few hours south after Chinese New Year and this will be the first production at the new one. We didn't tell them to put bubble wrap in the last order so handles have been breaking in shipment. Real nightmare – we had to recall the items out of Amazon FBA and to a third party fulfillment center in USA to repack them all and send back in.

Yiwu market order

This one I am finally glad we are doing. For years I've wanted to buy a few as low MOQ as possible.
People / Companies / Resources Mentioned in this Episode
Episode Length 51:52
Thanks Ino, it's always a pleasure having you on the show. Thanks everybody for listening, I hope you guys enjoyed the show.
Download Options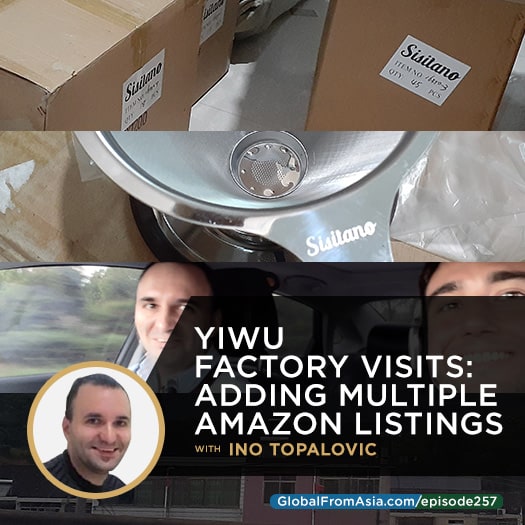 Listen in Youtube:
Show Transcript
gfa257
Global From Asia episode 257 we are on the road in Yiwu talking manufacturing, Amazon listings and cross-border trade wars.  Welcome to the Global From Asia podcast where the daunting process of running an international business is broken down into straight-up actionable advice and now your host Michael Michelini.
[00:00:28] Okay, thank you everybody for tuning in to Global From Asia podcast. You're off and on the road. I know a lot of listeners are on the road. This time, we are on the road. Literally. It's episode 257 at Global From Asia and we are here in Zhejiang Province. A lot of people know the keyword Yiwu which is a market City and today.
[00:00:54] I'm in the car with, in Ino's car.  Ino is our trusted quality control partner here at from Insight Quality. All right, on the road again. So if you guys are making cross-border payments like many of you are, including myself, definitely check out goremit.HK, a Asia based cross-border payment company for your Hong Kong bank, to pay to various places into mainland China, Vietnam and other parts, whether it's for fixed cost, staff, suppliers and other reasons. Check them out.
[00:01:30] They're the sponsor of our show and I very much appreciate that.  www.goremit.HK.  Thank you.  Thanks for being here, Ino. You're welcome. Glad to be here. Yeah, this is really cool. It's even raining. We'll put a picture on the show notes, so people can see us. But, I'm passenger side. Ino's in the cockpit here and we're going over this massive bridge in between factories.
[00:02:02] We have quite a few things. We're going to be doing the next few days. I just came up from Thailand again. I know some listeners have noticed. I was in Shenzhen, Hong Kong, Guangzhou, just a little bit less than a couple weeks ago.  But there's a lot happening and we got some orders and some some things going with this Amazon business.
[00:02:21] So it's just it's just happening and I felt like you know, I'll be on the… we'll talk about maybe in the show. But it is a little bit hard to not be in China with sourcing and Manufacturing and I know there's different samples, Ino has been collecting from factories that have been sitting at the desk.
[00:02:40] He's been what, willing to send it down to me in Thailand. But I don't know, I think I told Ino. I was like, man a flight might be the same price as the customs duties. There was a couple times the Moka pots came down from Shenzhen and the taxes were like a hundred something, a hundred dollars, I think.
[00:02:59] It's insane. It's just they just seem to charge anything that they want. But I also wanted to get up here. I've, I have not yet seen the… we'll talk about that later. But I'll see the Moka pot factory. Actually some updates with the Moka pot factory, we'll also talk about some trade war things and and others. But before we get into it, Ino, I know you've been on the show a couple of times already at least but but do you mind just introducing your, yourself a bit?
[00:03:27] I'm here in China, already five, six years and I'm working in Insight Quality Services as a Supervisor for control inspections and auditing. We also do testing services for our clients.  Great. Yeah. Yeah, it's really and Andy Church has been on the show. He's he's also… he works… You know, he's he's one guy… The owner of the company and the, he's really nice.
[00:03:53] He's like the nicest nicest guy, right? He's really a very… helpful for the community and everybody. And so yeah, you guys have been really flexible with us. And we appreciate that. And I know you helped a lot of big, quite big companies, as well as as other sellers with sourcing and quality control and I'm noticing this even more as important, as I'm outside of China lately.
[00:04:20] So just look and he likes to say we are your feet on the ground here not just for inspection. Whatever you need. We are here. Yeah, it's totally totally been true. So, you know, you helped me out when getting here also coming back. I just came back. I went the craziest flight because I'm also going down to Hong Kong and Shenzhen.
[00:04:40] So I went from Chiang Mai Thailand to Changsha which is a city in Hunan Province in Central China. I've never been there before and I told Ino… Hey, I' m in, I'm in, I'm in Changsha. He's like what? Where? Why you didn't fly to Yiwu or Guangzhou directly. I don't want to say I'm being cheap, but what happened was I looked up the flight prices and a return ticket from Chiang Mai to Thai-.
[00:05:06] To Guangzhou is out of a few hundred maybe a little bit more of a few hundred dollars and then I did a multi destination, which was adding in Hong Kong and then back to Chiang Mai so it routed me through Changsha for some reason. So I was like, yeah, whatever. It's like a six-hour wait in Changsha and then came in to Guangzhou and then took a bus to Yiwu last night and now we are… it's raining now, you, I can… I think you'll hear the raindrops in the car. But now we are in factories. But, when I got in…
[00:05:43] When I got in the the Customs, I feel like they're getting a little more strict or is it just me or I haven't been here. But he's flipped through my passport pages and I used to have a work permit. Now, I'm on a business Visa, 10-year business Visa and he says what what you work here you… I'm like, no.
[00:05:59] No, I don't work here anymore. I I used to work here. And then they ask me like why I'm coming. I'm like I know what they'll like to hear but you know giving them money. So I said I'm going to.. I'm buying from a factory which I'm literally am doing. So that was you know, a couple of them talking and let me in. But I think I was like one of the only foreigners in Changsha.
[00:06:20] There's not many foreigners there. So they had not much else to do. And, let's get into the show. So there's been some… Of course, we had a great episode with Kornilia from Forest Shipping last week, on the trade war insights which was a really in-depth one. But, of course, there's still lots to talk about. We'll get into that.
[00:06:43] But also I just noticed it seems more blue sky and fluffy clouds than I remember in  Yiwu even last year's. And, you mentioned Ino, before we recorded, there's some things happen. Yeah Chinese government is doing a lot to improve the environment and reduce pollution. Like in Yiwu, they developed all industrial water sewer.
[00:07:06] system which didn't exist before. They are controlling strictly about chemic chemical usage. It has to be in certain industrial zones. Not every industrial Zone can do the, can use the glue and chemicals for colors.  But when I first time came to China in 2009 the sky was gray. I remember it was always gray.
[00:07:36] Yeah. And my, my nose when I use a tissue, tissue was always black. Yeah, and I remember when the Chinese government started to push for the, to reduce pollution and improve environment protection, that first day is when blue sky and fluffy clouds appeared. Everybody was placing photos in Wechat. Wechat was full of Sky.
[00:08:02] Yeah, what those, those days. But now it's already normal for about a year. Maybe even two years. Wow. Okay. I don't remember maybe maybe the Burning Season in Chiang Mai also. Burn, there's a burning Season, dry season in Chiang Mai. So, it's like, it was pretty polluted there. But, it's getting better now.
[00:08:24] But so I'm noticing Skies more.  Yeah, in Zhejiang Province, it's much better. It's almost constantly clear like this,, like what you are seeing now. Amazing. And, but, the factory are same, the production is the same? No, no, no. No. But the process that is, the process. But, for, for industries that I know of, like the jewelry, they don't do the polishing in water anymore.
[00:08:52] They need to do, to use the dry process. Then for the fabric dyeing. I know some big factories around Hangzhou area I mean there is a lot of dyeing factories. They completely had to replace their production lines to be.
[00:09:11] Regulated according to the environment law.  So that a lot of factories did much Investments to be to reduce the pollution. It's not just, it's not just government investment. Well and a lot of smaller factories that were not able to invest they had to shut down. Okay, I was going to ask that next.
[00:09:39] So I guess if you don't if you don't do it, you're out. Yes. Yeah.  Although the strong arm of the China law. Don't mess with the government here. Yep. We will talk about that later in the trade wars part. But, I just want to also add a point I have in my list is I could have missed… I do miss China. I think a lot of us.
[00:10:01] We like the the action of course. I mean, there's some night markets and there's some touristy stuff in Chiang Mai or or even, I've been to Bangkok a few times. But I mean, like for example, I was in a hotel in Yiwu last night. And there's a, it's called Xiao long Xia some of the listeners might know what it means, like it's like a crawfish.
[00:10:21] I think right. It's like a small little lobs-, like a mini Lobster.  And they're all eating these lobsters in big bowls when you just kind of peel them and eat them and they're drinking. There's some 4,5 Chinese guys with no shirts on drinking Baijiu which, sure listeners might know, is like this horrible rubbing alcohol like liquor.
[00:10:41] That's just 80% 90% alcohol but, and they're chugging and playing a dice game. The cup and the dice, and it's it's just so loud and there's markets everywhere. Live? Loud and live. But no I had to change my room actually. I'm very… because they put my room right above the… there was somebody playing a guitar and then it was like man, I was like, right I was like asleep inside of the market or whatever they were doing there.
[00:11:12] So they moved me, which is nice. But I did miss that.  I walked around a bit. And you know, it's something that is, I think I… like you, you know. Like, for me also when I go back to Europe then I rest for maybe 10 days or two weeks. It's good to have a rest, but after that I feel boring everything is so slowly not so many people.
[00:11:37] It's really like.  It's just for holiday, but it would be really difficult for me to go back after living in China specially that Yiwu is so fast about lifestyle and business. Everything is done very quickly. It's true. I mean that guess they call that like, reverse culture shock or you know, I guess I'm going through a little bit.
[00:12:03] I mean, I guess I could Network more in Chiang Mai. I honestly I just kind of work online and at home, but you know.  It is it is true. I mean, it's hard to find somewhere else besides China that has this energy and fast-paced feeling which is what attracts a lot of us adventurers to come here. And then another point we go again to the business business part.
[00:12:29] Well, this is business too. But this whole trade War stuff is still escalating more. I feel my wife is scaring me about being an American in China now and. But let's first get your insights about you, what are you hearing on the ground here in Yiwu and Zhejiang province with the whole US China trade war.
[00:12:49] Well, it's really difficult to define or give a simple answer. But many people are afraid and they're just waiting, they are not doing much. They just keep their business at the level it is, continuing with the orders and products they have. They're afraid to develop or invest too much. Some of our clients that we do inspections for, they try to source like potential products in Cambodia to get out of China.
[00:13:24] But the problem is that Chinese factories in Cambodia is Chinese or owners. They have production in China. They have production in Cambodia. Then they have different MOQ and delivery times depends you produce where. In Cambodia it's like one style one color minimum is five thousand pieces. Crazy. Then delivery time is 120 days because other Asian countries don't have all material production.
[00:13:56] So when they get order in Cambodia they need to, for example order fabric from China. Then they need to wait one month and a half to just, just to get the fabric. Then they can start the production.  So many people are looking for other options, but they are not finding them. Yeah, I think that's that's what I've been hearing mostly. Talked
[00:14:21] A lot of people in the community. It's it's only given before the try.. were… people were trying to diversify their suppliers outside of China. But it's it's so hard. I mean, yeah. I also know few American factories that produce different products here in China. They were thinking about moving outside of China even before two, three years when the
[00:14:48] Wages were constantly, slowly but they were constantly going up. Then the costs are higher but they didn't want to move away from China since the moving cost is so high. It's true. Yeah, I think in business school or whatever. I learned in college to, switching costs, you know, the cost is, you know, you might save, your price might go down, unit cost but you have this huge upfront time.
[00:15:16] And money and risk of maybe you'll see if money per piece. But then the nightmare is you will get the wrong, not the same quality, right? Like your quality will be different. You will get an experienced workers. If you have a lot of Machinery they will broke machines. Like I know a guy in Europe, he's producing Staples for furniture industry for wood then he say every new worker cost me 5,000 Euros in tools.
[00:15:51] It's in average,I pay 5,000. They destroy tools in value of 5000 Euros. Whoa. Because, they don't have any experience but you need you cannot go to new developing country and find workers experienced in everything. It's true and so yeah, some reason, you know, I guess 20-30 whatever years ago with China people were.
[00:16:20] Investing in teaching China factories this. But now the Chinese factories know this and you know, this can be painful but the infra-, if somebody's somebody had to teach and develop this infrastructure and this, this outside of China. So that's even if you're even if the 25% happens, it's… which is, it's not happened yet. Right, me, somewhere you are so confused, but it's it's not yet happened.
[00:16:45] Has it? The increase, it happened or what? Why don't we… I'm so, so scared too, like, well the… What you said, the problem is all the infrastructure. We have one client that is also sourcing from Vietnam, but every few days they cannot find some material then asked us to source material in China for them.  Crazy, so it's problem with delivery times, materials like we discussed this morning.
[00:17:20] Also when you get into Canton fair for some products, you even can get the samples custom-made samples with your logo next day if the factory is in Guangzhou. Yeah. They get the sample overnight, but I don't think that's possible in… Yes, this… Other countries. I mean, I always try to tell people there's chinatowns all around the world and I think any Chinatown is hardworking. These Chinese people just, you know, they work really really hard like day and night, family businesses kids grandparents, like everybody is working hard.
[00:17:55] And it's just the the culture which actually leads into the next question. I've found in the beginning of the show. The Serbian adult diapers seems like maybe, they're learning from some, some China pressure or hard-working ethics is happening there. Yeah, that there was an investment from South Korean manufacturer that is doing cables for car industry.
[00:18:25] So they are producing in Serbia because it's in the east Europe then they deliver all the product to German-, Germany and Czech Republic where the main automobile factories are. And, work ethics, there is rule. Factory rule is you get to work, you wear diapers then when you, when the bell rings that the work is done, you can go home you don't have right to go to toilet.
[00:18:52] No. Then, people were complaining, complaining but government didn't want to do anything because they have I forgot two,two or three thousand workers. It's really huge.  But the people still work there they have no other options because the industry in Serbia after the war is almost dead.  That's crazy.
[00:19:19] I don't know. I guess I would just. Anyway, I'm already, I've automized everything. But I wouldn't, I guess I'll automize my bathroom schedule. That's insane, man. Yeah, so people have no option, they have to wear diapers.  Mmm, I'm saying I'm not gonna comment. Maybe that's horrible. I mean, I don't know there's a you know, I'm also it was the Foxcon suicides.
[00:19:48] I have talked about in my personal blog like almost ten years ago 2010. Yeah, when the iPhone 4 was so popular and there was all these suicides in Foxconn. And I felt like it was the same headline here, like, Apple iPhone record sales. And a headline too is Foxconn suicides. I'm like, that's the same article.
[00:20:08] Because I'm sure they're putting a lot of pressure on those Factory workers to make more iPhones faster, work overtime, make more iPhones, increase KPI, increase output. I think that's probably why those suicides were happening. So yeah people couldn't called anymore. Yeah. And you know, there's always there's always the line and where is the line and productivity and efficiency, you know, but we're trying to be more efficient here at the Sisitano and our Amazon FBA.
[00:20:42] So, you know, I'm here with the, you know, because we finally got a Yiwu Market order and I want to try to add more listings. I know few of our loyal listeners have given me great feedback and gotten involved with our our Moka pot and our French Press, but we need more than that. And I know it's a thousand-piece MOQ, is a big one especially for an Amazon Seller or a people with a new product.
[00:21:10] But we got a few products off maybe put some pictures in the show notes. But they are today going into Insight Quality's Warehouse in Yiwu. So we just had to get one carton which was like 20, 20 to 40 pieces. I think yeah. Yeah. I don't remember exactly. I don't remember. For sure it was less than 100.
[00:21:32] Yeah. So I think the cost was like less than a thousand dollars, you know for four, for four different items. Of course, we got to pay the, there's some shipping and some prepping and stuff like that. But, you know, I think it is totally worth it. Right. I mean the unit cost we could probably get better, you know. If we got more of course we get a better price, but especially when you're starting out on a on a business you just want to get some data you want to get some experience.
[00:22:04] Yeah, even supplier agreed to do the custom logo. Yeah product. Yeah get on two products which we're able to get, they are from metal so they could laser-engrave. Yeah, so they're going to put the Sisitano logo on two of them. So we'll get some pictures for the show notes, but maybe a little video too. But that's, this is what I finally want to do this for a while to, finally we got it.
[00:22:32] I will. I guess maybe the problem was there was too many decision-makers and we didn't make enough decisions fast enough maybe or of course. We want to build our own brand. We want to have our own packaging. We're also going to put it in our own Canvas Bag. We're going to have it in in our own branded packaging and everything too.
[00:22:52] So and a lot of this is due to you know, and Insight Quality's help, but you know, I think you said you saw some comments in Facebook groups to write people looking for products  whatever your… what are your feelings on that?  You know the people when I look at the Amazon Facebook groups when people talk they were like I'm looking for a product for last 6 months every day.
[00:23:20] I cannot find anything. Why, why always look just go inside the old market, find something that is low MOQ that supplier is willing to sell you one cart and just try 5, 10, 20 different items depends from your budget. But you need to start somewhere. Agreed.  And, the margin, you know, the profit might not be so high because the pricing and the handling and of course you guys spend time.
[00:23:50] Or mo- and or money on making the listing, the photos but it's about the long-term. You shouldn't think of the short term, right? You can increase your profit as you grow. You got, got to spend some ads advertising and you some kind of way to you know, really get this thing rolling. So I also feel that Amazon is.
[00:24:14] Profits are much less than what people were talking about before few years. So everybody needs to think in terms of quality. You cannot get any more High profit per piece if you don't develop something completely new. If you are selling something that many people are selling and do, does the quality control and custom packaging that will not differentiate you enough to do much higher profits.
[00:24:45] You need to be in range with everybody else. True.  True. Well, what's actually… I started searching. For some reason, they're all clean, the coffee accessory category, and I honestly… at least the keywords I use, I couldn't even find some of these exact, at least matching exactly. Of course, there's different types of, it's like coffee drips and it's like different.
[00:25:09] different various items like some of them I could find some very similar or exact but some I couldn't find that exact either style. Of course, there was variations that were similar that were being sold. But so I don't know if we'll you know, but I'm just happy we get to add some new listings. Also is, you know Christmas, so hopefully we can get a test in I don't know it's.
[00:25:39] How about Christmas. I mean, we're in we're in June already. So when is a good deadline for Christmas orders, usually I know it depends.  Well you, if you're starting with the new product you basically, best would be to have the product already in Amazon. Because if you are testing new product, you need 1,2 months to see how. You can evaluate what quantity you need for Christmas.
[00:26:07] You can have just go inside Christmas time with 5000 pieces of some new item that you were never selling. Yes, I am a little bit nervous. We don't have enough time for really come on max, now, we have to say 25 pieces of one new listing.  but I'm living right now, because it might if it does good and we're out of stock and then you know to really make money get up like you got to do that thousand-piece order, you know, at least you know multiple, but it's long term maybe we won't make it these new ones but.
[00:26:44] But you know, I think it's part of a product-based business to doing any e-commerce business Amazon business, whatever. I mean well any business you should be learning new new offers new listings new services to your portfolio to expand your to expand your business. So and then I guess everybody knows about the Moka pot.
[00:27:07] It's been it's been an ongoing saga. It's been a little bit of brake lately. From the updates on this Moka pot. But there's this drama. It's a hard product. I at least I don't, maybe I don't over… I think it's… so we did a reorder and some of these, the handles were breaking off because, not from China to the US, but from Amazon to Consumer and it went above the seven percent return rate.
[00:27:43] So it kept getting taken off Amazon.  And we turned it toward the back on a couple times. But the third the second or third time I had to make the hard decision to recall it. So I pulled it out of Amazon to a third-party warehouse. Mark, Mark Rilke our partners you've heard from him on the show. He says… he recommended one and we used it.
[00:28:09] And yeah, I mean it I don't even really know how much total cost that was because they pulled them out slowly. So the warehouse kept receiving them from Amazon, carton or Box by box. But anyways. So we're… we have to reorder or at least we want to reorder. We, you know, it's switching Factory.
[00:28:30] I don't know if you know, we consider that but one thing is crazy. It's this factory, after Chinese New Year, which we're going to be seeing their new Factory this weekend. I wanted to do it before the show, but I want to get a show on Tuesday. But basically they've… the sales rep moved to another company, is still in touch with her, but there's a new sales rep and.
[00:28:53] Anyways been a lot of a lot of changes, they've moved factories but the sales girl didn't want to move. It's about three hours south and we and so the situation is we got to go down there and see and place a new order and I sent them like a PDF specification showing in the pictures of the problem we had.
[00:29:14] And of course there is of course the probably was our fault, you know, it's always the buyers not always but often the buyers fault I should have been more clear. We should have been more clear of putting Bubble Wrap packaging. I think we're also going to not going to package it as one complete Moka pot.
[00:29:32] I think we'll unspin it into two pieces and then wrap each piece separately into the box so that there's not as much space where the handles banging around, that's another idea. I want to talk to the factory about but I think this is the job of the seller right, you're trying to coerce, don't want to have something tragic like this.
[00:29:51] But each time, each order, you can be improving your process improving your product. So what we are planning to do is go down there meet the new salesgirl and see the factory owner. We also want to get a bigger version of Moka pot.  I honestly think it was the competitors, but it's hard to know but we started getting hit with negative reviews, a little bit consistently at least a couple in a row and I never saw this problem, but people were buying it saying it says 6 cup but it makes one cup but you know, is that Europeans though?
[00:30:29] He's maybe laughing laughing at the stupid Americans. It's an expresso maker. So an expresso is is like a very small cup and I'm not cheating people. It's called a 6 cup, that's what this is called in the industry. It's called a 6 cup coffee maker. But anyways, let's keep the story going. It's they said it was, and give me one, gave us one star. Take it personal when shouldn't, but one star and they said this this is BS.
[00:30:58] It says 6 cup and only makes one cup and it was like two in a row.  If your cup is big enough you can put nine cups decide what, yeah. Yeah. I know right? What if it's a jug picture? But that never even happened on any of the reason, nobody ever complained in email, messages, reviews. So just out of nowhere like two in a row about that.
[00:31:23] So that makes me feel like it's a competitor, but it could be a it could be a.  It could be a legitimate customer. That's the dirty game sometimes in Amazon they say but we're going to go down there. So I guess my question to Ino is. How do you feel we're going to move to a new Factory in Chinese New Year.
[00:31:46] Maybe its cost or I mean, what's the pros and cons or risks we should be… We should look at the the change, from how it's affecting you. Well, the the good thing well when they move to new location you ask me, are they are there going to be the problem, any problems. I told you best would be not to make any orders immediately because they move to a new location.
[00:32:14] They need to set up the system organize themselves, but you also said sales person is new so they don't know into detail, what are your requirements? What kind of problems you had in past to make sure the they don't happen again. So it definitely can have a bad effect on quality you could get worse product, but that's why we are going there.
[00:32:40] We will review their internal Quality Control process.  Go through the issues that have happened from first order until today. You said you created a list. Yeah, what does he know exactly of the issues? So we will do the detailed check with them. Yeah, make sure that their production manager knows yeah about the issues.
[00:33:09] Yes. I think I think what people should learn from is documenting making it as clear as possible right we can get upset we can blame etc, etc. But I think I'm not trying to blame anybody actually I and then of course they get defensive. I remember they said it's not it wasn't broken when we sent it.
[00:33:31] Like I didn't say it was broken when you sent it. I said it's broken when the customers getting it. But yeah, well, I documented everything so all the photos from the Amazon customers from the repackaging warehouse and and and listed out all the issues and then also the suggestions.  Yeah, well when you are doing the product with factories best to outline everything, what is the size weight thickness of the material, color?
[00:34:01] What we were asking always from you is to get one sample that you will sign or put a stamp on your product to have it as approved sample so we can compare.  When we do inspection so we can compare bulk product with the pro sample if there are any differences between shipments.  Definitely. Yeah exactly.
[00:34:29] They have and of course your problem with the broken handles the handles is that the packaging was not done properly. So you need to mark.  What kind of packaging is required carton box then air bubble foil inside air bubble foil was missing in that shipment. That was what was the problem? So yeah, I mean just somebody on your team has to be responsible.
[00:35:06] And for now, it's me, so I'm taking responsibility, but it's also good to have it documented you just and then the stupid packaging. Remember the coffee with one E we've done this on both orders. The original designer from upwork somehow forgot to smell coffee. I'm one of the part sides of the box of the Moka pot and say coffee when it's time for a coffee as our slogan and Coffee.
[00:35:35] So we've twice had some print stickers and place stickers over which is a obviously is is both good that we caught it before it left China because anything… The factory was not willing to place the sticker. So and, let us do that. Yeah, you guys have to help out. So that's another great reason to have QC and and people here that could help you because.
[00:36:04] you know, I know I know that I honestly I don't know if Ino probably knows people. There's people that don't do QC or don't have at least somebody check it besides the factory before it's shipped. It's insane, insanity. And I you know, I can't like playing poker. You will win or lose. Yeah, it's it's really for sure.
[00:36:25] It's really you will lose sometimes. But the worst that, it's not even really poker because poker has odds. This is like I don't want to I don't want to have this, this investment. If you divide the cost of having somebody help you check it divided by that order value and then, or you divide that over by the your whole business or at least at that listing, you know what I mean like that that should be your your your gamble your bet.
[00:36:53] This is like a no-brainer to have some because you know is clear as you can be, you know, people don't listen or read or check. You just got to have as much protection as possible.  So we're still on the road. But I think yeah, I mean, I guess we're getting to, I kind of cover most of my points. You know, I'm also some other exciting news you…
[00:37:19] We got some partnership deal. We're talking about you're having your Italian coffee business going in China. I was working long time to get the blend made to how I want it. Then I got the blend made and first shipment. It's about 1,200 kg. Should be shipping in 10 days from Italy. Wow. So I was also taking about local market because my first target is to sell inside China to coffee shops.
[00:37:58] hotels restaurants.  Awesome, but my first product is only roasted coffee beans, so I will not sell Grounded Coffee as the first step. Sure. And I'm having some issues with finding, because I'm building my own brand name and trademark then I went to your your agent to register the trademark then I give him one name.
[00:38:28] He said it's too similar to something that is already registered. I tried 10 different ones then best what I get is what he told me is 70% chance to pass. But in the end he said try to find more names so we can check which is best one, because in his opinion 70% is really very low for the past so.
[00:39:00] Right now my first coffee shipment is going with, it's not trademarked. So the switch from non trademark to trademark is also going to be a problem. But I have no way. wow sounds like another …. that sounds like a whole…that sounds like a lot of good knowledge and experience to share but but it's true.
[00:39:24] I mean, there's China trademarks is very tricky and. It's well, yeah make one sooner. I want something that sounds Italian but looks like almost everything is registered already and I need to find a name in Italian and in Chinese that both names are free and they need to at least sound similar.
[00:39:50] Wow. And the difference must be more than 75 percent only 25 percent similarity is allowed with another brand name. So it's also a challenge because this. Craziness. Well, I yeah, we have to keep us updated. But yeah, I mean we're hoping to help you maybe sell in America from our through our Network.
[00:40:18] We are doing coffee accessories. We started to talk about. Yeah, we were chatting about it selling in US, but we need to decide size of packaging, beans or grounded. We need to do due diligence and… Everything is, everything takes time and work and risk and but I'm sure we'll work on something. I I'm happy at least Sisitano is.
[00:40:45] Is back. I mean I'm getting more involved. You see I don't know if I formally said but I'm I'm being more actively involved in the business the last month or two and I'm taking, of course it takes time, but I've been talking to Ino, and we're getting these listings. We got this order in the warehouse.
[00:41:02] We're seeing the factories some other factories, so it's exciting times. And it's always a pleasure to have you on the show, Ino. Thank you also for having me. Of course. So inside.quality.com is is the company website. Is that the best way people can find you guys? Yeah. Yeah, and also have Wechat Channel they can join but I don't know if… We could try to link or what… We shared our blog news on our Wechat.
[00:41:37] That blog articles but we don't do it too often. So we are not too boring. We do like yeah one or two articles a month. Okay, that's pretty cool. Yeah, I think sometimes less is more. I mean sometimes with Global From Asia people say has too much content, but try to keep things rolling here and I think we find. We don't want to be too boring because when a business person is doing the work every day, they don't want to listen about quality.
[00:42:10] Yeah every week. They need to focus on quality from time to time finish that and let us do do manual work. True, and you guys do great and we're lucky to have you helping us out and also supporting, you know with the community and sharing this information. So definitely, you know, obviously goes on saying I recommend you guys reach out to.
[00:42:37] Insight Quality and they got people like Andy's in Texas most of the time and Ino, is here and there's a there's a whole team is like, you know remote offices offices and… We have administrators also in Europe. So we really are fully covered in 24 hours. Okay, perfect. So thanks everybody for listening.
[00:42:59] I hope you guys enjoyed this week's Show episode 257 Global from Asia.com/episode257 For show notes, we'll have a photo, of definitely of us, Ino and I in the car and price some pictures at the factory or some of the etching that it did with just 24 piece MOQ and and others as well. As always this full show notes and transfer acts aren't add to transcription to so globalfromasia.com/episode
[00:43:32] 257. Thank you everybody for choosing to listen, and we will see you next time. Take care and thank you, Ino. You're welcome. Do you need content for your growing online business? Who doesn't? The team at Global from Asia has put together contentinvestments.com to give you the same quality content production for your business.
[00:43:57] Are you interested to learn more? Check out our various packages and get involved today at www.contentinvestments.com. Okay, it's just me on the mic. We were between more factories and I hope my voice came out all right, realizing that one of the cables I have is is had too many recordings didn't work.
[00:44:28] So so well, I hope Alvin our magician video and audio editor can make that a make that better. So what, do you guys like that? Interact and truly on the ground where like just had another intense meeting with the factory. The funniest thing is you just can't hide that you're doing Amazon or e-commerce.
[00:44:51] I remember I was in the past when I used to do this 10 years ago, they didn't really check eBay or your website or sometimes they would ask for your website. I don't know.  But now it's like you're, Yama zoon. How do they say the Chinese, Yama zoon? They're like first thing the factory where it says is like, yama zoon and he's like, can you help me on Amazon?
[00:45:19] No me on Amazon Help. Everywhere. They all want Amazon. Maybe I'll introduce them to Zach, coordinate David or Daniel or some of our other amazing Amazon Consultants, but I don't know. It's like crazy. I mean, I guess Amazon's marketing hard here and.  It was just a different ballgame and it's just so transparent now, so there's no secrets about price.
[00:45:51] They're going to see they're gonna see these products on Amazon or gonna know our brand or maybe we'll see how much we sell it for. I don't know. What's the also you know, this is the blah blah blah section. I just have like ending where I can just ramble if people want to listen or not, but.  I don't know what do you do.
[00:46:14] Do you do a joint venture with these guys? I saw Ino, I'm like maybe I just just just be a joint venture with the factory. That would be the best option. Maybe just be a yeah, maybe. If they are interested. If they think they need us anymore.  Well, well think about it and I said I'll send them some ideas next week well if I ever get off this crazy road trip. Well.
[00:46:46] Shenzhen and Hong Kong next week again. But it seems like it makes sense to if you're gonna call out to here might as well go down to Hong Kong and then back down to Thailand, so.  So, it's a bumpy road. I guess it's true. We got it. We actually for the interview waited until we got onto the highway, but also it's Lantern Festival.
[00:47:13] I have to admit I'm an idiot. I didn't. Excuse me. Dragon Boat Festival. They were giving us some kind of gift today, right? What was that? They were giving us some cookies or cakes, but it's not like mid-autumn Festival is where they give those big,  I call them the Chinese fruitcakes,, the moon cake doesn't… Do you like moon cakes Ino?
[00:47:36] Yes, some styles. I do I don't like every style. Okay.  maybe the, the Starbucks ones were good. I remember but but then. I don't like those that are too dry. Yeah the egg there's just a dried egg in the middle.  Makes my stomach, remember? Yeah, yeah. Bad memories, let's let's move to the next discussion point but.
[00:48:13] well, yeah, I mean, I guess the world is really becoming so flat and it's almost I guess it becomes so flat like these factories are like, yeah, I can just go on Amazon. Yeah, I can just sell in US directly. Yeah people that are doing that assortment it's…This Factory is going to jump jumping on Amazon with 600 products.
[00:48:35] At the same time. So how are you going to compete compete against them? It's true. He says I have 600 products, and maybe that's but I mean in one that's why I mean maybe Donald Trump might, might not be the most soft-spoken but, you know, I think it's true. I mean look at what's happened. You know, I saw I saw this happening 10-15 years ago when I came here….
[00:49:05] And it's just a matter of time before the factories like, wait a minute. I know they want to build their own brand and be present in the market under their brand thing. Yeah, I mean, it's just a matter of time right why because we always say this on the show. And, that's the main, the main value is the brand.
[00:49:27] So why would why would they keep making it for somebody else when and then also it was something we just I just mentioned to Ino, like this factory is thinking maybe their US customers will stop stop buying from them. Maybe they will go to other places. So maybe that's why he's even thinking I need to sell on Amazon now more than ever because I have to take control and I have to make sure that I keep getting my. He's staying in the market, that he stays in the market.
[00:49:54] Yeah, so that even might be an unexpected  backlash from this Trump tariffs is they sell directly now. That actually might be behind that… They sell, sell to end customer then if they still can compete with the prize, exactly, keep the factory running. They will be happy. That's actually kind of true because that 25 percent might just kill the middle middle man.
[00:50:21] Highly likely possible. Yeah, and then they'll die. And then the factories will just list on Amazon themselves and just give up that 25%.  Anyway, this is kind of depressing. But, I still I still think that China, China won't be able to you know. I think China will just wait longer than Trump will wait, you know. I don't, I think everybody is saying that. That's what everybody's been saying is they can't wait.
[00:50:54] For… China can wait for a long lot longer, Trump has the re- re-election. So.  Anyway, I hope you guys enjoyed this episode. I hope my audio is okay on that last, on the, my side and thanks again, Ino. And, let's so we got another two, another two hours on the road. See if my battery lasts and get this to our production team so that you guys can listen.
[00:51:22] In just a few days from now is pretty awesome on just record on Thursday and it's online in Tuesday and factories are on Amazon in Tuesday night. To get more info about running an international business, please visit our website at triple www.globalfromasia.com. That's www.globalfromasia.com.
[00:51:46] Also be sure to subscribe to our iTunes feed. Thanks for tuning in.
Podcast: Play in new window | Download
Subscribe: Apple Podcasts | Android | RSS