---
Selling Your Products via Hong Kong E-Commerce – Global From Asia episode 102!
Things are drying up nicely here in the South of China, had a massive typhoon the other week that was like permanent rain day and night. Sun is out and life is good. Though Google Now does keep warning me that the air pollution is at the danger levels. Guess it is the trade off for the nicer weather.
I'm excited for the webinar on optimizing your Hong Kong company – will give some tips and tricks for those who have a limited company here and are trying to figure out how to best organize and prepare for yearly filing and just overall business in general – that is Thursday Oct 22 – 9pm Hong Kong time, for those who want to get more info and the other timezones and register at Global From Asia .com / hkwebinar
k, now for this week's show – we have Damien Bos on sharing about his experience building and exiting an e-commerce flash sales site for the Hong Kong market – let's listen in.
Topics Covered in this Episode
Introduce Damien Bos

shout out to super connector Robert Allender

Getting To Asia

You've been out in Asia for quite some time, 10 years now, how did you first get out here?

Hong Kong E-Commerce in 2015

How is the e-commerce market in Hong Kong in 2015?

Online vs Offline

Online sales vs Offline sales in Hong Kong - how is the trend going? Are more and more people buying online like the global trend?

About Your Business

You're going through a sale of privateSales.hk - congrats - can you share with us the business model there

Getting Started

How did the business get started? Those early days

Dealing with English & Chinese

Let's dig into some operations and logistics - so the site is bilingual - English and Cantonese?

Merchant Accounts in HK

Customers paid in HKD, via Paypal? Credit card? What were the common payment methods?

Getting Customers

When getting started - What was the customer acquisition strategy, email marketing? SEO?

Challenges You Faced

Some of the big challenges you had to overcome to get e-commerce business going.

Tips For Getting Started

Tips for someone starting to do e-comemrce in Hong Kong

About Your book

Contacting Damien

care to share a bit about your blog and book and ways people can engage with you more?

Thanks Damien, appreciate you coming on!
People / Companies / Resources Mentioned in this Episode
Episode Length 33:14
Appreciate that one Damien – glad to see there are more people sharing about business in Asia. Looking forward to more cooperation and getting you on again in the future.
We've got a bunch of interviews already recorded and I am just trying to figure out the order to put them in! E-commerce fulfillment from HK, startup scene between the Western world and Asia.
Also – this podcast is now every other week – that is because we have Global From Asia TV alternating. So if you want to watch some talking head videos of me – check it out. I'm collecting feedback from people and getting better at video – 3 episodes deep there, and a few more in the queue. Video is a lot more complex, but reaching new people and I love connecting.
As always, any feedback on the show, topic ideas, etc – please shoot them over mike @ globalfromasia
And if you like the show – please support it with an iTunes review, we podcasters are always begging listeners for this one but it does help (supposedly) in the rankings and for us to get more awesome listeners like yourselves
So be as the next couple weeks and talk soon, peace
Download Options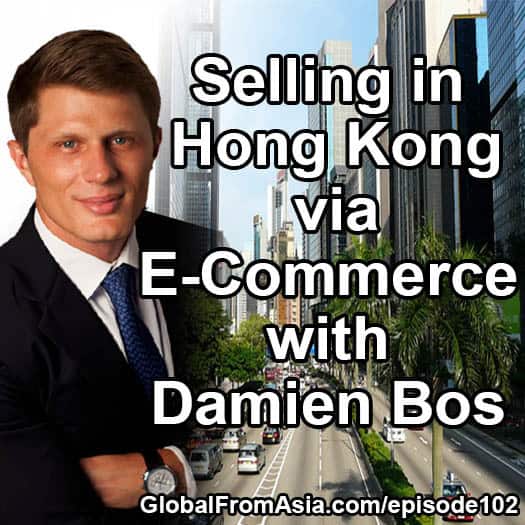 Podcast: Play in new window | Download
Subscribe: Apple Podcasts | Android | RSS