---
Today, we have Can Chan who is an influencer and we are going to talk about Chinese sellers. Can gives us insights on difference and evolutions of Chinese Amazon sellers and Chinese e-commerce sellers. He talks about how he got into ecommerce and then eventually on Amazon. Let's tune in.
Topics Covered in this Episode
Intro Can Chan

We met at the Canton Fair last year – at the last "physical" Canton Fair – hope to meet you at the next "real one". Can you introduce yourself to listeners today?

How did you get started selling online?

What is your ecommerce story?

Learning from Foreigners or Chinese Sellers, or Both?

Where would you say you learned the most from selling online?

What has stopped working in 2020?

Let's start with the old – what kind of things sellers were doing in the past isn't working as well now?

What is working now in 2020 - that didn't before?

Can we go through a few tactics and tools

What tools are better - Chinese or Western?

Curious to hear what tools you are using, and where they are made?

Going forward - Quality, Brands, is the trend?

What is the trend you are seeing?

About our upcoming mastermind session

Let's discuss our special encore session – you have quite a bit of learning materials and strategies you can share on a live, private, mastermind call. Let's discuss how people can access it.
Thank you so much Can Chan!
People / Companies / Resources Mentioned in this Episode
Special mastermind session with Can Chan 
Leading ECommerce Strategy & Tactics Mastermind Workshop
Learning how to operate like a top Chinese seller:
Speaker: Can Chan
Date: July 22
Zoom Workshop
2020 is so special a year for eCommerce. The COVID-19 has been broken the baseline of the business of most sellers. It hurts in the short term yet brings huge opportunities in long term. Some very successful eCommerce entrepreneurs survived the tough time and even gain better performance during the outbreak. Especially if you look at some "Big" sellers in China, they have been doing really well in risk control and business expanding.
So, what are the key formulas? What are the real secrets? Do Chinese sellers really have an advantage over their international competition? This is what you will learn during this in-depth workshop.
Highlights of the mastermind:
– Key opportunities during and post the pandemic from Chinese sellers' angles
– Latest tactics for to build perfect listing
– Powerful traffic strategy
– How top sellers manage their companies and scale up the business – Organization / KPI / Bonus setting / Daily work 
– Multi account management
– In-depth cases studies of top sellers – brand building, finance, operation strategies
– Tips for handling supply chain optimization & contingency
– Some useful tools and resources
This mastermind was launched on April this year and received tons of positive feedback. We want to bring more latest successful experience to all eCommerce entrepreneurs.
About Can Chan
* Consultant to 10+ Amazon "Big" Sellers in China
* A key influencer in China Amazon Sellers, co-founder of Cross-boader House, an Amazon Seller community with 100k+ members in China
* Providing Amazon selling/operation/financial training to 100+ sellers every month, with attendance from China, USA, UK, etc.
Click to Register
---
Episode Length 54:31
Thanks a lot for sharing your insights Can and I look forward to our mastermind with our listeners.
Download Options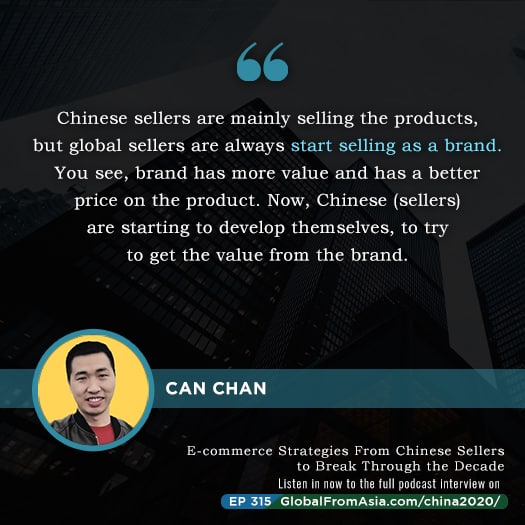 Podcast: Play in new window | Download
Subscribe: RSS