---
Welcome to Global From Asia, episode 134 – I'm recording after an amazing "Cross Border Trip" – first of its kind this past Friday with a bit over 20 amazing business people based in Hong Kong, Shenzhen, Guangzhou, Zhuhai, and more! Amazing people like Chris Davey and Benjamin May attended and it was a full day of touring Qianhai Free Trade Zone in Shenzhen, seminars, and networking. We will do more of these day trips on the regular – so check out globalfromasia.com/crossbordertrips for upcoming ones.
And now for this week's show – we are continuing our excursion out of Hong Kong and China – this time in Thailand – let's dig in.
Topics Covered in this Episode
Intro Karsten

Karsten, you are the guy to know in Bangkok! I met you at DCBKK last year and you had a great welcoming party for all of us. Thanks for coming on the show Karsten

Personal History

Care to give us a bit of history on how you ended up in Thailand?

Company Setup

So company setup, you have a great blog post that covers tons of it – should you do it if you are living in Thailand, or hiring there?

Benefits

What are some of the benefits of setting up there?

Work Permit? Investor permit?

Cost

How much does it cost to open?

Banking, how is that?

Terms

You should have a parent company overseas, like HK or Singapore?

How about the ongoing upkeep costs?

Any government incentives?

Per Area

Is it the same in every city/region of thailand, or are different areas different?

Example of Operation

How have you been operating your Thailand company? To give us an example.

Other Thailand Structure

How about others – care to share how they are using a Thailand structure?

Contact

How can people find out more about you and what you do? Thanks man!
People / Companies / Resources Mentioned in this Episode
Episode Length 35:33
Booyah – there's our first episode on Thailand company setup and business – thanks for that Karsten. So what are you guys thinking? Last week was Philippines, this week Thailand. Maybe India in the future! That is Asia too right!
Next week actually it even crazier off topic, we are talking about people in Holland losing their citizenship for being outside of their country too long – so stay tuned for that – and watch out about losing yours and being stuck in limbo land! cheers
Download Options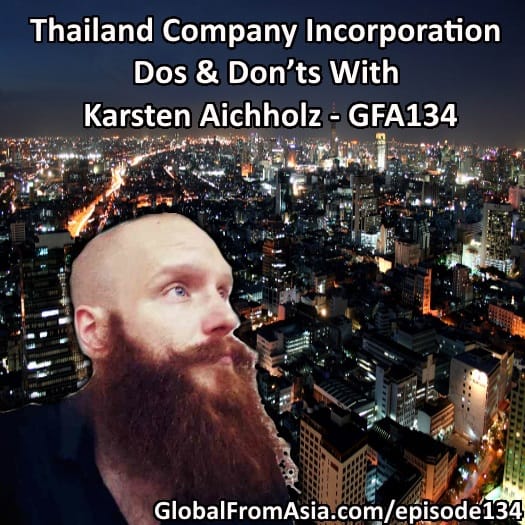 Podcast: Play in new window | Download
Subscribe: Apple Podcasts | Android | RSS