---
This week's show, we have Sydney Badger who is doing amazing things. Sydney is a Co-Founder of Public Habit with a goal of reducing textile waste. She also spent a lot of time at Amazon and she's setting up her own, basically B to C operations of fashion, clothes from China and other parts of Asia in the future. She shares her insights, and hopefully it gives everybody here some idea on sustainability and she's using 'made in China' with her fashion business, which is interesting.
Topics Covered in this Episode
Introduce Sydney

Can you introduce yourself for our listeners today?

So you're in Shenzhen, China

How did you get here? Compared to Shanghai and Beijing experiences

Slow by Direct and Sustainable?

I read it on your linkedin, you are "slow" but direct and sustainable

So what is the order flow, example?

When someone buys on your site, what happens next?

Any order size, 1 piece, wholesale, custom order?

What are the typical clients and their order sizes

Brand on the product?

Product vs Brand discussion.

What's your technology "Stack"

What kind of tools and platforms are you using to make this work?

Amazon as well?

What are your distribution channels

How can others adapt this model?

Do they need to adjust what they are doing now or?

How can people find you and learn more?

Ways to connect and learn more
People / Companies / Resources Mentioned in this Episode
Episode Length 50:59
That was a great discussion. I really appreciate you for sharing Sydney. Make sure to check their blog out as they are hoping to really build it off as a source of knowledge and end data that's not intimidating about what's happening in the fashion supply chain and manufacturing in China.
Download Options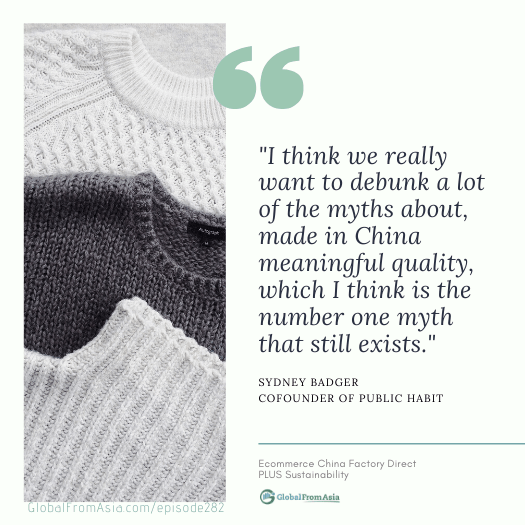 Podcast: Play in new window | Download
Subscribe: Apple Podcasts | Android | RSS