---
A world without borders, wouldn't that be amazing. Every day I get messages from people asking about Visas to USA, to China, to Hong Kong. to here and there. After the visa questions, its the banking questions, the corporate setup questions, the taxes for personal and corporate. Is this stuff getting irrelevant?
Happy Tuesday morning everyone! A world without borders, borderless – today's topic is a fascinating one for me and most like you today because you're listening to this podcast – tired of where we are born and get a passport being the basis of what our life opportunities are? It's something that is really behind this very podcast, and we'll talk about at the Cross Border Summit too in various forms.
So let's get onto today's show – Tak Lo is new to Hong Kong and rocking the community making connections around the world for all of us – so let's listen in.
Topics Covered in this Episode
Intro Tak

Techstars London, Mindfund, went to Japan in December

Tak Lo is creating startup leaders in Asia. He is a Director at R/GA Ventures and a Venture Partner at Mind Fund, an early stage fund.
Previously, he was Director at Techstars, where he grew the Techstars London program from inception. He has worked with over 40 cross-cultural companies from across the globe, spending over 6 years across the Asian, European, and NYC startup communities angel investing, founding, and mentoring startups.
Tak started his career in the US Army, became a management consultant at Booz Allen Hamilton, and was an investment banker at Nomura. He graduated from the London Business School and the University of Chicago.
His pontificates at taklo.co and tweets frequently at @tak_lo.

Borderless Economy

What is a borderless economy?

Advantage for startups

Borderless is an advantage for startups, why?

Ideas

Ideas part of a borderless economy

Human capital

Human capital part of a borderless economy

Intellectual Property

IP (Intellectual Property) part of a borderless economy

Financial Component

Financial component of a borderless economy

Distance

Does distance still matter for investors?

e-Estonia Residency program

What is it, what is it about?

Hong Kong as a borderless marketplace

HK has opportunity to be a platform for frictionless transactions between investors and entrepreneurs.
People / Companies / Resources Mentioned in this Episode
Episode Length: 36:11
We gotta get Tak back on – I learned during the show he's doing this e-Estonia residency thing as well as ton of other stuff!
I try my best to be borderless, for me, a degree from a certain university isn't so important, it's a debate my wife and I are having about our kids now actually. But in my working time, when I talk to someone to work with – whether that is a client, a new team member, a supplier – I care about how they do business, how the execute – not about their citizenship and college degree.
Seems that is the trend too, from the people I talk to – then again, it's because I'm probably in this digital nomad bubble. What do you guys think? Borderless is possible in our lifetime? It's something I am working on more closely with all this company setup, banking, and visa … headaches.
Thanks again for listening to the Global From Asia podcast – so we have a backlog of itunes review for one – let's read out one from the other week!
United States 2016-02-09
5 stars
Omar Abu
Resourceful and Super Fun!
I Love everything Michael produces. From his blogs, to his ebooks, to the Podcasts. Every time I read or listen to Michael's content I come out feeling more knowledgeable and ready to get back into the hustle of doing business with my Chinese counterparts. Excellent Podcast highly recommended!
Wow, thanks Omar, and using a real name on iTunes, more power to ya! So that is all I have for you guys this week – keep up the border crossing, border breaking, border less world, peace!
Download Options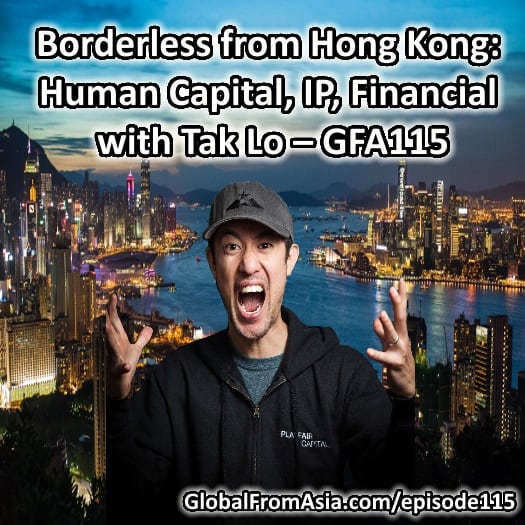 Podcast: Play in new window | Download
Subscribe: Apple Podcasts | Android | RSS