Doing business around the world has been something locked up for the massive conglomerates for decades. At Global From Asia, our mission has to been to bring this mysterious task of running an international business as a hustling startup or a budding business owner. Its been years and there is no end in sight for the information and knowledge and network we have to share. It has gotten to the point that we had to open it up to a network – a network of amazing international business experts around the globe.
Welcome to our Global From Asia Expert Network!

The GFA Expert platform consists of three main components:
Courses

Learn from experts in our network with their own courses. Take their online courses, as well as join in on live calls and question and answer sessions. We will be bringing on tax experts, marketing gurus, legal advisors, and various other international business experts from around the globe and putting them here at your fingertips – literally!

Workshops

Don't have the time to invest time and money into a full fledged course from an expert? No problem – we have workshops which are consolidated learning chunks into a single day or session. This is both in person and online – extremely high value and effect – tailored for the business owner who has the money to invest but is short on the time. Our workshops are mainly in the Asia region for now, but as our expert network grows and requests come in from various parts of the world, we will grow this network to other regions.

Events

And of course, who doesn't like a quality business networking event? We have put together local experts in various international cities to help with organizing events. These are different levels of complexity – from the simple evening "meetup" (1 speaker and networking, from 7 to 9pm) to some special events such as a boat trip, weekend mastermind, meditation retreat, and other high value events customized for the international business executive and owner.
Subscribe to email updates about new courses, workshops, and events by creating a free account on vip.globalfromasia.com
Host a Global From Asia Expert Course or Workshop With Us!
Are you an expert in international business? Our podcast has been around for years and we have gotten to know some amazing business owners and specialists. Yet a podcast can only cover so much – there are so many more details and topics to dive deep into.
So we have built out a platform for you to give your experience to a network of growing and scaling business executives and earn some money at the same time.
How Does Becoming An Expert Work?
1. Join as a Global From Asia VIP Member
2. Apply as a GFA Expert and let us know your topic of choice
3. Online or Offline, or both? Do you want to host these workshops online, or offline? Do you want to create the content and record it and then publish it – or do you want to do live webinar workshops (which are then recorded and sold)?
4. We work together to create your content and offer. Let's work together to make a solid offer an a solid course. Let's test the market and see if there is demand before going out and building the whole thing! Depending on who is making the content and doing the marketing, we have different commission payout structures.
5. Launch! Let's get some people behind this and get you the audience who will benefit and grow their business from it.
Sound like a good idea? Let's do it!
We are very selective on who we choose to do these GFA Expert workshops with, and will do some calls and email correspondence before going forward.
Don't Have The Content or Expertise? Host a GFA Meetup!

You may be interested in organizing events with Global From Asia but don't have the time to create a workshop or a course. Or, maybe you're an up and coming expert who doesn't have that experience level yet to make it happen.
No problem – we support you on your growth to becoming a GFA Expert! If you have the time, energy, and passion to put together a GFA meetup in your local region, we welcome it! Apply as an expert, and note that you want to organize a meetup (instead of a course or workshop) in your application. If you're a true "fan" of the Global From Asia movement, mention which podcasts, blogs, videos, or other content you enjoy the most. Let us know if you have speakers in your local community that you can line up to speak at one of our expert meetup events.
Let's start building a relationship together in the GFA community and mold you to host a workshop or even a summit together. The possibilities are endless, but if you're not sure where to start – organizing some meetup events is a great start.
Look Forward to a Long Term Win-Win-Win Relationship
This is all about building value in the international business community. We want to help growing and scaling business owners to get the valuable knowledge the need in a trusted and safe environment.
Over time we will grow these online and offline expert workshops to cities around the world, and different timezones. By you joining our cause early will let you ride this wave and engage a growing movement of business owners around the world taking matters into their own hands. Let's break down these walls and borders and build a truly global business community.
Announcing Our First Expert Workshop: Amazon Leverage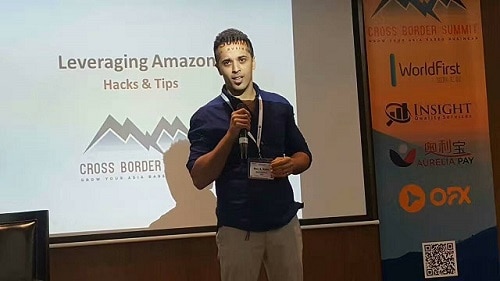 And to get things started – we already have our first workshop ready to go!
Meir Simhi, one of our most popular speakers at this year's Cross Border Summit – has an "encore" event – a full day, intensive workshop in Shenzhen, China diving deep into "growth hacking" for your Amazon business.
Its on Friday Ma 19th from 9am to 5pm with a 1 hour lunch included. We only have a few more spots left (its a 10 – 15 maximum sized premium and personal event) so check out the full event details at GlobalFromAsia.com/amazonleverage.
This is just one of the many amazing workshops we are going to launch here at Global From Asia
See you on the "inside" over at vip.globalfromasia.com.