---
Welcome to today's episode, we are going to talk about national security law in Hong Kong with our guest today, Tariq who I met many years ago in the Hong Kong scene and we reconnected. We try to not to get political and more business positioning and what you should do. Tariq is very knowledgeable in the whole financial business world in America and Hong Kong. Let us tune in as he shares some practical insights as a business owner.
Topics Covered in this Episode
Intro Tariq

We've had you on a quick "Mike's Blog" segment , we will mention in show notes – can you introduce yourself to listeners today?

Thank you for being willing to share publicly!

We have a private mastermind – GFAVIP – and many there don't want to share openly – so I do appreciate it.

Americans in Hong Kong - your background

So I have always looked at you as a top person I go to about American in HK issues, how are Americans in HK feeling right now ?

Protests in HK and its effects in HK

How has this been, now about a year.

Your take on the National Security Law

Obviously many are not happy, but you see it differently?

The 1997, to 2019, 2020, to 2047 - what was supposed to happen then?

For me, I just still feel this is faster than it was supposed to be for 2047.

Our listeners are business owners - many have HK companies

How should they feel about all of this?

Sanction by USA?

What does this mean in HK and what is your take? Obviously we don't know the future, but give us some perspective.

What do you do and how can people find you

Thanks for sharing Tariq- how can people find you online?
People / Companies / Resources Mentioned in this Episode
Episode Length 37:09
Thank you Tariq! It's great to have your insights, it's been awesome especially how it was random on the blog seeing you walking down the street with a big camera and we decided to do a quick video, it's awesome!
If you want to get an insight and in the circle with our private mastermind calls our forum special deals and access to amazing people. Check out GFAVIP.com, we've got some amazing stuff.
Download Options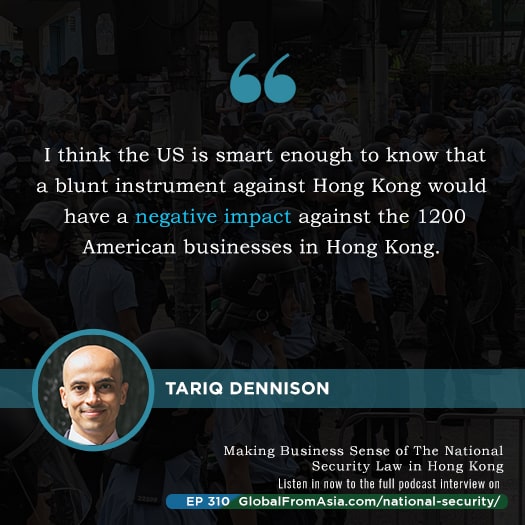 Podcast: Play in new window | Download
Subscribe: Apple Podcasts | Android | RSS