---
Thank you everyone welcome to the Global From On a Bus Show – that is what we should call the Global From Asia show – as I am doing today's intro…. Again….from on a bus crossing from Hong Kong into Shenzhen, China. Had an amazing management meeting with the Enter China .co team and preparing for an amazing October
There are plenty of events happening this trade show season here in the Pearl River Delta, and I have made a page on Global From Asia to outline some of them such as Chris Davey's Amazon FBA seller meetup as well as Enter China's – you can get that info on GlobalFromAsia.com/cantonfair – I will update it and link to all the events I know of each trade show season.
Alright and now for this week's show – this was a fun one, I was invited to a massive Chinese Amazon Seller Conference at the end of August in Shenzhen – like 2,000 Chinese sellers – well a few foreign sellers as well I was able to make video blog that has gotten interest, you can see it at mikesblog.com/vlog035 if you want to see it yourself – and at this conference I met Jeff Cohen from Seller Labs – and we did a podcast at the event! He shares some of the tactics and evolution of how sellers handle feedback to today's show – as well as a prize for some of you listeners so listen up through the show – and for the show notes – head on over to globalfromasia.com/episode143 -now enjoy
Topics Covered in this Episode
Intro Jeff Cohen

Seller Labs, portfolio of product solutions for Amazon sellers

Welcome China!

How is it out here, and speaking at this massive Amazon seller meetup to Chinese sellers

Aggressive Sellers

Sellers are getting more and more aggressive, wouldn't you say?

And Amazon is getting aggressive back - suing some Amazon sellers

Starting a couple years ago, Amazon has been actively going after some sellers and suing them.

Contacting People Who Leave Bad Reviews

So, you get a 1 star review, what do people do?

Chinese vs Western Tactics for Contacting Bad Reviews

Culture is really coming out here as sellers are crossing borders and markets.

Bad Review

What should you do when you get a bad review on Amazon?

Getting into Trouble with Amazon

What tactics to Get you Into Trouble By Amazon?

Leveraging Reviews

How to leverage review for your product

Terms of Service

What are the latest in Amazon TOS (Terms of Service)?

What is Amazon Targeting

Super URLs, Selection bias

Account Suspension

How does one get their account suspended?

Verification

Reviews – does verified vs unverified matter?

How to target real Amazon buyers?

New Product Reviews

Launching a new product and getting reviews

Organic Customers

Organic customers how to reach them, how to get reviews?

Normal rates of reviews (as a percentage)

What are the normal conversion rates of customers to feedback?
People / Companies / Resources Mentioned in this Episode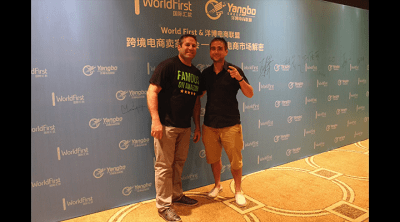 Episode Length 28:45
Thank you Jeff – and anyone who wants a really cool t-shirt from them – leave a cool comment on today's show notes to get it – we don't get much engagement here on the blog – so maybe this will change that – head on over – www.globalfromasia.com / episode143 and let's get some action going.
So I am still on this bus- looking out the windows at the shipping containers going around the world. I am loving what action is happening on this side of the world -and I hope you guys are also taking action in your businesses. Don't get so overwhelmed – just take it one step at a time – hopefully forward- but even if it is backwards once in awhile – the key is to be disciplined and consistent. cheers
Download Options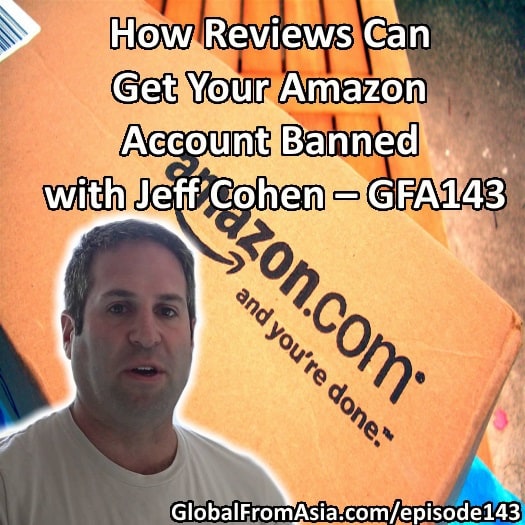 Podcast: Play in new window | Download
Subscribe: Apple Podcasts | Android | RSS