---
This edition of Global From Asia's E-commerce Gladiator, show 43, we are recording in Bangkok, Thailand. Brent Zahradnik founder of AMZ Pathfinder, a PPC agency focused on Amazon Europe comes on the show with Mike and Marc. Another fun fact – Marc and Mike just met in person for the first time before the recording and this was done in person at Mike's Airbnb "Studio".
Ok enough of the behind the scenes, today's show we have a mix of updates at Para Living / Sisitano as well as really amazing nuggets of knowledge from Brent, let's tune in!
Topics Covered in this Episode
Intro Brent from AMZ PathFinder

Improving ACOS numbers

Some before and after examples

Europe vs US market for PPC

Some differences in prices and conversions

Europe vs US market In general for Amazon

Differences in general between these markets as far as selling on Amazon FBA goes

Para Living Liquidating

Marc shares about liquidating some of our stock and why

Minimum budget for PPC

Brent discusses min budget he works with for clients and the thought process

Adwords vs Amazon PPC

What are some differences and similarities between the two – especially with all the changes Amazon has been making.

Advanced Tactic for Brands

Brent shares some insights on tactics that have been working well – if you're more advanced

Gated keywords for Brands

Marc discusses about some issues he has with gated keywords and Brent shares why it might be.

Buying an Amazon business vs Starting from Scratch

Marc prefers buying existing businesses.

Target ASIN Keyword campaign

Brent shares about targeting an ASIN.

Headline Search

Brent talks about the new headline search.

Do we need Amazon PPC?

Is it a requirement now, let's discuss

Organic vs PPC as a percent of sales

Brent shares some insights from the data he has been seeing working with many PPC clients.

2014 vs now

What are some of the differences Brent sees since he started doing Amazon in 2014. Is it still possible to get started today?

Dealing with Languages in Europe

A last nugget of value we talk about how he deals with so many languages in his focused market of Europe

How people can connect w/ Brent

Reach him at AMZpathfinder
People / Companies / Resources Mentioned in this Episode
Episode Length 35:41
There you have it – PPC is an essential for Amazon FBA – and many predict it to grow more and more like Google adwords and Google advertising in general. Thank you Brent for coming on the podcast- can you believe he hasn't been on other podcasts!? We need to get him on again, a wealth of information for Amazon PPC and Europe – so stay tuned and I wish you the best with your business journey.
Download Options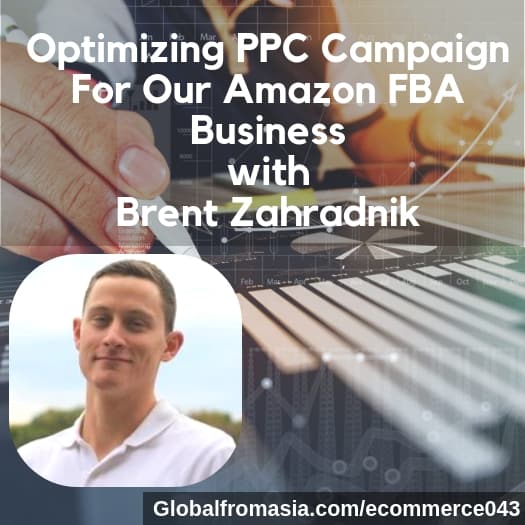 Podcast: Play in new window | Download
Subscribe: Apple Podcasts | Android | RSS